Today I've got my baking partner in crime (and amazing friend) Lucy from Bake Play Smile as a guest on the blog, sharing her recipe for easy Yo Yo biscuits.
Lucy and I first 'met' almost three years ago when we were both fairly new to blogging.  We quickly discovered we had a crazy amount of things in common (besides our love of all things sweet!) and became good friends, even though we live interstate. Lucy is not only a HUGE support and source of inspiration when it comes to blogging and business (yes, she is also my business partner and co-owner of our Thermomix website – Thermobliss) but she has also been an incredible support personally over the past few years – in short she is just amazing!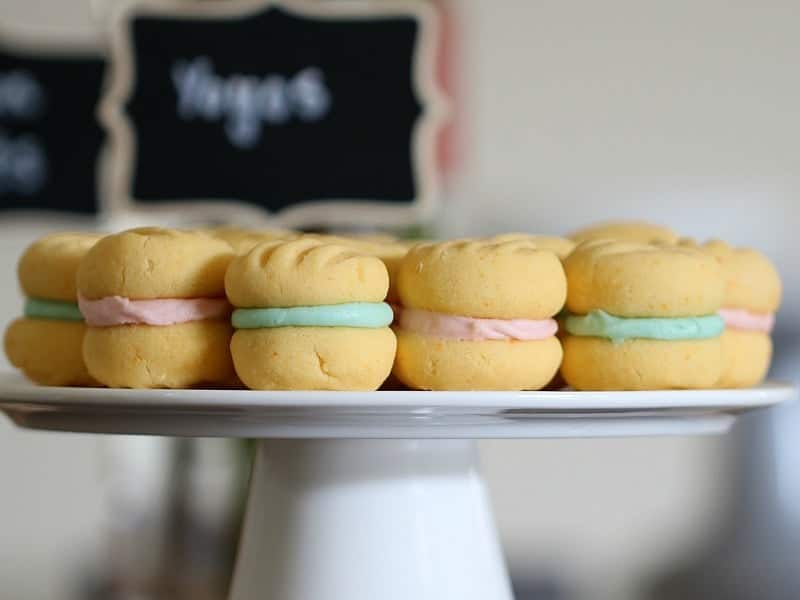 Hi there! I'm so excited to be guest blogging for Lauren while she enjoys some very well deserved 'maternity leave'.
Given that the lovely Lauren is in bubba mode, I thought I'd share a recipe with you that I love to make for baby showers. Actually, these easy yo yo biscuits are perfect for any occasion (or no occasion at all!), but when you use pretty pastel blue and pink filling, they seriously scream 'baby shower'.
I love these yoyos because they're really quick to whip up and they literally melt in your mouth. I like to make them quite small… mainly because then you're totally justified in eating a few!!
Whenever I make yoyo biscuits, they're gone in no time at all – but if you have more restraint that me, they'll last up to 4 days in an airtight container.
Enjoy xx
Easy Yo Yo Biscuits
Ingredients
180

g

butter

1

teaspoon

vanilla essence

⅓

cup

icing sugar

1

cup

150g self raising flour

½

cup

75g plain flour

½

cup

70g custard powder

For the filling:

250

g

icing sugar

40

g

butter

at room temperature

2

teaspoon

vanilla essence

½

teaspoon

lemon juice

1

drop pink food colouring

1

drop blue food colouring
Instructions
Preheat oven to 180 degrees celsius and line two baking trays with baking paper.

Sift the icing sugar into a bowl and add the butter and vanilla essence.

Beat until smooth and creamy.

Sift into the bowl the self-raising flour, plain flour and custard powder, then stir well.

Roll the yoyo mixture into teaspoonful sized balls and place them 5cm apart on the prepared trays.

Lightly press the tops of the balls with a fork.

Bake in the oven for 10-12 minutes or until lightly golden.

Allow for 10 minutes on the trays before moving to a wire rack to cool completely.

Make the filling by beating the butter, vanilla essence and lemon juice until smooth and creamy. Slowly add the sifted icing sugar and continue to beat.

When the mixture is smooth, divide it equally between two bowls.

Add one drop of pink food colouring to one bowl and one drop of blue food colouring to the other.

Beat each bowl until smooth and evenly coloured.

Spread a small amount of filling onto the base of one biscuit and sandwich with a second. Repeat until all of the biscuits have been used.
Nutrition
Serving:
0
g
Calories:
0
kcal
Carbohydrates:
0
g
Protein:
0
g
Fat:
0
g
Saturated Fat:
0
g
Polyunsaturated Fat:
0
g
Monounsaturated Fat:
0
g
Trans Fat:
0
g
Cholesterol:
0
mg
Sodium:
0
mg
Potassium:
0
mg
Fiber:
0
g
Sugar:
0
g
Vitamin A:
0
IU
Vitamin C:
0
mg
Calcium:
0
mg
Iron:
0
mg