Long before my husband and I even thought about having kids (or even getting married for that matter!) we went out and got ourselves a dog.  Saxon is now pushing 11 years of age (which is super impressive for a King Charles Cavelier!) and spends most of his days finding quiet spots in our backyard to hide from the boys.
He has it pretty good with us, and has only escaped from the yard three times, the latest being a couple of weeks ago when the side gate was open.  Thankfully one of our lovely neighbours spotted him and gave us a call before he was able to get to far.  As a way of saying thanks, I decided to bake these Chocolate Chip and Raisin Biscuits for their afternoon tea.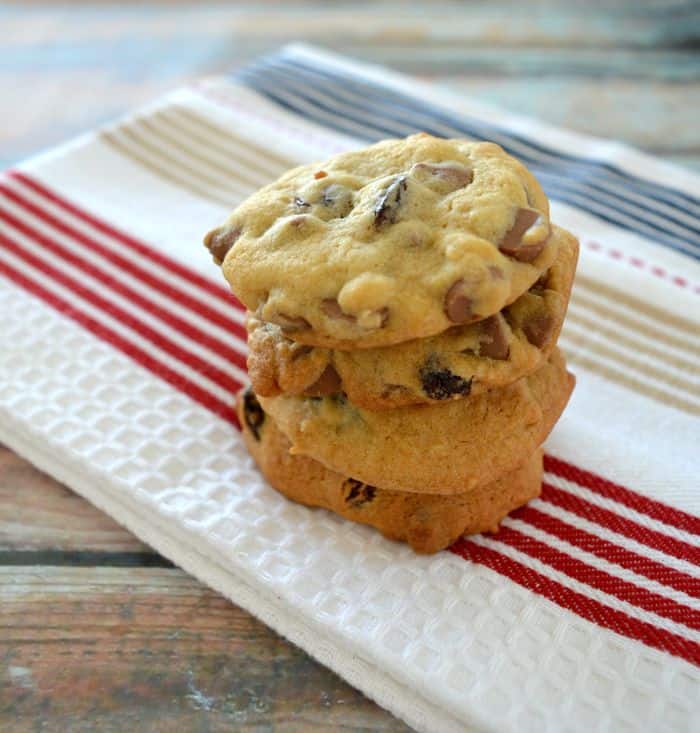 The only problem with this plan was that our three year old thought these biscuits were pretty good and wasn't too keen on sharing – we really need to work on his sharing skills….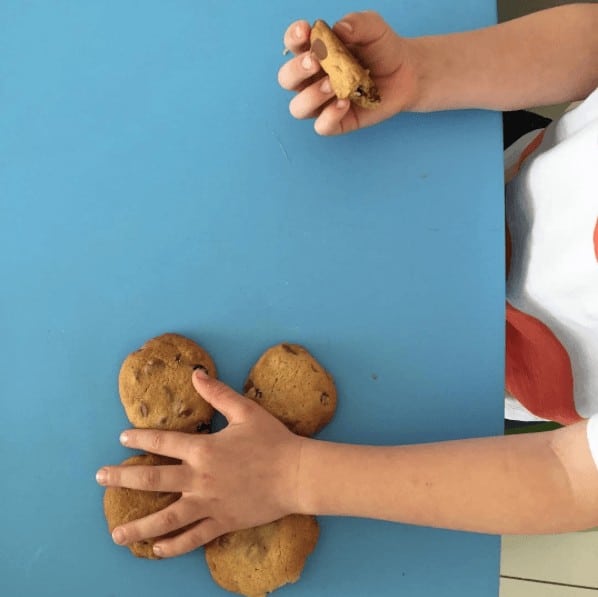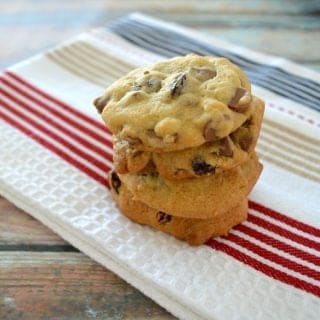 Chocolate Chip and Raisin Biscuits
Ingredients
180

g

of butter

125

g

of brown sugar

110

g

of caster sugar

2

eggs

1

teaspoon

of vanilla essence

190

g

of plain flour

1

teaspoon

of bicarbonate of soda

200

g

of dark chocolate chips

100

g

of raisins
Instructions
Preheat oven to 190 degrees and line two baking trays with paper.

Cream the butter and sugars using an electric mixer until they are light and fluffy.

Add the eggs one at a time and beat well between each addition.

Stir through the vanilla and then sift the flour and bicarbonate of soda into the bowl as well and mix until just combined.

Add the dark chocolate chips and mix together.

Spoon tablespoons of mixture onto the prepared trays and leave a 2 - 3 cm gap between each biscuit to allow room for them to spread.

Place the baking trays into the oven and cook for 12 - 15 minutes or until the biscuits turn a light golden colour.

Cool the cooked biscuits on the baking trays for 5 minutes before carefully transferring to a wire rack to cool completely.
Nutrition
Serving:
0
g
Calories:
105
kcal
Carbohydrates:
11
g
Protein:
1
g
Fat:
7
g
Saturated Fat:
4
g
Polyunsaturated Fat:
0.3
g
Monounsaturated Fat:
2
g
Trans Fat:
0.2
g
Cholesterol:
30
mg
Sodium:
99
mg
Potassium:
15
mg
Fiber:
0.2
g
Sugar:
5
g
Vitamin A:
207
IU
Calcium:
5
mg
Iron:
0.4
mg
Chocolate Chip and Raisin Biscuits Thermomix Instructions
Preheat your oven to 190 degrees.
Place the butter brown sugar and caster sugar into your Thermomix bowl and mix for 30 seconds on speed 6.
Add the eggs and vanilla extract and mix for 20 seconds on speed 4 to combine.
Add the flour, bicarbonate of soda and mix for 20 seconds on speed 4 or until combined. Stop after 10 seconds to scrape down the sides.
Add the raisins and dark chocolate chips and mix for 20 seconds on speed 3 REVERSE or until combined.
Scoop up tablespoon sized balls of the cookie mixture and place onto your prepared baking trays. Flatten the surface of the biscuits slightly and place in the oven to bake for 12 – 15 minutes.
Carefully remove the cookies from the oven and let them cool on the baking tray for 10 minutes before carefully transferring them to a wire rack to cool completely.