This post is sponsored by Spotlight
Before we moved to our current neighbourhood, we'd never really been involved with any Halloween celebrations.  However after our first Halloween when we were mobbed by more than 40 kids knocking at our door (a scary experience in itself!, we soon learnt it's popular in our area and we needed to be better prepared the following year.  While our boys are still much too young to understand what Halloween is all about, let alone go out trick or treating, as it falls on a Saturday this year, it's the perfect excuse to have some family fun and throw a Halloween party!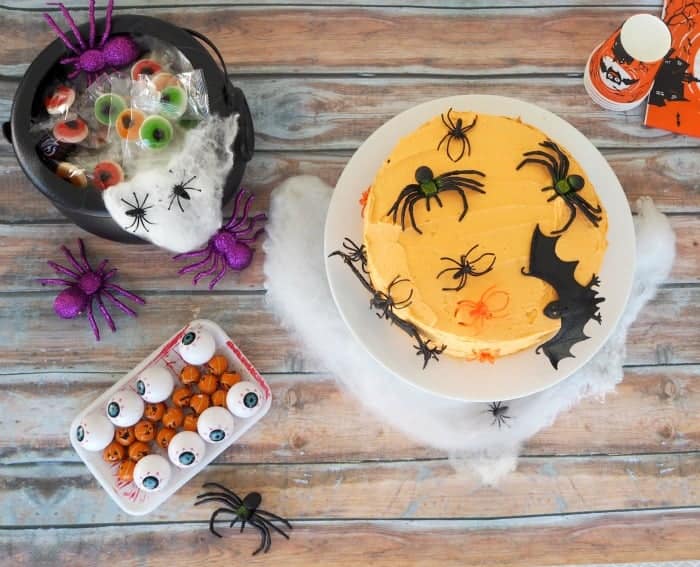 I'm planning to keep our party pretty simple and let's face it, when planning a Halloween party it's really all about the decorations – and the treats of course!  We visited our local Spotlight store recently to check out their range of Halloween products and found everything we needed for our Halloween party there.
Spotlight has a HUGE range of Halloween products with everything from costumes for the kids and adults to spooky decorations for your home and treats for the little (and big!) kids.  We picked up a few things which will be perfect to decorate our Halloween party table, including a cauldron, cups and serviettes, Halloween chocolates and sweets, LOTS of spooky creatures (which the boys already want to play with), spider webs and a tray of eye balls – after all what party is complete without those!!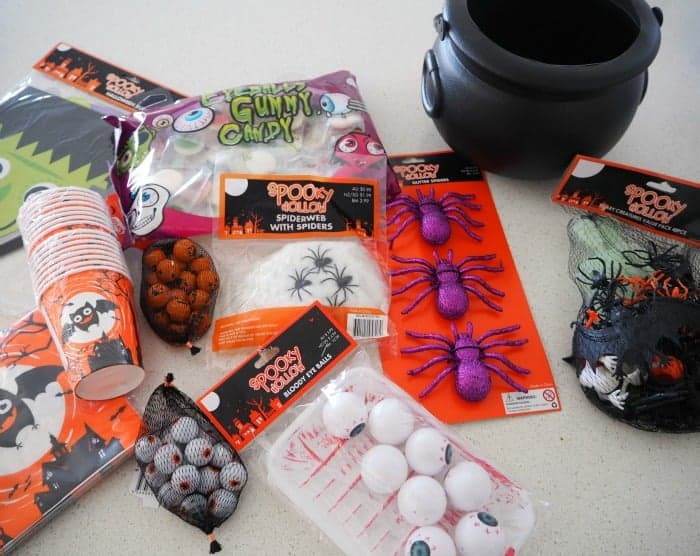 All you need is a few Halloween themed products to turn your party table into something fun and spooky that the whole family will love.  While all of the chocolates and treats may be tempting, it's this Halloween Piñata Cake which really takes centre stage.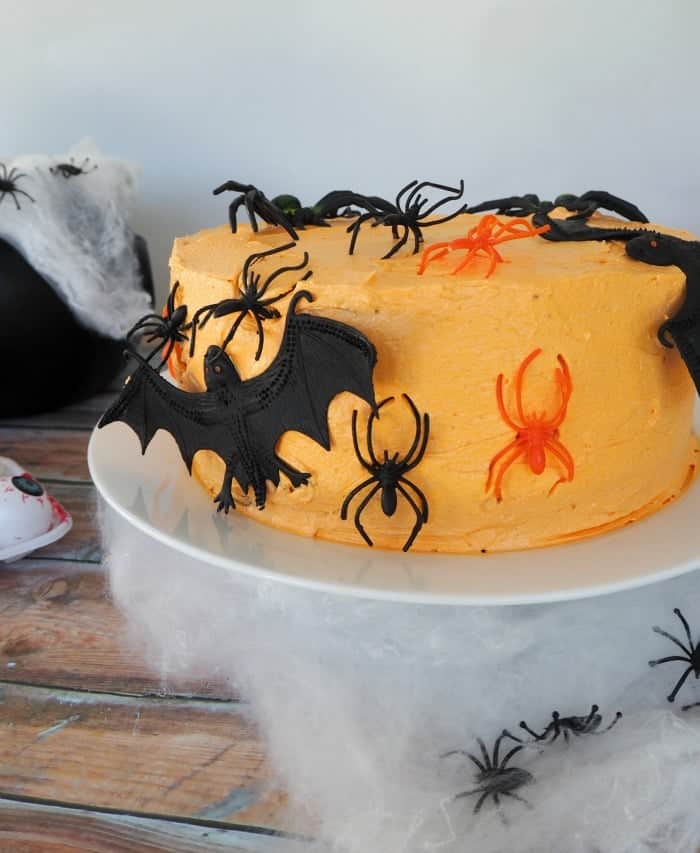 While your guests may initially think this is simply a spooky cake, when you cut into your cake they will be surprised to find it filled with Halloween chocolates and spooky spiders!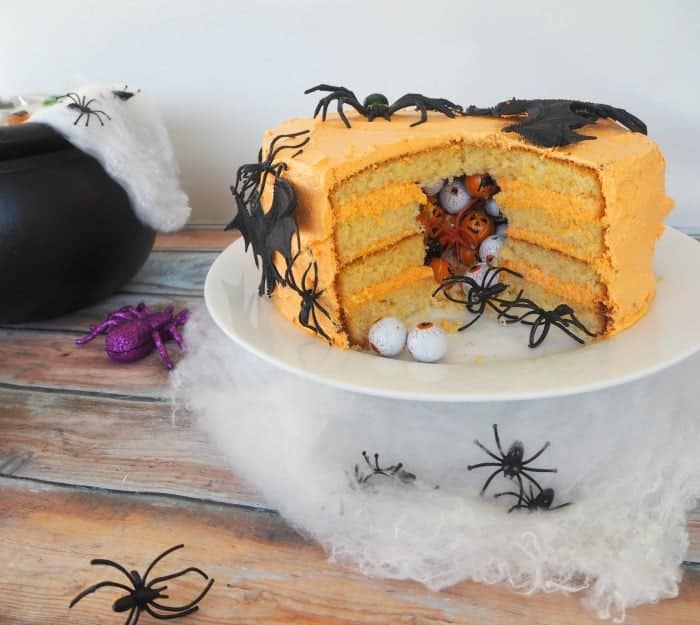 This Halloween Piñata Cake is actually really simple to make, leaving you plenty of time for the best part – decorating your cake and party table!  Why not try some of these decorating ideas:
Everyone will love this spooky cauldron, bursting with spiders,spider webs and eye balls!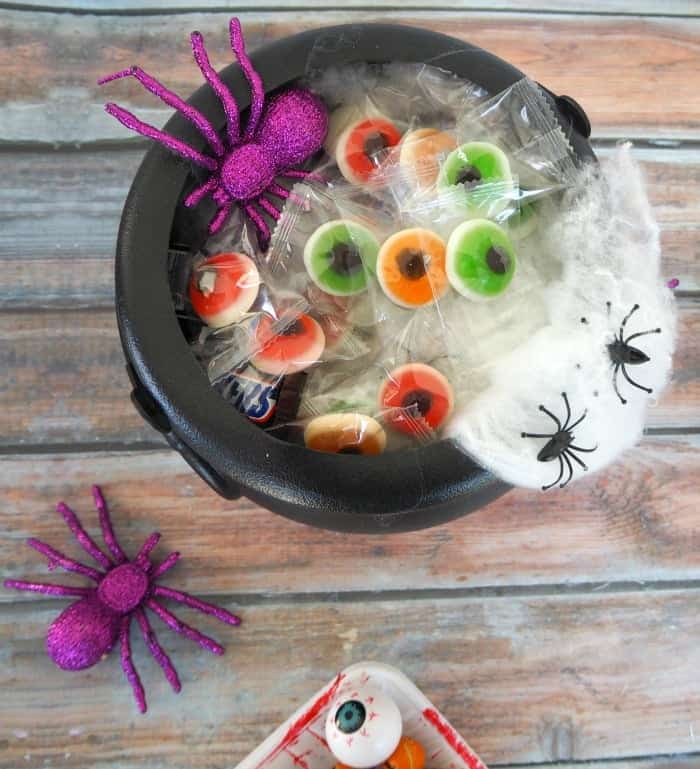 Or your guests may prefer to enjoy a chocolate pumpkin treat or two scattered amongst a tray of eyeballs.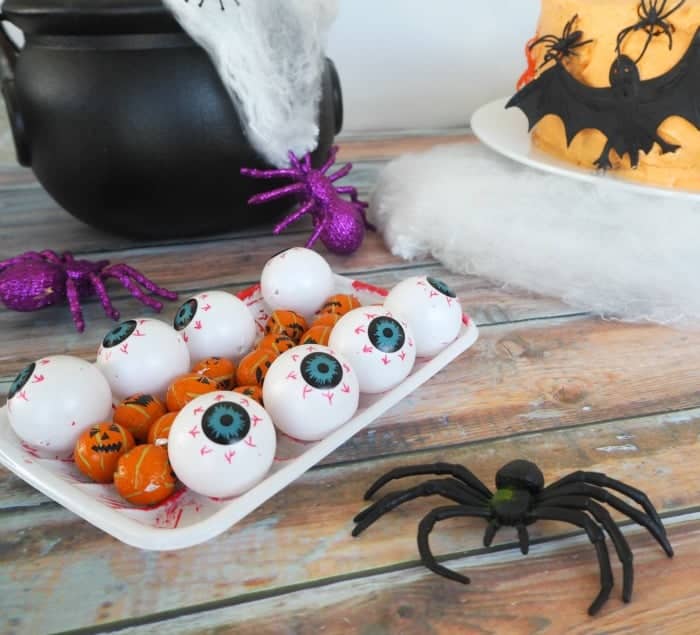 Learn how to create this fun Halloween Piñata Cake here:

Halloween Piñata Cake and Party Table Ideas
Ingredients
250

g

butter

softened

2

teaspoon

vanilla extract

2

cups

caster sugar

6

eggs

3

cups

self raising flour – sifted

1

cup

milk

For the Buttercream Icing

375

g

butter - softened

2

cups

icing sugar - sifted

1 ½

teaspoons

vanilla essence

Orange gel colouring

For the filling and decorations:

1

pack of Sorini Chocolate Halloween Pumpkins

1

pack of Sorini Chocolate Halloween Eye Balls

Spooky Hollow Spooky Creatures Pack
Instructions
Preheat your oven to 150 degrees

Place all ingredients in the bowl of a stand mixer and beat on low speed until combined. Increase the speed to high and beat until just smooth.

Grease two 20cm round tins and line them with non stick baking paper, divide the mixture between each tin and bake for 1 hour and 5 minutes

Carefully remove the cakes from the oven and allow to cool for 5 minutes before turning onto a wire rack to cool completely. Remove from the tins when cooled.

Once the cakes have completely cooled you can make the buttercream icing. Place the softened butter into the bowl of your stand mixer and beat on a high speed until it's pale and creamy. Add the sifted icing sugar and vanilla essence and beat until well combined. Add the orange gel colour until the desired colour is achieved. Set the buttercream aside until needed.

Trim each of your cakes to ensure they are even - make sure you trim the TOPS of the cake and not the bottom - this will make sure you have a nice flat surface. Carefully cut both of the trimmed cakes in half.

Set your cooled cakes, buttercream, decorations, spatula, spoon, serving plate and 8cm wide round cutter onto a clean bench.

Place the THREE layers of cake onto your serving plate (adding a thin layer of buttercream between each layer) and using the cookie cutter, push it down approximately ¾ of the way into your cake. Remove the cutter and use a spoon to remove the round piece of cake.

Fill the centre hole with a mixture of Sorini Chocolate Halloween Pumpkins and Eye Balls as well as a few small spiders from the Spooky Hollow Spooky Creatures pack.

Hold the top layer of cake in the palm of your hand and place on TOP of your cake.

Wipe away any cake crumbs and carefully cover your cake with the remaining buttercream and decorate with bats and spiders from the Spooky Hollow Spooky Creatures Pack as desired.
Nutrition
Serving:
0
g
Calories:
453
kcal
Carbohydrates:
68
g
Protein:
4
g
Fat:
20
g
Saturated Fat:
12
g
Polyunsaturated Fat:
1
g
Monounsaturated Fat:
5
g
Trans Fat:
1
g
Cholesterol:
129
mg
Sodium:
174
mg
Potassium:
69
mg
Sugar:
68
g
Vitamin A:
672
IU
Calcium:
43
mg
Iron:
0.4
mg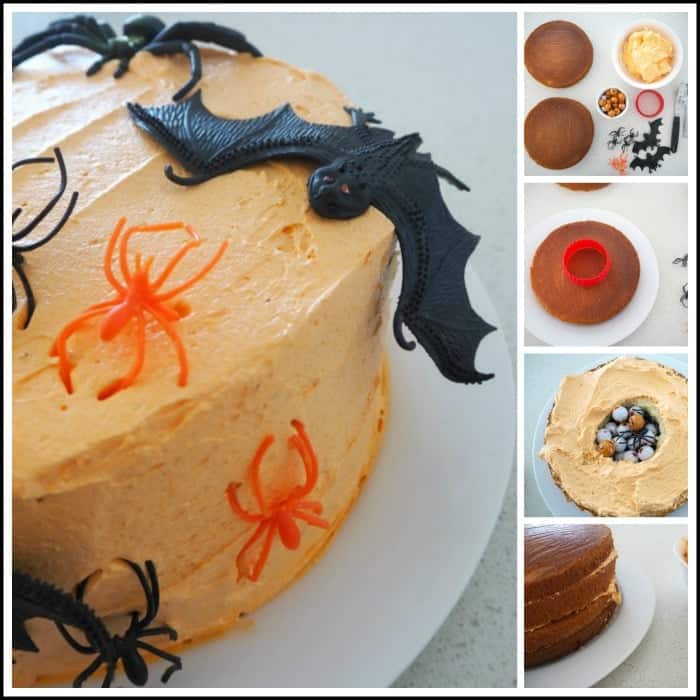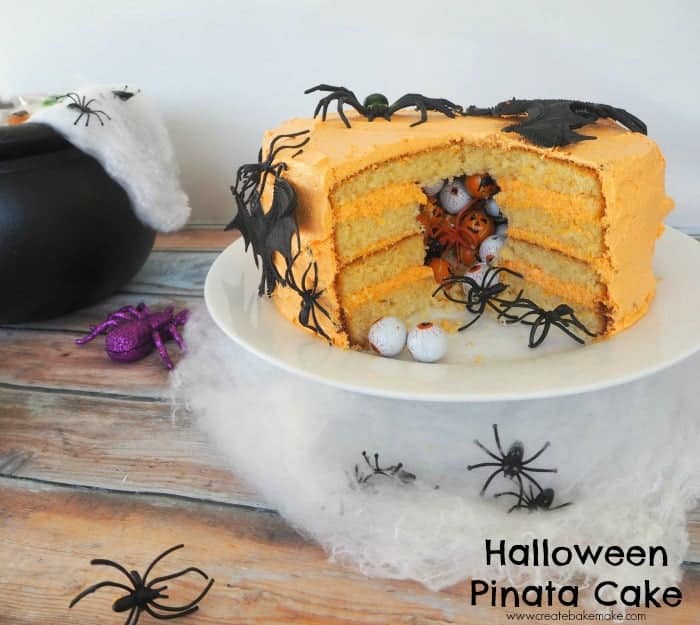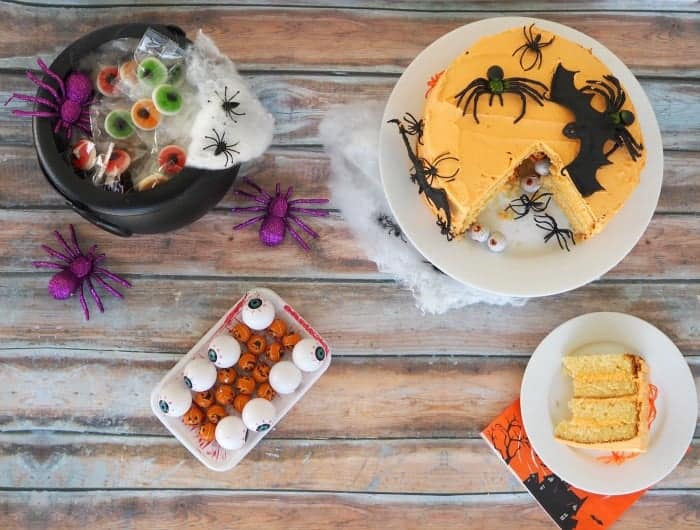 If you are stuck for costume or decorating ideas for Halloween, make sure you visit your local Spotlight store to check out their great range of Halloween products.  You can also view and shop Spotlight's entire Halloween range of goods here.