You are going to LOVE this easy 3 Ingredient Lemonade Scone recipe!!
Thanks to my ongoing compulsion to buy strawberries every single time I see them while they are so cheap, we recently made strawberry jam for the very first time in an attempt to use up the KILOS of strawberries sitting in our fridge.  To celebrate this important first, it only seemed right to try it out with these yummy Lemonade Scones!  Instead of using my favourite scone recipe, I decided try this 3 ingredient Lemonade Scone recipe instead, after all how can you go wrong with just three ingredients?!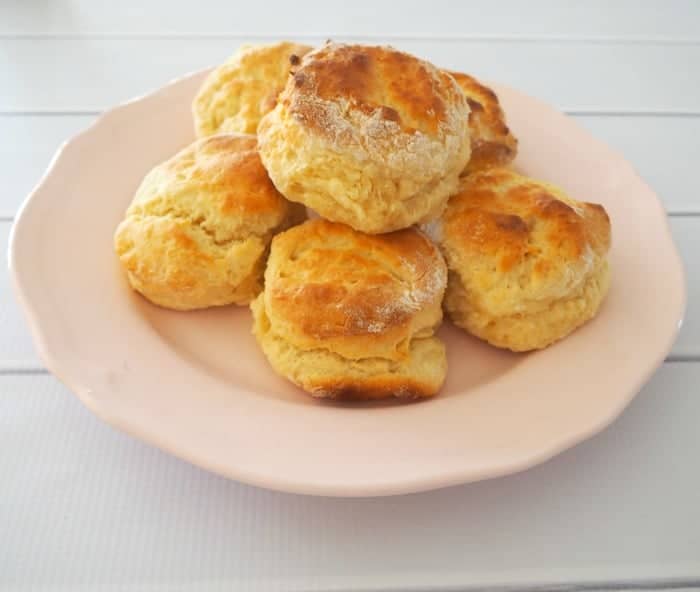 All you need to make these scones is some self raising flour, lemonade and cream – yep that's really it! Because you don't need to rub butter into the flour, these 3 ingredient Lemonade  Scones really take no time at all to make, and it took me less than 10 minutes to get out the ingredients, make the scone dough and get these into the oven.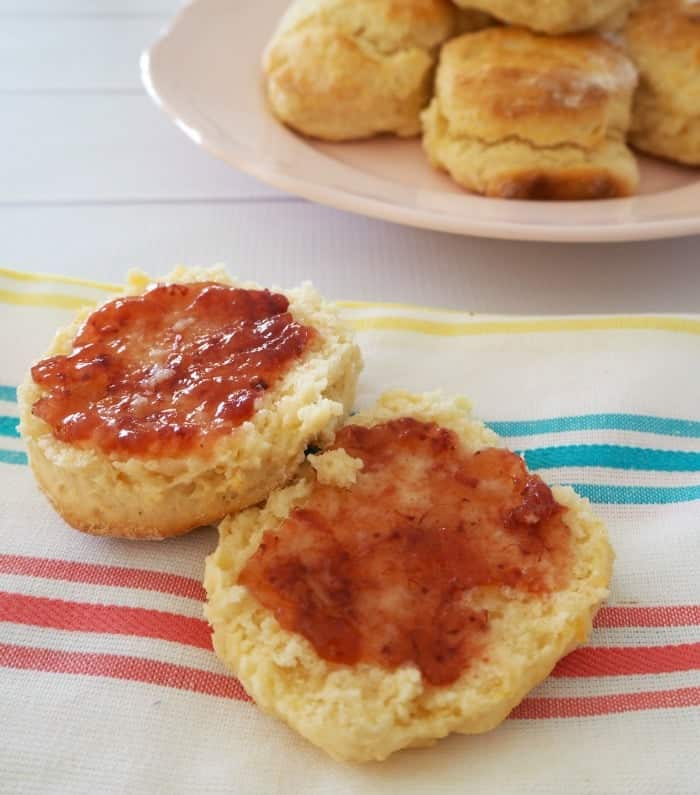 I personally think that the texture is a little different to a traditional scone, but certainly not in a bad way and these Lemonade Scones are incredibly light and fluffy still – and when you consider how easy these are to make, who would complain?
When making these Lemonade Scones (along with any other scone recipe) it's really important to make sure you don't mix the ingredients too much, I like to use a butter knife to mix the ingredients until they have just combined and I also don't use a rolling pin to flatten the dough, instead using my hands to gently flatten it – you can find more of my tips for making the perfect scones here.
Watch how to make these easy 3 Ingredient Lemonade Scones below:
3 Ingredient Lemonade Scone Recipe
This 3 Ingredient Lemonade Scones recipe is seriously simple and you will love how soft and fluffy these scones are!
Ingredients
3

cups

of self raising flour

250

ml

of lemonade

250

ml

of thickened cream
Instructions
Preheat your oven to 240 degrees and line a baking tray with paper.

Sift the self raising flour into a large bowl and add the lemonade and cream.

Use a butter knife to bring the mixture together until it just combines.

Tip the scones mixture onto a floured surface and gently shape into a rectangle.

Use a cookie cutter or glass to cut out your scones and place them onto the prepared tray. Repeat until you have used all of the scone dough.

Place your 3 ingredient scones into the preheated oven and bake for 12 minutes or until golden and cooked through - they will sound hollow when tapped.

Carefully remove your scones from the oven and allow them to cool slightly before serving with your favourite jam and whipped cream
Notes
Take care not to over mix the Lemonade Scone mixture as this will result in hard scones.
Please note your cooking time may vary depending on the size of your scones. It's a good idea to check them after 10 minutes in the oven.  You can also brush the tops of your uncooked scones with a little milk if you would like them have a bit of extra colour.
What's your favourite scone recipe?
For more simple cake and slice recipes, grab your copy of our Cakes and Cheesecakes eBook plus our No Bake Slices and Bars eBooks (both regular and Thermomix versions available) from our eBook store.