I never like to go anywhere without taking a something I've made and most of the time I turn to my no fail Scone recipe, however for something a little different I recently decided to make Date Scones for the first time.
This easy Date Scone recipe is perfect when you want to make something that tastes delicious and don't have much time, I'd forgotten to make something the day before and was able whip these little beauties up in 20 minutes – without using a Thermomix!  Thanks to the dates and just a wee bit of sugar (which you could easily leave out if you prefer) I don't think these scones need to be served with jam, they are perfect on their own with a thick layer of butter, however who I am to judge if you do want to add your favourite jam and even some cream to them.

Print Recipe
Easy Date Scone Recipe
Ingredients
2

cups

self raising flour plus extra to dust your bench

1

teaspoon

baking powder

1/2

teaspoon

salt

2

teaspoons

sugar

50

g

butter - chopped

1/2

cup

dates chopped into 1-2 cm pieces

1

egg

150

ml

milk plus extra to brush
Instructions
Preheat your oven to 180 degrees.

Sift the self raising flour and baking powder into a large bowl before adding the sugar and salt and mixing to combine.

Rub in the butter until the mixture resembles bread crumbs.

Combine the milk and egg in a small jug and set aside until needed.

Add the dates to the flour mixture and stir through.

Pour the milk and egg mixture into the bowl and use a bread knife to gently combine.

Tip the mixture onto a lightly floured bench and use a circular cutter to cut out your date scones.

Place the scones so that they are almost touching onto a tray lined with baking paper and bake for 12 minutes or until they begin to brown on top and sound hollow when tapped.

Serve with butter.
Date Scones Thermomix Method
Preheat your oven to 180 degrees.
Place the pitted dates into your Thermomix bowl and chop for 8 seconds on speed 5 – set aside until needed.
Place the self raising flour, baking powder and butter into the bowl of your Thermomix and blitz for 10 seconds on speed 9 or until the mixture resembles breadcrumbs.
Add the chopped dates, milk, egg, salt and caster sugar and mix for 10 seconds on speed 4 or until combined.
Use the kneading function to mix for 40 seconds.
Pour onto a floured surface and gently work the mixture into a rectangle which is approximately 3cm thick.
Coat a round cutter in flour and cut our your scones. Place them close together (you want the to almost be touching) on your baking tray. Continue until you have used all the mixture.
Brush with a little milk and place the tray into the oven for approximately 12 minutes. The scones are ready when they begin to turn golden and make a hollow sound when tapped.
Carefully remove the tray from the oven and allow to cool for 5 minutes.
Serve with your favourite jam and fresh whipped cream.
Note** You can also slice the dates with a sharp knife instead of using your Thermomix. If you use Medjool dates you won't need to chop them for as long.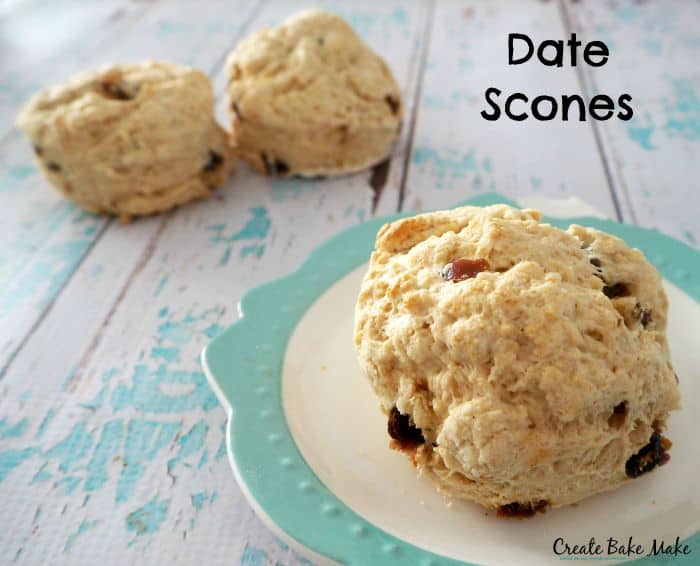 What's your go to recipe when you don't have much time?