This recipe for my Nan's Coconut Biscuits takes me back to when I was a kid and we used to spend our weekends at Nan's house helping her in the kitchen. I love that my boys now help me make these Coconut Biscuits and I hope they grow up with the same lovely memories as I have.
I was stoked when a few years ago I came across this recipe for my Nan's Coconut Biscuits in one of my Mum's old recipe books, as they were (and still are) one of my favourite biscuits. Like most of Nan's recipes, these are really simple to make and you only need five ingredients to put them together. I apologise that the measurements for this recipe is only in grams and not cups, the reason for this is I had to convert the measurements from ounces – yep this recipe is really that old!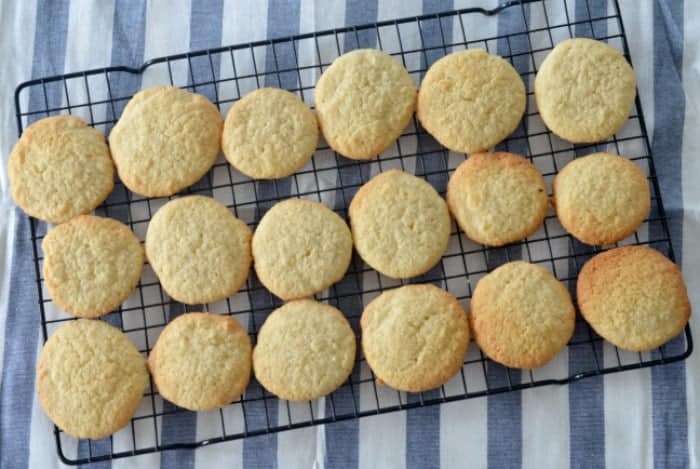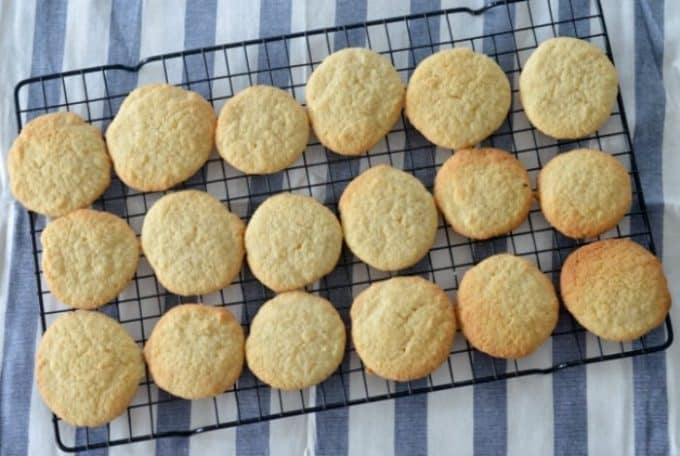 These Coconut Biscuits are really light and buttery and this recipe is on regular rotation in our house as both of the boys love them (Mr 4 calls them the best bikkies ever!) and the only problem with them, is that they never seem to last very long.
They make a great lunchbox treat or after school snack and I can guarantee you will have trouble stopping yourself from eating just one!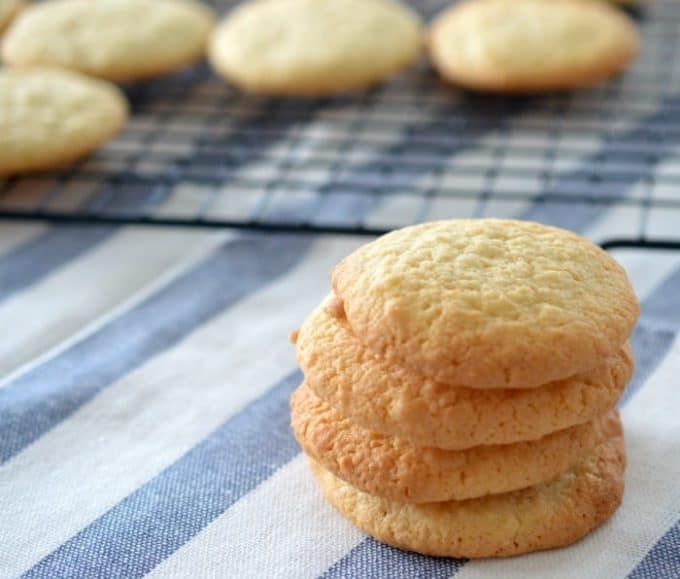 If you don't have a Thermomix – don't worry! You can find the conventional cooking method here.
Enjoy!!
 Nan's Coconut Biscuits - Thermomix Method
These easy Coconut Biscuits need just five ingredients to make and make a great snack or lunchbox treat! Thermomix instructions also included.
Ingredients
170 grams self raising flour
Instructions
Line two trays with baking paper and preheat your oven to 190 degrees.

Insert your butterfly into your Thermomix bowl and add the butter and sugar. Mix for 30 seconds on speed 3. Scrape down the sides and mix for a further 10 seconds until pale and creamy.

Add the eggs and mix for 20 seconds on speed

Add self raising flour and coconut to your Thermomix bowl and mix for 30 seconds using kneading function. If the mixture hasn't quite come together, mix for a further 15 seconds using the kneading function or until combined.

Use a dessert spoon to place the mixture onto the trays, don't worry, your mixture will be quite runny. Repeat until you have used all of the mixture.

Place the trays into your pre-heated oven and bake for 15 minutes or until a light golden colour. Remove Nan's Coconut Biscuits from the oven and cool on trays for 5 minutes before carefully transferring to wire racks to cool completely.
Notes
These biscuits will last for up to one week in an airtight container
Don't worry if your mixture is runny, these biscuits will 'set' once baked.
You can find more great snack recipes in our Snack Attack eBook – also available in a Thermomix edition.
You can shop the full range of print and eBooks here.