This post is sponsored by Woolworths
If there is a way to make my life easier, I'm all for it – especially when it comes to anything to do with my kids! Preparing their lunchboxes for school and kindy is one of those jobs which can become a bit of a hassle, especially when their lunchboxes come back empty!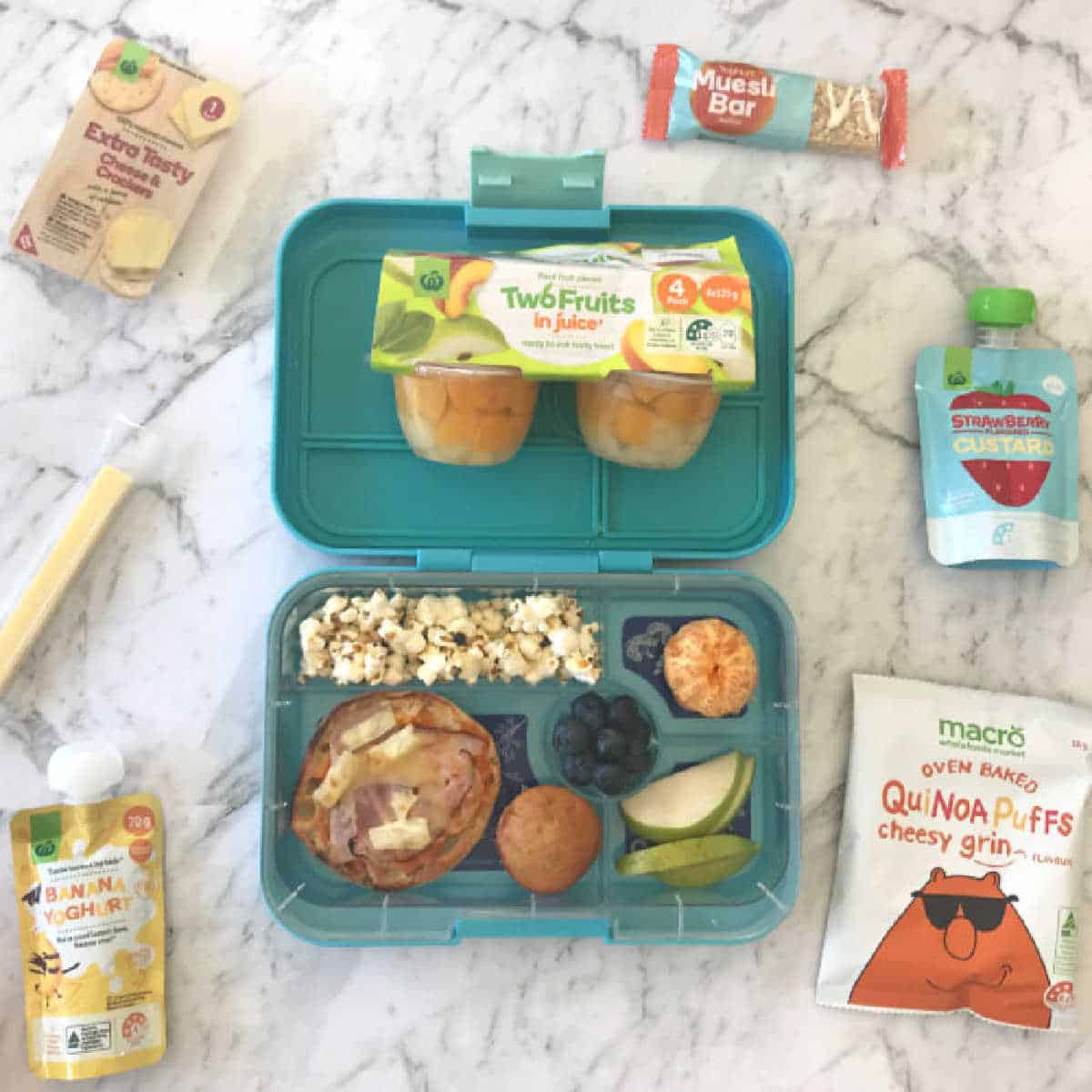 I've long been a big fan of making food for the kids lunches in advance and then storing in the freezer until needed, as it honestly makes lunchbox packing SO MUCH easier – and quicker! What it also means is that I can just pull food out of the freezer either at the start of the week (or when I'm packing the kids lunches), chop up some fruit and add one or two of their favourite lunchbox snacks (Mr 6 is currently loving Woolworths' Apple Flavoured Oven Baked Fruit Filled Bars and Mr 5 enjoys the Woolworths Two Fruits in Juice Snack Packs) and their lunches are sorted!
Each week our two older boys get to choose something for their lunchboxes during our weekly shop at Woolworths and they are then VERY vigilant in making sure no one else in the house eats it – not that we would dare!! Some of their favourite school lunchbox snacks to buy are the Woolworths Tasty Cheese Sticks, Yoghurt Topped Apricot Muesli Bars, Yoghurt Pouches, Macro Quinoa Puffs and the Cheese and Cracker Packs.
Although in the past I was always a 'make the kids lunchbox in the morning' kind of Mum, I've recently started packing their lunchboxes the night before and storing them in the fridge until we're ready to rush out the door the next morning and I've noticed that I don't feel quite as rushed (and stressed out!) on school mornings. It's just a little change I know, but it's something that's made a big difference in our house. If you are also wanting to start making your kids school lunches in advance, I've put together this collection of 45 school lunchbox ideas which can all be made/packed in advance. All of the recipes included in this list are freezer friendly and the snack products can all be popped away in your fridge or pantry to add to your kids (or your own!) lunchbox.
Woolworths Tasty Cheese Sticks
Macro Quinoa Puffs Cheesy Grin Flavour
Woolworths Two Fruits in Juice
Vegetarian Quesadilla
Wholemeal Apple and Cinnamon Pikelets
Woolworths Apricot Yoghurt Muesli Bars
Baked Chicken Zucchini and Cheese Balls
Banana
Mini Spinach and Cheese Quiches
Cauliflower and Cheese Nuggets
Ham Cheese and Zucchini Pikelets
Fruit Pouches
Woolworths Cheese and Cracker Snack Packs
Carrot Raisin and Quinoa Cakes
Woolworths Cheese Triangles
Zucchini and Cheese Mini Muffins
Oranges
Woolworths Vanilla Flavoured Custard Pouches
Coconut Pikelets
Spinach and Three Cheese Rolls
Woolworths Gluten Free Popcorn 10pk
Woolworths Apple Flavoured Oven Baked Fruit Filled Bars
Cheese and Cauliflower Fritters
So there you have it, my collection of 45 Make Ahead School Lunchbox Ideas. What are your favourite snacks to add to your kids lunchboxes?