Freckles were one of my favourite lollies when I was little, it was the combination of brightly coloured 100s and 1000s sprinkled over the top of yummy chocolate that I couldn't resist – and can you really blame me?  We made these Freckle Biscuits on a whim a few weeks ago and buying a bag of Freckles which were on special – yep, impulse buying at it's finest!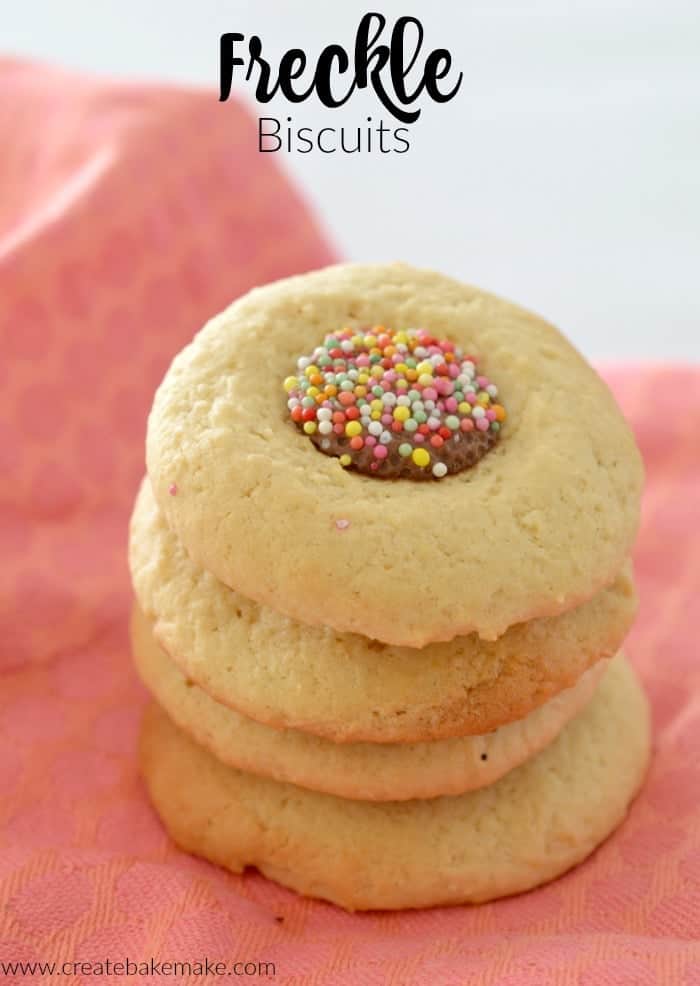 This recipe is based on my Smartie Cookies, which is another fun recipe to make with the kids.  If you don't like coconut, simply omit it and add a little extra flour until you get a dough like consistency. You really can't go wrong with this recipe, it's a regular in our house and even with my two little 'helpers' joining in, we haven't had a fail yet!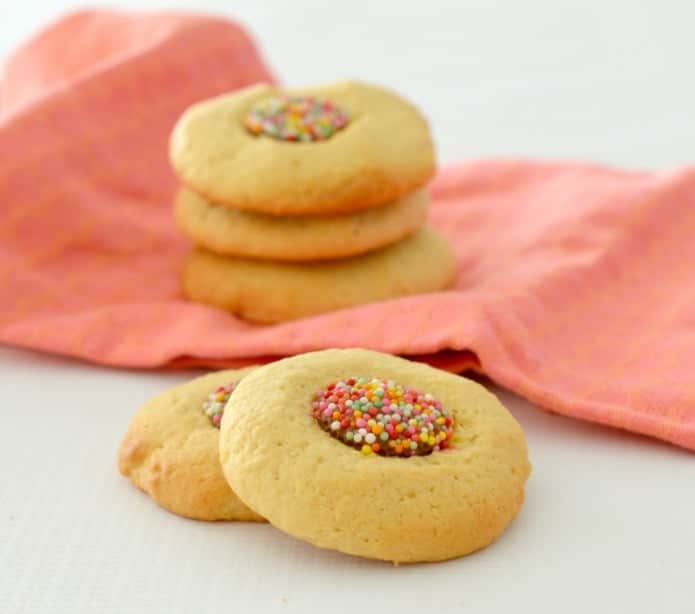 This recipe really is versatile and you could try adding any of your favourite sweet treats to the top, or these biscuits are yummy enough to enjoy all on their own.  They also make a great after kindy snack (or bribe to get them to kindy in the first place!) or a fun party table treat.

Lauren
Makes 24
Freckle Biscuits
20 minPrep Time
12 minCook Time
32 minTotal Time
Ingredients
125g of butter – softened
1 teaspoon of vanilla essence
1 cup of brown sugar
2 eggs
2 cups of plain flour – sifted
1 teaspoon of baking powder
1 cup of desiccated coconut
24 Freckle Lollies
Instructions
Preheat your oven to 190 degrees and line two baking trays with paper.
In the bowl of an electric mixer add the softened butter, vanilla essence and brown sugar and mix until creamy. ?Beat in the eggs one at a time.
Remove the bowl from the mixing stand and sift the flour and baking powder over the mixture. Add the coconut and stir to combine.
Use a tablespoon to scoop up balls of the mixture before flattening slightly once on the tray. Repeat until you have used all of the mixture.
Gently press a Freckle lolly onto the top of the slightly flattened Freckle Biscuits to decorate before placing in the oven to to bake for 12 - 15 minutes or until the biscuits have turned light brown. ?Let the biscuits cool on the baking trays for 5 minutes before carefully transferring to a wire rack to cool completely.
7.6.5
275
https://createbakemake.com/2016/06/06/freckle-biscuits/
Thermomix Freckle Biscuits Recipe
Preheat your oven to 190 degrees.
Place the butter and caster sugar into your Thermomix bowl and mix for 30 seconds on speed 6.
Add the eggs and vanilla extract and mix for 20 seconds on speed 4 to combine.
Add the flour and baking powder and mix for 20 seconds on speed 4 or until combined. Stop after 10 seconds to scrape down the sides.
Scoop up tablespoon sized balls of the cookie mixture and place onto your prepared baking trays. Flatten the surface of the biscuits slightly and gently press a Freckle lolly into the centre before placing into the oven to bake for 12 – 15 minutes.
Carefully remove the Thermomix Freckle Biscuits from the oven and let them cool on the baking tray for 5 minutes before carefully transferring them to a wire rack to cool completely.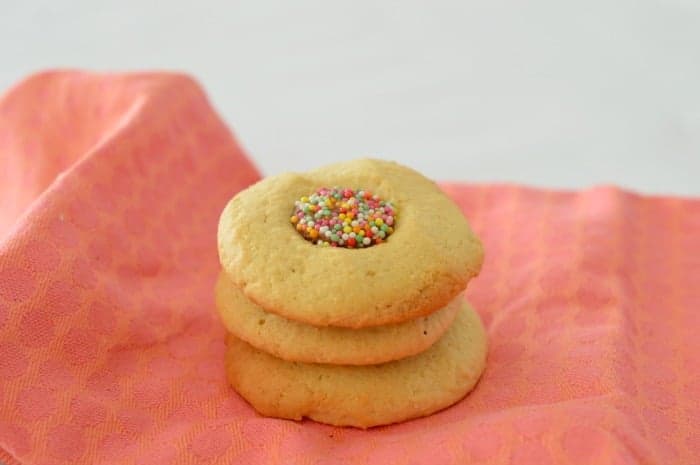 What was your favourite lolly growing up?