We are fortunate to have a toddler with a healthy appetite.  In fact his appetite is so healthy, he will give pretty much anything a go – he even loves my green smoothies.  However if he had to choose, his favourite foods (in no particular order) the list would include: Pasta, Corn, Chicken Nuggets, Cheese and Toast.  He also has an odd obsession fascination with BBQ sauce (I blame my husband for this), to the point where he has  demanded it be added to a Vegemite and Cheese sandwich (naturally I obliged  – hey, at least he ate it!).  So when I came across this recipe for Easy BBQ Chicken Casserole by Clarks Condensed, I knew I was onto a winner. As the days are getting cooler (finally!), I've been craving a a hearty pasta bake, even more so after I put together some yummy comfort food recipes last week.  Luckily, I only had to wait a few days until our new meal planner was ready to be written, and I added this recipe to the very first day.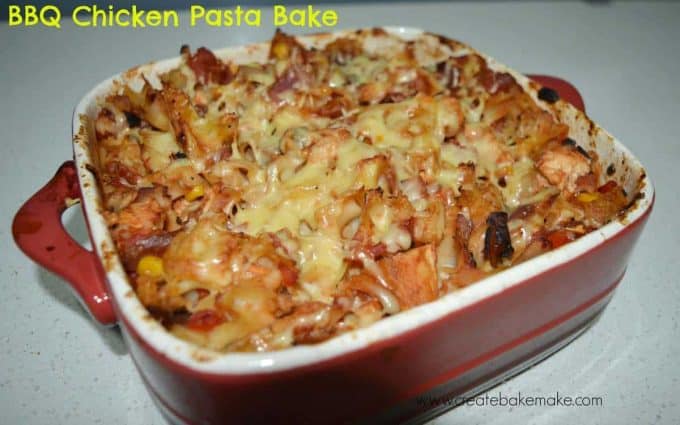 I decided to add a couple more veggies to my version, and also used tasty and parmesan cheese instead of mozzarella (simply as this was all I had in the fridge). I also decided to serve it with broccoli and green beans to add a few more 'colours' to our plate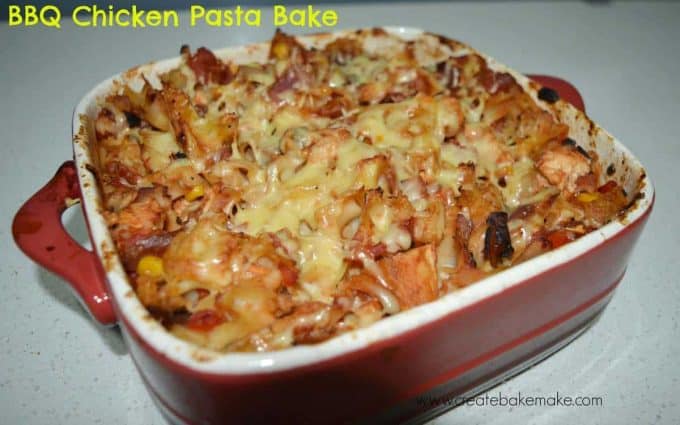 It ended up being quite 'cheesy' just using the tasty and parmesan cheese.  However I think mozzarella would be yummy too.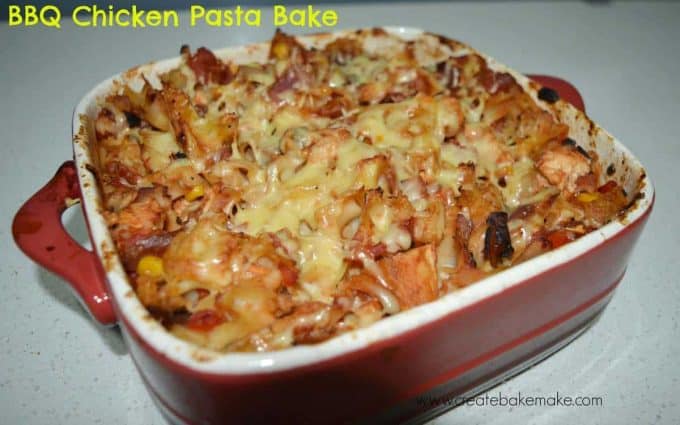 Serving up, I was confident we were onto a winner.  It took our Toddler a few minutes to investigate it (and check if it passed the roadworthy) and although he added the entire container of extra cheese that was meant for the four of us, he still ate everything that was on his plate – greens included!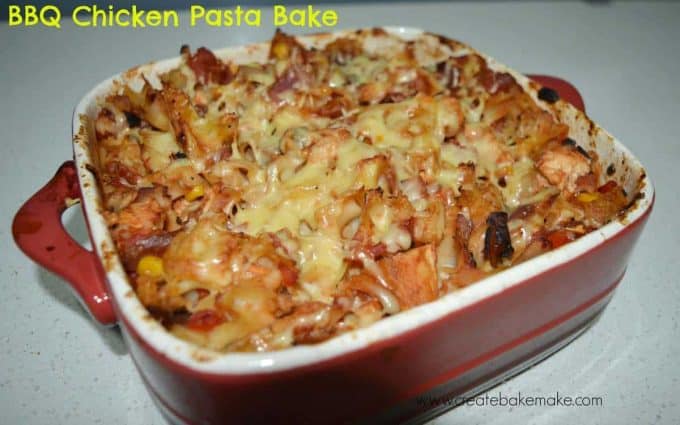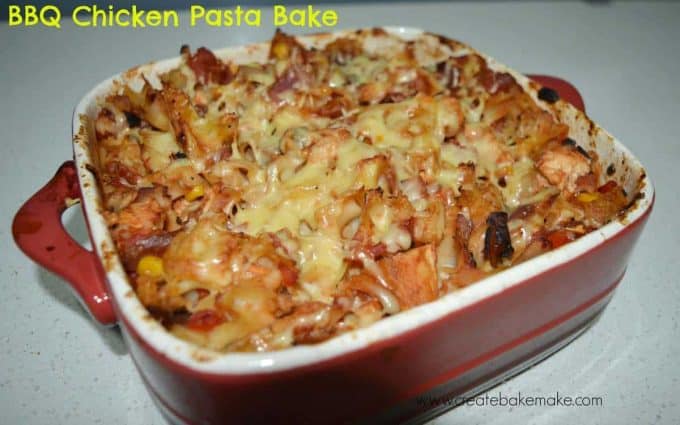 BBQ Chicken Pasta Bake
Ingredients
250

g

of dried Bow Tie Pasta

1

x chicken breast

approx 250g

3

rashers of short cut bacon - chopped

1

x red onion - chopped

½

cup

of frozen corn kernels

½

red capsicum - chopped

200

g

tin of pineapple pieces

½

cup

of grated tasty cheese

¼

cup

of finely grated parmesan cheese

½

cup

BBQ sauce

1

tin of crushed tomatoes
Instructions
Preheat oven to 190 degrees (fan forced).

Cook pasta as per directions, drain and set aside.

In a non stick fry pan, add the chicken breast, bacon, corn, red onion and capsicum and cook over a medium to high heat for approximately 8 minutes until the chicken breast has cooked through and the bacon has browned slightly.

Remove chicken breast from the pan and shred using two forks.

Add drained pasta, shredded chicken, bacon, corn, red onion and capsicum to baking dish. Add ¼ cup of the tasty cheese and approx half of the parmesan cheese.

Add the pineapple pieces, BBQ sauce and crushed tomatoes and gently combine in baking dish.

Sprinkle the remaining cheese on top and then pop into the oven for 25 minutes until the cheese on top has started to brown.
Nutrition
Serving:
0
g
Calories:
0
kcal
Carbohydrates:
0
g
Protein:
0
g
Fat:
0
g
Saturated Fat:
0
g
Polyunsaturated Fat:
0
g
Monounsaturated Fat:
0
g
Trans Fat:
0
g
Cholesterol:
0
mg
Sodium:
0
mg
Potassium:
0
mg
Fiber:
0
g
Sugar:
0
g
Vitamin A:
0
IU
Vitamin C:
0
mg
Calcium:
0
mg
Iron:
0
mg
Do you have a fussy toddler/child in your house? Do they also put their food into the trays of their toy trucks?
Linking up with Essentially Jess for IBOT.