These muffins combine two of my favourite ingredients: Banana & Caramel. When I saw this recipe from Everyday Gourmet appear in my Facebook newsfeed, I knew I had to try it.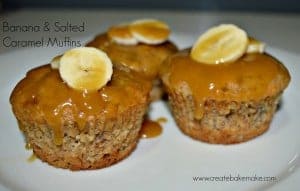 It's an easy recipe to put together, and it's also a great one for little helpers.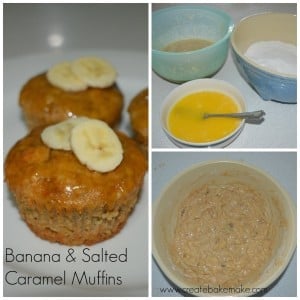 Although I was VERY generous pouring the caramel sauce over the muffins (because you can NEVER have too much caramel), there was still some leftover (what a shame!) so I just had to add even more to the muffin I just had to try!
I loved these, the muffins are really light and the salted caramel sauce is just divine.  This is one recipe I will definitely make again, I think next time I will add chopped walnuts or pecans to make these even more incredible.
To make these sensational muffins, you will need:
1 ¾ cups plain flour
¾ cup caster sugar 
1 tsp. baking powder
¼ teaspoon of baking soda
¼ teaspoon of salt 
1 teaspoon of  cinnamon 
3 large eggs, lightly beaten 
½ cup unsalted butter – melted 
3 ripe large bananas mashed , plus one extra banana to decorate.
3 tablespoons of milk
1 teaspoon of vanilla extract
– Preheat oven to 180 degrees and grease and line muffin tray (makes approximately 16 muffins).
– Sift the flour, baking powder, salt, baking soda and cinnamon into a large bowl. Add the caster sugar and stir with a large metal spoon.
– Combine the milk, eggs, vanilla extract and bananas in a medium bowl and whisk together.
– Add milk mixture and melted butter to dry ingredients and gently fold together.  Make sure you don't over mix, the mixture will still be thick and lumpy.
– Spoon into muffin tins and bake for 20 minutes until cooked through when tested with a skewer. Allow to cool in tins for 5 minutes and then remove and place on a wire rack.
While the muffins are cooking you can make the caramel sauce.  You will need:
75g  unsalted butter
50 g  brown sugar
50 g caster sugar
50g golden syrup
60mls double cream
Sea salt flakes
– In a medium saucepan, add the butter, brown sugar, caster sugar, golden syrup and cream and stir until melted over a medium heat.
– Allow sauce to simmer for approximately 5 minutes until the sauce has thickened slightly.
– Spoon sauce over warm muffins, sprinkle with sea salt flakes and add slices of fresh banana.
**  To help reduce mess, place a sheet of baking paper underneath the wire rack when spooning caramel sauce over muffins.
Enjoy!!
 Linking up with The Multitasking Mummy for Mummy Mondays
& also
One Mother Hen for Open Slather
<div class="one-mother-hen-button"> <a href="http://onemotherhen.blogspot.com.au" rel="nofollow"> <img src="http://i1259.photobucket.com/albums/ii550/alleychook/f3c63c72-0117-4650-9e01-24f69e97b22b_zps2f5fa88c.jpg" alt="one mother hen" width="140″ height="140″ /> </a> </div>