When I think about Christmas recipes, rocky road immediately springs to mind.  It's one of those seriously easy recipes that I only seem to make at Christmas time, which is probably a good thing for my waist line!  This year I wanted to mix it up a little and try something a little different using my favourite Rocky Road recipe.  This Rocky Road Christmas Pudding is the perfect no bake Christmas dessert and would be the perfect centrepiece on any Christmas party or even Christmas Day table.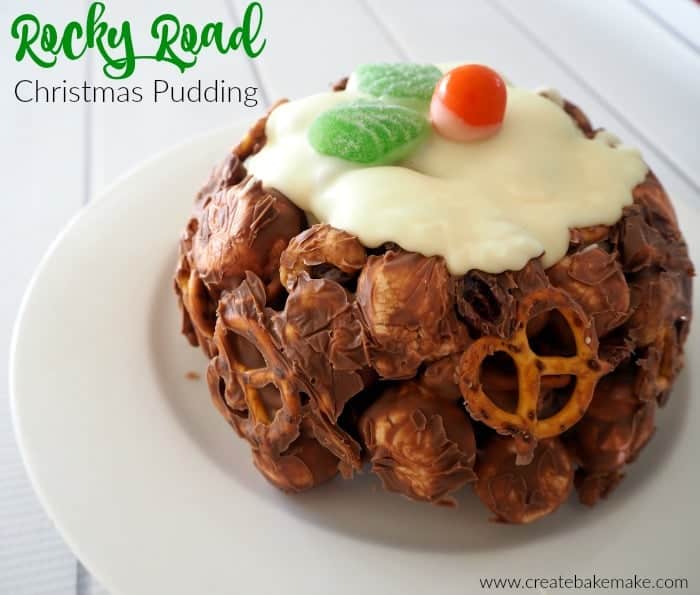 This recipe is so forgiving and you can easily substitute any of the ingredients (aside from the chocolate!) for your favourite treats.  I've also made versions using raisins, shortbread and even popping candy – the ingredients you can use and combinations are really only limited by your imagination.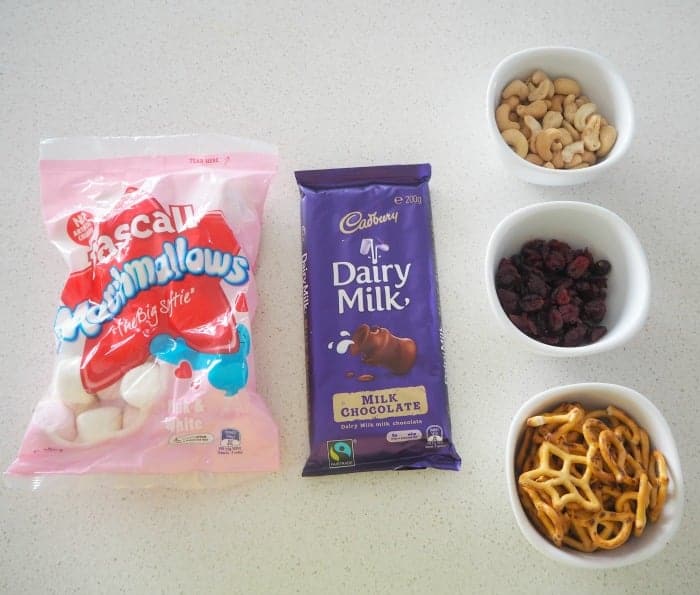 My two little helpers were VERY eager to help me out with this recipe, and it's surprising that we actually ended up with enough ingredients to put this Rocky Road together.  Many of the photos I took had to be discarded thanks to little hands trying to steal a marshmallow or swipe some of the melted chocolate.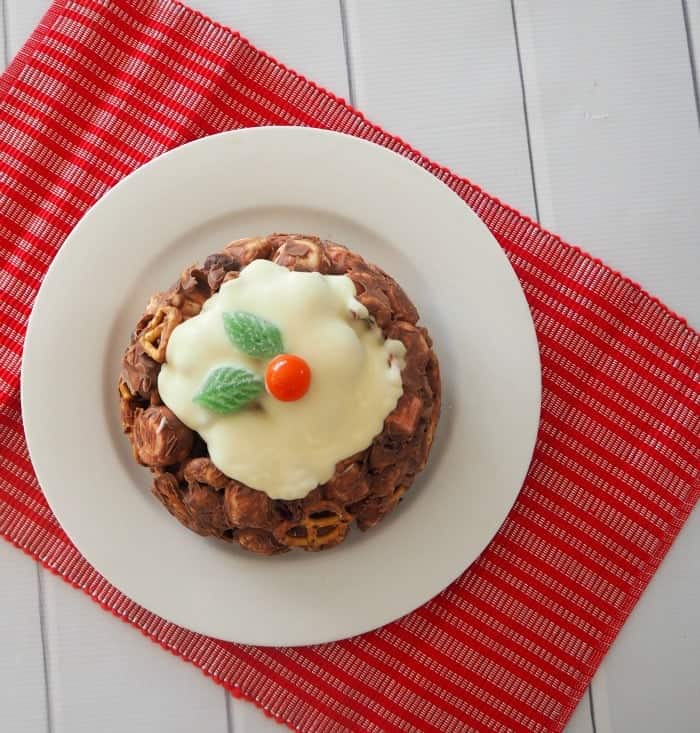 I have heard rumours that mint leaves are no longer being made, thankfully our local IGA still has them in stock so I've been loading up for all the Christmas baking I'm planning to do over the next few months.

Rocky Road Christmas Pudding
Ingredients
200

g

of milk chocolate

250

g

of marshmallows

50

g

of unsalted cashews

50

g

of mini pretzels

1/2

cup

of dried cranberries

craisins

100

g

of white chocolate

1

Jaffa or red M&M to decorate.
Instructions
Line a pudding bowl (or a deep regular bowl) with cling wrap, make sure the sides and base are completely covered and you leave cling wrap overhanging to help remove the Rocky Road Christmas Pudding once it has set.

Assemble your ingredients on a work bench so they are in easy reach.

Break the milk chocolate into squares and place it into a microwave safe bowl. Cook for 30 second spurts until the chocolate has just melted.

Add the marshmallows, cashews, pretzels and dried cranberries to the bowl with the melted chocolate and quickly mix together with a large metal spoon until all of the ingredients are coated with chocolate.

Pour the mixture into your prepared pudding bowl and gently push down and smooth the surface. Place the Rocky Road pudding into the fridge to set, this should only take a couple of hours.

Carefully remove the set pudding from the bowl, remove the cling wrap and turn upside down onto a serving plate - dome side on top.

Melt the white chocolate and pour over the top of the Rocky Road pudding before adding the Jaffa and mint leaves to decorate.

Refrigerate until ready to serve.
If the thought of one big Chocolate Rocky Road Christmas Pudding is a little too much for you, you could also split the Rocky Road mixture into cupcake cases to make little individual puddings, these also have the added bonus of being great Christmas gifts for friends, teachers and family.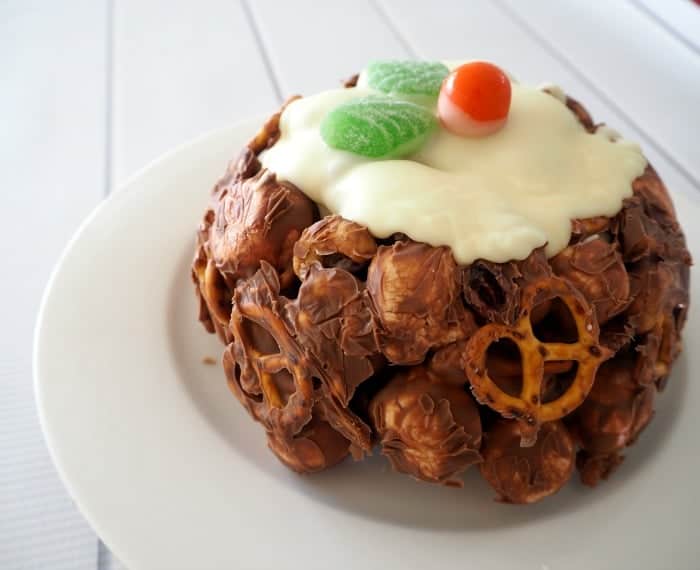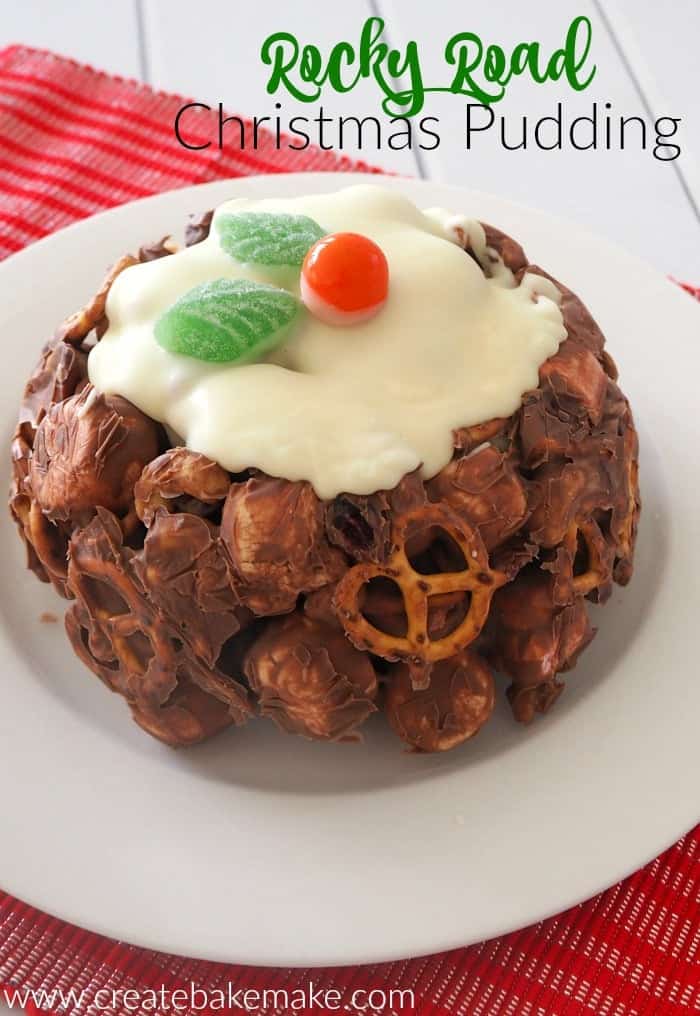 What's your favourite Rocky Road combination?