While my boys at not yet at school, last week they have returned to their kindy for two days each week after having a lovely 'holiday'.  In the week leading up to their return we spoke a lot about how much fun they were going to have seeing all of their friends again and the fun things they would get to do.  Although I don't have to pack a school lunch box for them just yet, we still like to have some homemade treats on hand for when they get home in the afternoon and we sit down for some afternoon tea and talk about their day.
I have been meaning to make these three ingredient rice bubble bars for quite some time now and was also eager to try this recipe in my thermomix, so the start of the new kinder year seemed like the perfect time to do it!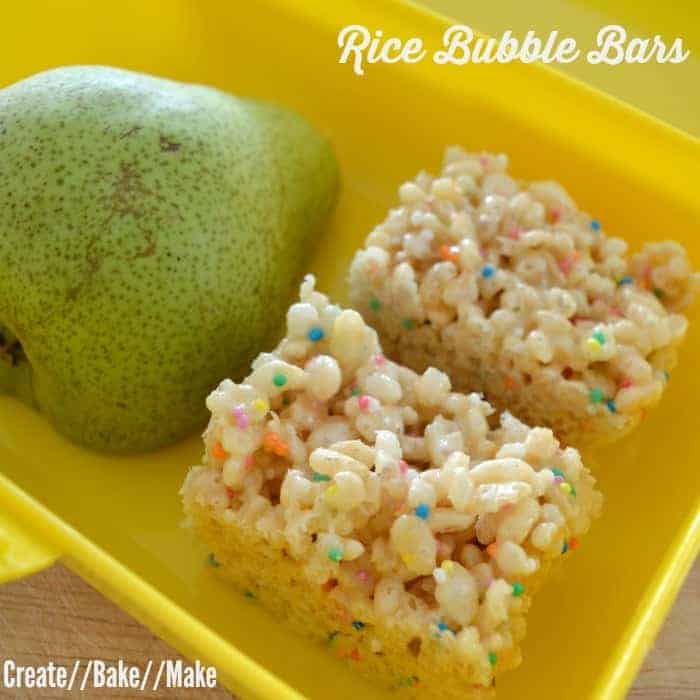 This recipe is so easy to put together, it seriously only took 5 minutes from start to finish to make these bars using my thermomix, and would only take slightly longer making them conventionally.  Our bars didn't take too long to set in the fridge, and we were sitting down enjoying a little piece in what felt like no time.

Easy Rice Bubble Bars Recipe
This 3 Ingredient Rice Bubble Bars recipe is an easy no bake slice recipe to make with your kids! It's the perfect party food idea and also a yummy lunch box treat. Both regular and Thermomix instructions included.
Ingredients
75

grams

butter

200

grams

white marshmallows

6

cups

rice bubbles

or similar

100s & 1000s to decorate

optional
Instructions
To begin, line the base and sides of a 20 cm cake tin with baking paper - making sure you leave the paper hanging over the edges.

In a large bowl, add the rice bubbles and set aside until needed.

Place the butter and marshmallows in a small saucepan and cook over a medium heat stirring occasionally until they have both melted and combined.

Pour the melted mixture quickly into the bowl with the rice bubbles, and mix until combined.

Pour the combined mixture into a slice tin and use a metal spoon to spread across the tin and push down.

Sprinkle 100s and 1000s over the top (optional) and place in the fridge for two hours or until set.

Once set, remove the slice from the fridge and cut into small squares.
Notes
This slice is best stored in the fridge and enjoyed within 5 days of making.
If you can't find Rice Bubbles, you can use alternatives such as Rice Krispies.
You can also use both pink and white marshmallows for this recipe, if using pink, the slice will have a slight colour to it.
You can also use a 28 x 18cm slice tin for this recipe.
Thermomix Instructions
1. As above
2. Place the marshmallows and butter into the thermomix bowl and cook for 1 minute on 80 degrees, speed 1 or until melted and combined.  After approximately 30 seconds, use the spatula to scrape down the sides.
3. Add the rice bubbles to the bowl and mix for 1 minute 20 seconds on speed 1 Reverse until mixture has combined.
Follow above from step 6.
 Enjoy!
What are your kids favourite lunch box treats?