This easy Thermomix Mars Bar Slice really is one of my all time favourite slice recipes – a big call I know!  All you need is five simple ingredients and in no time you will be enjoying a slice of this crunch and chocolate slice.
Growing up, Mars Bar Slice used to make a regular appearance on birthday party dessert tables at both our house and at my friends, and I've made it a few times now to share at our boy's birthday parties and it's always one of the first things to go!
This easy Thermomix Mars Bar Slice is just a little extra indulgent when compared to my classic Mars Bar Slice recipe, thanks to an extra thick layer of milk chocolate on top – after all you can never have too much chocolate!
I only used one Mars Bar to decorate the top of this slice, but you can certainly add as many as you like – I certainly won't judge you!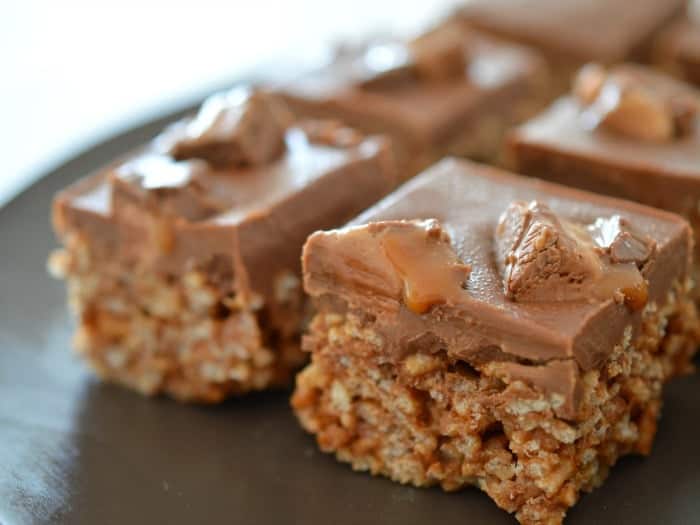 If you don't have a Thermomix, don't worry! You can find my original Mars Bar Slice recipe here.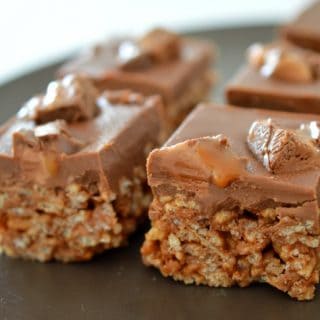 Easy Thermomix Mars Bar Slice
Ingredients
5

Mars Bars

125

g

of butter

1 1/2

tablespoons

of golden syrup

4

cups

of puffed rice cereal

400

g

of milk chocolate
Instructions
Line a 28 x 18cm tin with baking paper. Make sure you leave plenty of paper hanging over the sides to help you remove the Mars Bar Slice once it has set.

Place the butter, golden syrup and 4 of the Mars Bars (which have been chopped into quarters) into your Thermomix bowl and cook for 3 minutes, 60 degrees, speed 3. Scrape down the sides and cook for a further 1 minute if the ingredients haven't quite melted.

Add the rice cereal and mix for 10 seconds on speed 4 REVERSE. Scrape down the sides of the bowl and mix for a further 5 seconds on speed 4 REVERSE or until the rice cereal has been covered with the melted Mars Bar mixture.

Pour the mixture into your prepared slice tin and push down with the back of a metal spoon to flatten and smooth the surface.

In a clean Thermomix bowl, add the milk chocolate (which has been broken into pieces) and cook for 2 minutes at 50 degrees on speed 3. Scrape down the sides and cook for a further 1 - 2 minutes or until the chocolate has completely melted.

Pour the melted chocolate over the top of your Mars Bar Slice and decorate with pieces of the extra Mars Bar and place into the fridge for 4 hours to set.

Cut the set Thermomix Mars Bar Slice into pieces and enjoy!
For more great kids birthday party food ideas, check out this post.