It's really no surprise that my boys like to help out in the kitchen.  From the time they were both young, they have watched me cooking and baking and slowly have become more and more involved.
I have really been enjoying involving the boys in my Christmas baking this year, and I'm pretty sure they have both enjoyed being involved and having their own jobs too – especially the taste testing…
We made a batch of these Vanilla Christmas Cookies to take along to a play date last week.  They were very quick and easy to make and aside from taste testing, my big boys favourite part of making them was certainly decorating them, I think has clearly has  a creative streak – what do you think?
If you are looking for a fun and easy recipe to make with the kids in the lead up to Christmas, this one is for you.  To make these cookies, you will need:
185g of butter – softened
1 cup of caster sugar
1 ½ teaspoons of vanilla extract
2 ½ cups of plain flour
1 egg
1 egg yolk – extra
Icing, M&Ms and other decorations of your choice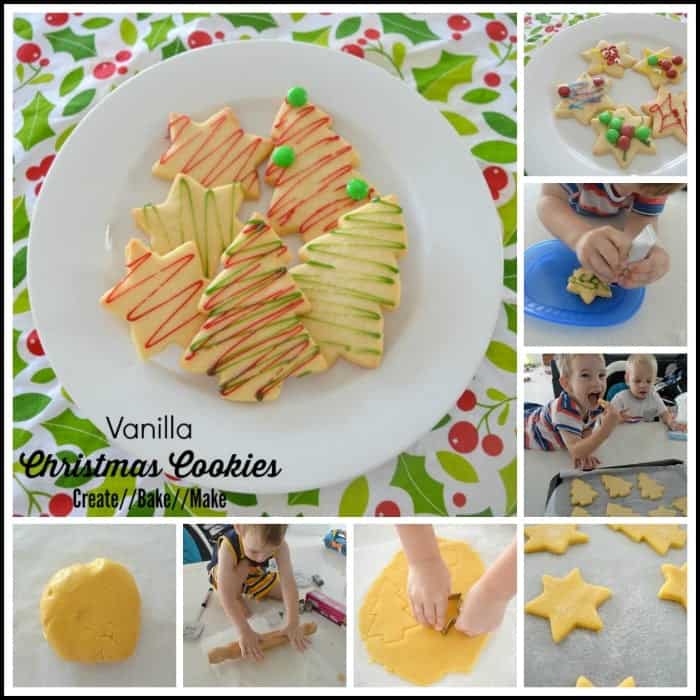 Let's put it together!
Line two baking trays with baking paper and preheat your oven to 180 degrees.
Place the softened butter, sugar and vanilla extract in the bowl of an electric mixer and beat until pale and creamy.
Add the flour, egg and egg yolk and combine until a smooth dough forms.
Tip the dough onto a slightly floured bench and lightly knead.
Roll it into a ball and cover with plastic wrap before placing in the fridge for half an hour.
Remove the dough from the fridge and roll it out between two sheets of baking paper until it's approximately 5mm thick.
Cut the dough into shapes using your favourite cutters.
Place the shapes onto the baking trays and bake in the oven for 10 – 12 minutes or until the golden.  Please note your cooking time will vary depending on the size of your cookies.
Remove trays from the oven and allow cookies to cool for 5 minutes before carefully transferring them to a wire rack to cool completely.
Decorate as desired, you can find 'Writing Icing' in the baking aisle of most supermarkets.
Enjoy!
Do your kids like to bake?