If you are looking for an easy but impressive dessert, this Caramel Chocolate Ripple Cake Christmas Wreath is for you!
What makes this Caramel Chocolate Ripple Cake that extra bit special is  not only is it filled with deliciously whipped cream, but it also contains Caramel Top n Fill, making it the ultimate indulgent dessert!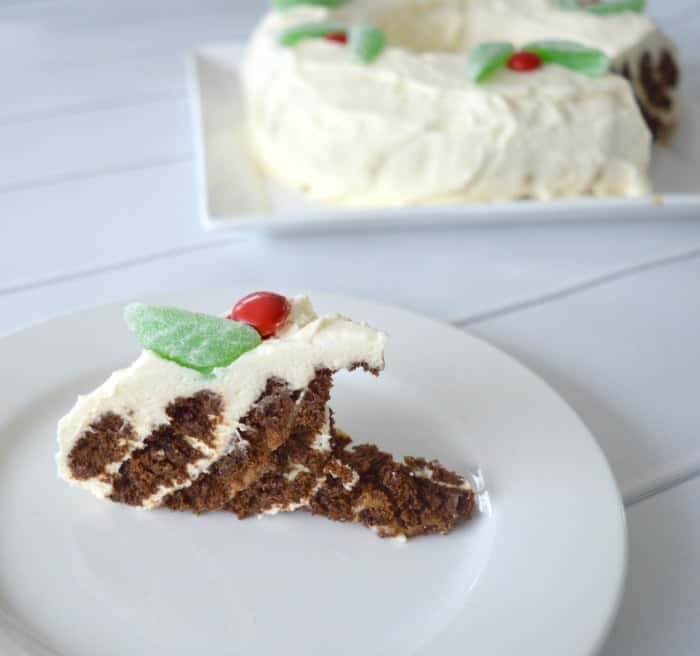 To make this Caramel Chocolate Ripple Cake Christmas Wreath (try saying the five times in a row quickly!) you will need  900ml of thickened cream to make this recipe, as it does make quite a large wreath. Don't worry if you have some cream leftover, you can use it to pop on top of some  homemade scones as a reward for all of your hard work!
This Caramel Chocolate Ripple Cake is the perfect festive dessert as it can be made ahead of time (in fact it's best to do so), it's easy to put together and I guarantee your family and friends will love it. My bit tip is:I prefer to decorate my cake just before serving as the smarties and spearmint leaves can lose and transfer their colour onto the cream when stored in the fridge.
You can also find more great Christmas Dessert recipe ideas in this post.
Caramel Chocolate Ripple Cake Christmas Wreath
This Caramel Chocolate Ripple Cake Wreath is the perfect Christmas Dessert!
Ingredients
900

ml

of thickened cream

3

tablespoons

of icing sugar

1

teaspoon

of vanilla extract

400

g

of Chocolate Ripple Biscuits - approximately 1 & ½ packs

390

g

tin of Caramel Top and Fill

6

red smarties and 6 spearmint leaves to decorate
Instructions
Transfer the Caramel Top & Fill into a small bowl and use a small whisk to mix until smooth. Set aside until needed.

Pour the thickened cream into a large bowl, add the icing sugar and vanilla essence and use an electric hand mixer to whisk the cream until soft peaks form.

Smear a little of the whipped cream onto the base of a large serving plate to make a circle - this will be your guide for arranging your wreath.

Place a little cream between two chocolate ripple biscuits and stand them on your plate in the cream. Smear some of the Caramel Top and Fill onto the base of another chocolate ripple biscuit and sandwich it next to one of the chocolate ripple biscuits already on your plate. Repeat alternating between cream and caramel until you have completed your wreath.

Use a spatula to spread a thick layer of cream all over your Caramel Chocolate Ripple Cake - you want to make sure it's covered well and you can't see any of the biscuits.

Carefully cover the cake (I use toothpicks to hold up the cling wrap) and place it into the fridge for a minimum of 6 hours to allow the cream and caramel to soften the biscuits.

When you are ready to serve your Caramel Chocolate Ripple Cake, use the red smarties and spearmint leaves (cut in half) to create little holly leaves around your cake.
Notes
You can prepare this dessert up to a day in advance, simply cover with cling wrap and store in the fridge.
It's best to add the decorations just prior to serving as the colour from the smarties and mint leaves can run into the cream.
Nutrition
Serving:
0
g
Calories:
1
kcal
Carbohydrates:
0.1
g
Sodium:
0.04
mg
Potassium:
1
mg
Sugar:
0.1
g
Calcium:
0.04
mg
For more yummy no bake Christmas Recipes, grab your copy of our no bake Christmas Recipe ebook (also available in a Thermomix version) and make sure you check out our other great eBooks here.