The problem with not being able to resist a bargain when you see it, is that you inevitably end up with things you a. forget about b. you don't need or c. you end up with waaay too many. When I did a recent stocktake of the pantry I was a little shocked to discover a total of 14 Mars Bars hidden in various places so I knew I needed to turn them into something before the urge to start eating them began.  I decided to adapt my easy Chocolate Malteser Fudge recipe and turn it into three ingredient Mars Bar Fudge.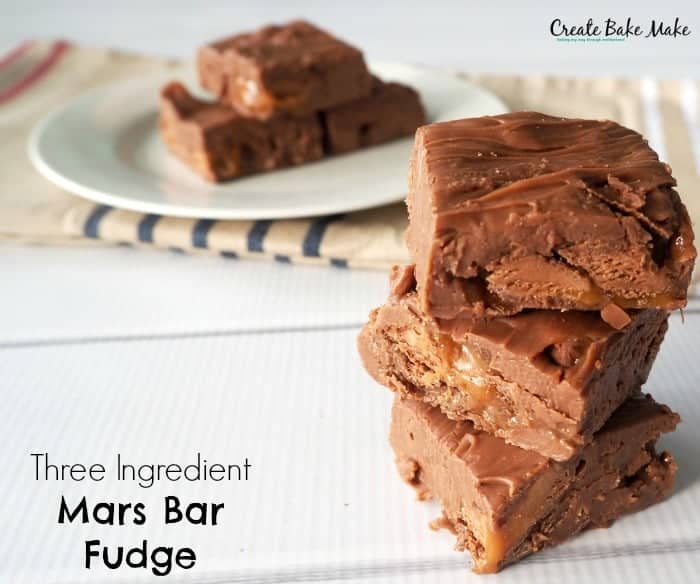 Thanks to having a well stocked pantry I had already had the remaining two ingredients on hand – condensed milk and milk chocolate.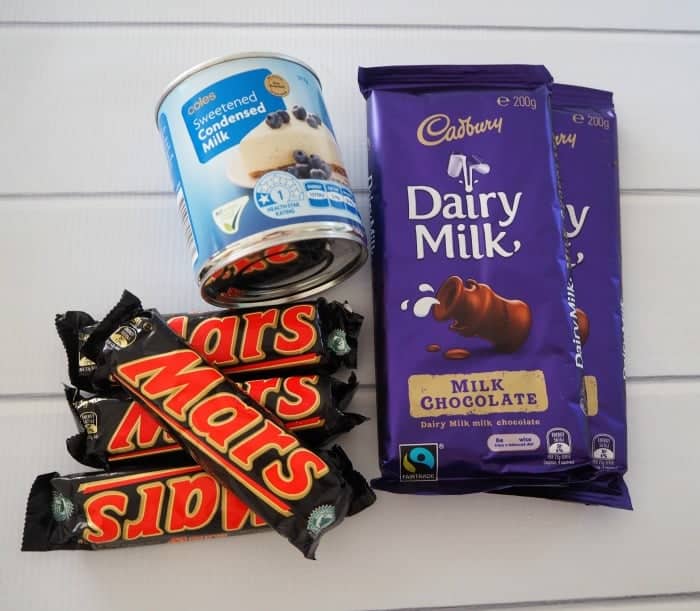 This fudge recipe is REALLY simple, all you need to do is melt the chocolate and condensed milk before stirring in cut up Mars Bar pieces – yep it's that easy.
Three Ingredient Mars Bar Fudge
Ingredients
400

g

of Milk Chocolate

395

g

tin of condensed milk

4

x Mars Bars
Instructions
Line a 20cm square cake tin with baking paper - make sure you leave plenty of paper hanging over the sides to help you remove the fudge once it has set.

Roughly chop the Mars Bars into pieces and set aside until needed.

Pour the condensed milk into a medium saucepan over low heat and add the milk chocolate - which has been broken into squares.

Cook condensed milk and chocolate mixture and stir regularly until the chocolate has melted and the ingredients have combined.

Remove the saucepan from the heat and add the chopped up Mars Bars before quickly stirring through.

Pour the fudge into the prepared tin and place in the fridge for a minimum of 6 hours (preferably overnight) to set.

Remove the set fudge from the fridge and cut into squares.
Mars Bar Fudge Thermomix Instructions
Break the Mars Bars in half and place in the Thermomix bowl and chop of 3 seconds on speed 5. Transfer into a new bowl and set aside until needed.
Break the milk chocolate into pieces and place in the Thermomix bowl.
Add the condensed milk and cook for 10 minutes, 100 degrees on speed 3.
Add the Mars Bar pieces and mix for 20 seconds on reverse, speed 1.
Working quickly, pour the fudge into the prepared pan and place in the fridge for 4 hours (preferably overnight) to set.
Remove fudge from the fridge and cut into small pieces.
Both of the boys were keen to help me out with this recipe, and our big boy was very excited to help me take the photos, although I had to decline his suggestion to put a couple of pieces into the back of one of his trucks!
Do you love a bargain too?
If you LOVE all things NO BAKE grab your copy of our No Bake Slices Ebook today! Also available in a Thermomix version too.
Also check out my collection of easy and delicious NO BAKE Mars Bar and Malteser Recipes.