Although I've made a few peppermint recipes in my time (Peppermint Slice and Peppermint Cheesecake) I'm actually not the biggest fan of  peppermint and chocolate together – crazy I know!  This didn't stop me grabbing a few Peppermint Crisp bars from the supermarket when they were on special recently, as I have been wanting to try this Chocolate Peppermint Balls recipe for MONTHS – ever since I came across it in an old football club recipe book.
Recipes really don't get much more simple than this, and the boys were a little disappointed when it took us no time at all to put these together.  They were both eager to have a go at rolling the balls, but this mixture is quite sticky and their attempts quickly ended in tears – literally.
We made these the good old fashioned way but you can also easily make them using your Thermomix which takes next to no time at all.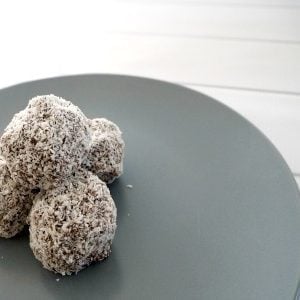 No Bake Chocolate Peppermint Balls
Ingredients
1

can of condensed milk

250

g

of chocolate ripple biscuits

2

peppermint crisps

⅓

cup

of desiccated coconut plus extra to roll the balls in.
Instructions
Crush the chocolate ripple biscuits and peppermint crisp bars. Add ⅓ cup of coconut.

Add the condensed milk and stir to combine.

Roll the mixture into balls and roll in coconut to cover.

Repeat until you have used all of the mixture. Transfer the balls to the fridge for two hours or until set.
Nutrition
Chocolate Peppermint Balls Thermomix Instructions
1.  Place the biscuits and peppermint crisp bars into the Thermomix Bowl.
2. Crush by using the Turbo function for 1 second spurts 5 – 6 times or until the biscuits are finely crumbed.
3. Add the condensed milk and coconut.
4. Mix for 20 seconds on speed 3 REVERSE or until well combined.
5. Roll tablespoon scoops of the mixture into small balls.
6. Roll the balls in the extra coconut and place in the fridge to set.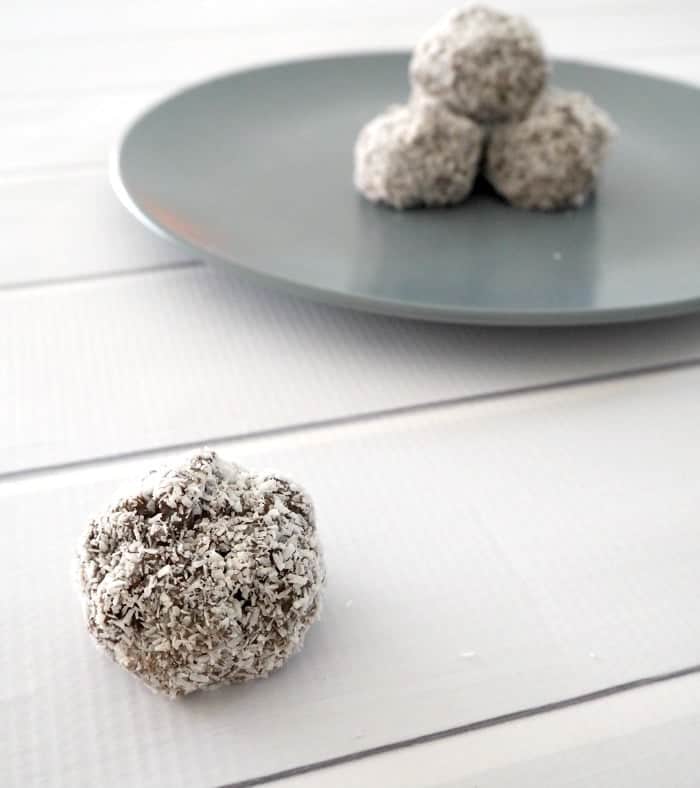 My husband was a big fan of these sweet and chocolately balls and over the course of a few days easily polished off the entire plate of them.
What is your favourite easy recipe to make?