It's been a couple of months now since my Thermomix arrived, and in that time I've been slowly working my way through all of my favourite recipes and converting them over.  This no bake Lemon and Coconut Slice is always a winner whenever I make it, and now that it takes practically no time at all to put together thanks to my Thermomix, I can see it being made very regularly in the future!
There's no need to worry if you don't have a Thermomix, you can find the original Lemon and Coconut Slice recipe here.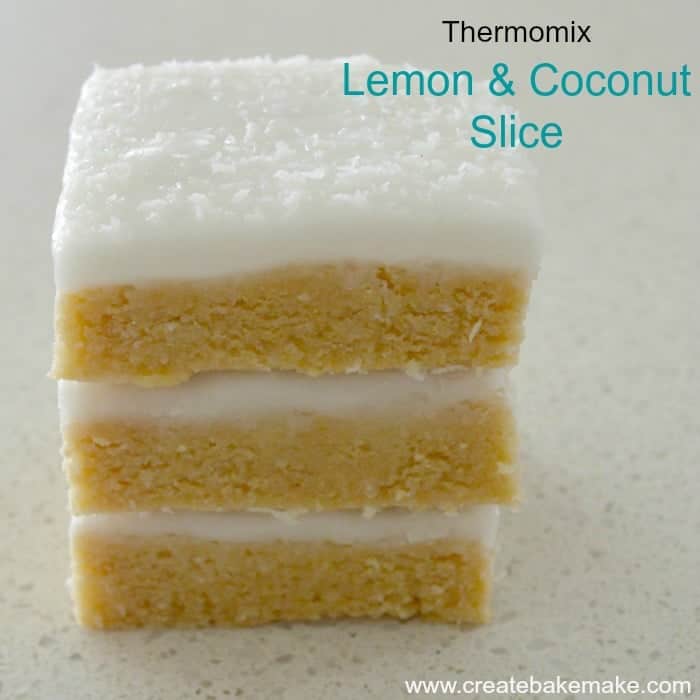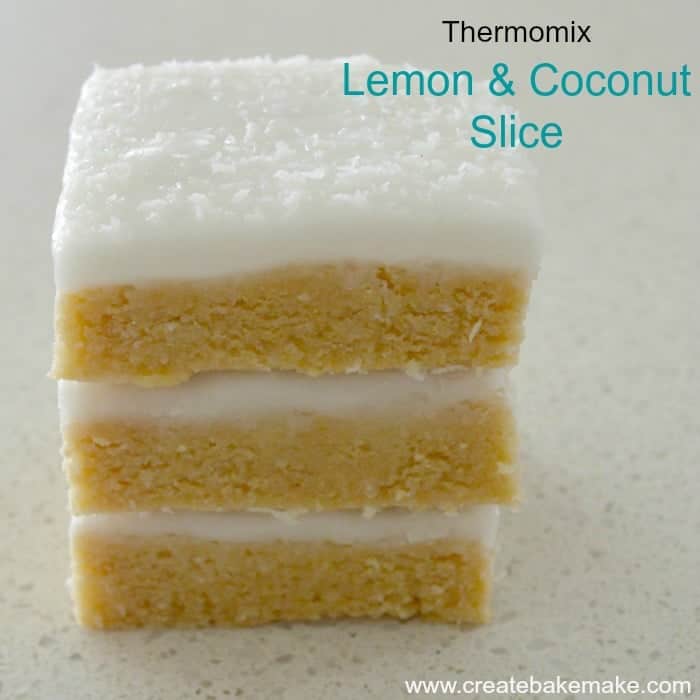 Thermomix Lemon and Coconut Slice
Ingredients
50

g

of butter - chopped

395

g

can of condensed milk

1

tablespoon

of lemon juice

250

g

of plain sweet biscuits - crushed

½

cup

of desiccated coconut

Lemon Icing

2

cups

of icing sugar mixture

2

tablespoons

of lemon juice

½

tablespoon

of hot water

¼

cup

of desiccated coconut to decorate
Instructions
To make the slice

Line a slice tin with baking paper, making sure to leave paper hanging over the sides.

Place the biscuits inside your thermomix bowl and crush for 5 seconds on speed 9. Pour the crushed biscuits into a separate bowl and set aside.

Add the butter to your bowl (no need to clean it) and cook for 2 minutes at 60 degrees on speed 2.

Add the condensed milk, lemon juice, coconut and biscuits to the bowl and mix for 15 seconds on speed 4, or until combined. Use your spatula to help scrape the sides of your bowl mid way through mixing.

Pour the mixture into your prepared slice tin and use the bad of metal spoon to spread it across the tin.

To make the icing

Place all the ingredients into your clean thermomix bowl and mix for 30 seconds on speed 4. If your icing is too thick, add an extra ½ teaspoon of water to the mixture until it is a spreadable consistency.

Pour the icing over the top of your slice and decorate it with the extra coconut.

Place the slice into the fridge for 6 hours (preferably overnight) or until set.
Recipe Notes:
*  If you use a tin different to the recipe, the time your slice takes to set will vary.
*  The slice base mixture is quite soft and sticky and you may  need to use two spoons to help spread it across your pan.
*  Before cutting your Lemon Slice, make sure it has completely set.
* If your icing is too runny, add an extra ¼ cup of icing sugar.