Lemon Slice is one of those yummy treats that takes me back to my childhood.  It reminds me of our Primary School Fetes, I can remember walking past the cake stall, eyeing off all the delicious treats carefully arranged on the tressle tables and promising myself I would come back and visit soon. Alas the lure of the games and lucky jar stalls was always  too enticing, and by the time I eventually made it back, all of my favourites were long gone.
When I started working in a bakery during my teenage years, it was like I was back at the school fete.  So many cakes and pastries to entice me, however often by the time my break came around, many would have already disappeared.  I will admit now (some 11 years later) that sometimes I would sneak a piece of Lemon and Coconut Slice or my other favourite – a blueberry muffin aside at the start of my shift to ensure I wouldn't miss out.
Making this slice brought back all of these memories and then some.  It's surprising really that I have waited this long to make t.  There really isn't a lot to this recipe, and I think I'm now in danger of making it regularly.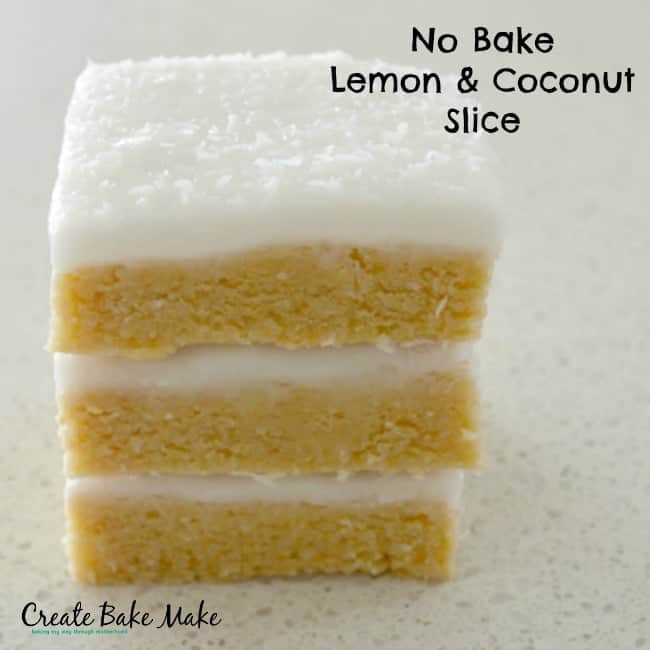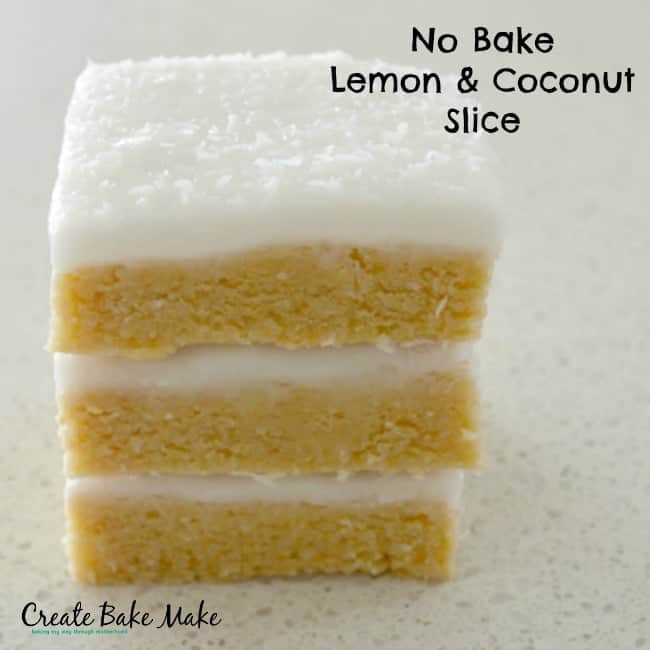 Lemon and Coconut Slice
Ingredients
50

g

of butter - chopped

395

g

can of condensed milk

1

tablespoon

of lemon juice

250

g

of plain sweet biscuits - crushed

½

cup

of desiccated coconut

Lemon Icing

1 ¾

cup

of icing sugar mixture

2

tablespoons

of lemon juice
Instructions
Grease and line the base and sides of a lamington tray (28 x 18cm)

Place the butter and condensed milk into a small saucepan and stir over a low heat until smooth. Add the lemon juice, stir to combine and set aside.

In a large bowl, combine the crushed biscuits and coconut and stir in the condensed milk mixture.

Spoon into the baking tray, and using metal spoon, push the mixture firmly and evenly across the tray.

Lemon Icing:

Combine the Icing Sugar mixture and the extra lemon juice in a small saucepan over a low heat.

Stir until the mixture is warmed through and completely smooth.

Pour over the slice immediately and place in the fridge for three hours or until set.

Cut into small squares to serve.
Do you have a favourite  childhood cake or slice?

Linking up with Essentially Jess for IBOT