As you know I've been on a bit of a Hot Cross Bun baking spree.  When I've been thinking about the different variations of buns I could make, it occurred to me that I'd forgotten about the good old Choc Chip Hot Cross Buns.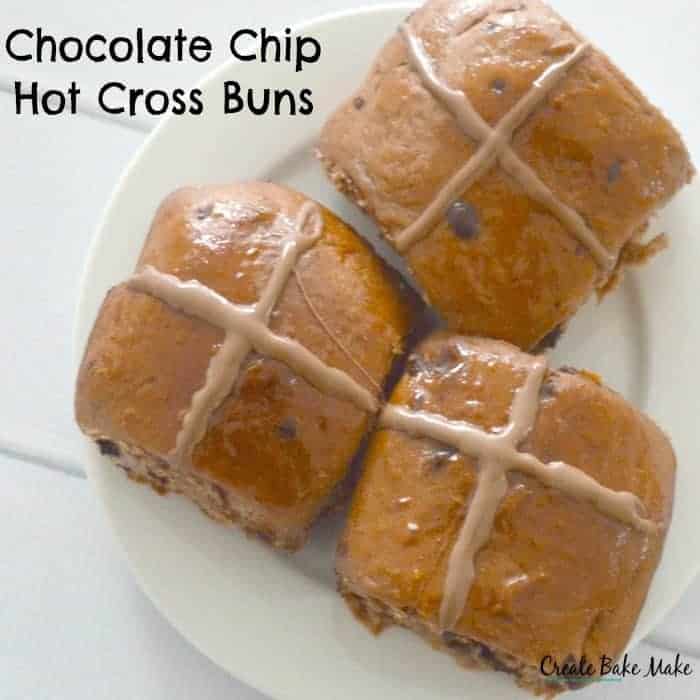 I admit I used to be a little bit of a Hot Cross Bun traditionalist, and would refuse to buy or even taste a hot cross bun which wasn't filled with fruit (and don't even get me started on fruitless Hot Cross Buns!) but a couple of years ago I finally succumbed to the pressure and tried a Choc Chip Hot Cross Bun and there has been no turning back since then.

Lauren
Makes 12
Choc Chip Hot Cross Buns
2 hrPrep Time
20 minCook Time
2 hr, 20 Total Time
Ingredients
1 tablespoon of active dry yeast
1/2 cup of caster sugar (115g)
11/2 cups of lukewarm milk (375g)
41/4 cups of plain flour (640g)
2 teaspoons of cinnamon
50g of melted butter
1 egg
230g of chocolate chips
100g of milk chocolate melts - extra
2 tablespoons of apricot jam
2 tablespoons of water
Instructions
Line a 23cm cake tin with baking paper and lightly oil a large mixing bowl before setting both aside until needed.
Place the yeast, 2 teaspoons of the sugar and all of the lukewarm milk into a small bowl and let it sit for 5 minutes. The mixture should have started to foam, which is a sign the yeast is active.
In a large bowl (different to the one you have already oiled), add the flour, cinnamon, egg, butter, chocolate chips, remaining sugar and activated yeast mixture. Use a butter knife to mix and combine the ingredients until a dough forms – it will be sticky and the chocolate will melt a little so don't worry!
Turn the dough onto a floured bench and knead for approximately 8 minutes or until the dough begins to feel elastic.
Place the dough into the prepared oiled bowl, cover with a tea towel and sit in a warm place for around an hour or until the dough has doubled in size.
Remove the dough from the bowl and divide into 12 equal pieces before rolling into balls.
Place the dough balls into the prepared cake tin, cover with a tea towel and place the tin in a warm spot for another 30 minutes to allow the dough to rise again.
While the dough is rising, preheat your oven to 200 degrees.
Once the dough has risen, place the tray into the oven to bake for 20 minutes, or until the buns are golden and spring back when touched.
To prepare your glaze, place the apricot jam and water into a small bowl and heat in the microwave for 30 seconds before mixing to combine.
Brush the glaze over the still warm Choc Chip Hot Cross Buns before carefully transferring the buns onto a wire rack to cool completely.
Once the buns are cold, melt the extra milk chocolate melts and place it in a piping bag before piping the crosses onto the top of each bun.
7.6.5
151
https://createbakemake.com/2015/03/23/choc-chip-hot-cross-buns/
Choc Chip Hot Cross Buns Thermomix Instructions:
1.  Lightly oil a large bowl and line a 23cm cake tin with baking paper and set aside until needed.
2.  Place the yeast, 2 teaspoons of the sugar and all of the milk into your thermomix bowl and cook for 2 minutes on 37 degrees, speed 1. Leave the yeast mixture in the bowl whilst you move onto the next steps.
3.  Add the flour, cinnamon, egg, butter and remaining sugar into the thermomix bowl. Mix for 15 seconds on speed 7 or until all ingredients have combined.
4.  Knead for 1 1/2 minutes using the kneading function before adding the chocolate chips and kneading for a further 1 1/2 minutes.
5.  Follow the instructions as above from step 5.
The first few times I made these, I was worried that I was doing something wrong as the chocolate chips always seemed to melt whilst combining the ingredients and kneading them.  I've since come to accept that this is to be expected when it's still 30 + degrees here in Brisbane (hello autumn, where are you?) and I actually quite enjoy the taste and texture of the melted chocolate throughout the buns.
Have you made any Hot Cross Buns yet?
Do you also think chocolate chips make everything taste better?