Over the weekend we had a little party to celebrate our little man's second birthday. While I may still be in just a wee bit of denial that TWO WHOLE YEARS have passed by already, I'm also beginning to really start to enjoy the friendship (well most of the time) our two boys have developed and this new phase of our lives.
As seems to be the tradition with all of the birthday parties I've ever planned, homemade sausage rolls are always on the menu.  They really don't take long at all to make using the traditional method, however I couldn't resist creating an Easy Thermomix Sausage Roll recipe.
This Easy Thermomix Sausage Roll recipe is really versatile and you can add or omit ingredients to suit your taste.  I like to add a good couple of spoonfuls of sweet chilli sauce to give these little treats an extra kick (that's still mild enough for the kids) however feel free to leave it out or substitute with a little extra tomato chutney if you prefer.

Easy Thermomix Sausage Roll Recipe
Ingredients
6

sheets of ready made puff pastry

500

g

beef mince

2

carrots

1

zucchini

4

slices

of rindless bacon

1

large brown onion

2

eggs

¼

cup

tomato chutney

¼

cup

bbq sauce

2

tablespoons

sweet chilli sauce - optional

2

tablespoons

dried mixed herbs

Salt and Pepper to taste

Sesame seeds to garnish if you wish
Instructions
Preheat your oven to 210 degree and line two trays with baking paper

Remove pastry from freezer and allow to thaw slightly.

Cut your carrot, zucchini, brown onion and baconinto quarters before placing into your Thermomix bowl and blitzing on turbo for 1 second spurts until coarsely grated.

Add the beef mince, one egg, tomato chutney, bbq sauce, sweet chilli sauce (if using), mixed herbs and salt and pepper to the bowl and mix for 20 seconds on speed 5 REVERSE or until combined.

Lightly beat the remaining egg into a cup, before cutting a sheet of pastry in half.

Place some of meat mixture in the middle of the pastry sheet and then fold pastry over the top to form the sausage rolls. Repeat until all of the meat/pastry has been used.

Cut each of the sausage rolls into four even pieces, brush with the beaten egg and sprinkle with sesame seeds.

Place the sausage rolls onto the baking trays and cook for 25 minutes or until the pastry has turned a lovely golden brown. Your baking time will vary depending on the size of your sausage rolls.
Another thing I love about this recipe is you can make it well in advance and pop your sausage rolls into the freezer. I made mine a couple of weeks ago and just transferred them into the fridge on Friday night to defrost before the party on Saturday.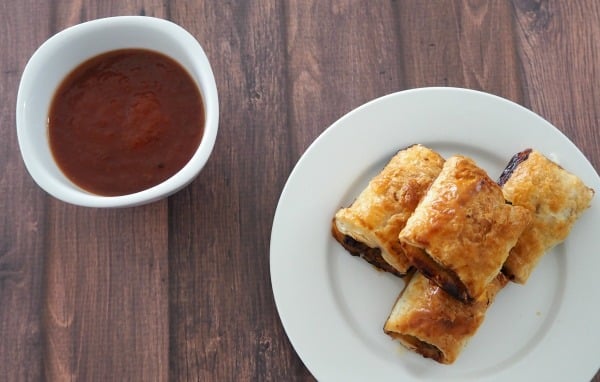 In my opinion you cannot serve these with anything besides a good quality tomato sauce and in our house we only eat them with some of my Mum's homemade tomato sauce which we begrudgingly share with our guests!
What is your favourite party food to make?