One of my favourite things about having friends and family visit (apart from their company of course!) is planning and making yummy food for us all to enjoy. Over the years I've learnt that the best recipes to make when entertaining are those which are simple and most importantly can be made ahead of time, just like these simple Caramelised Onion and Feta Tarts.
I have a looong love affair with caramelised onion and love to add it to my food whenever I can.  Some of my favourite combinations include toasted chicken, cheese and caramelised onion sandwich and a simple dry biscuit smeared with caramelised onions and slice of brie cheese – yum! So I was more than a little excited to be sent a some samples from the Simply Stirred range of Marinades and Dressings to try, and decided it was the perfect excuse (not that I really need one!) to make these easy Caramelised Onion Tarts.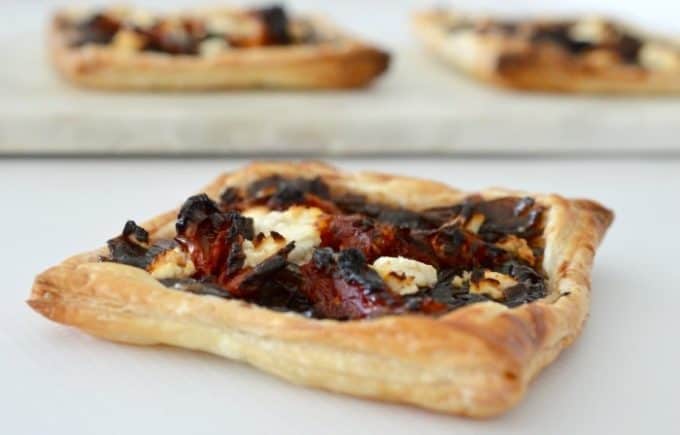 I promise you that these simple Caramelised Onion and Feta Tarts really are easy to make, after all you only need five ingredients to put it together!  You can easily prepare your pasty and other ingredients ahead of time, however I wouldn't add the toppings until you are just about to put it in the oven though. You could make mini Caramelised Onions Tarts if your prefer, but I think these size tarts are just the right size for a starter or a light snack.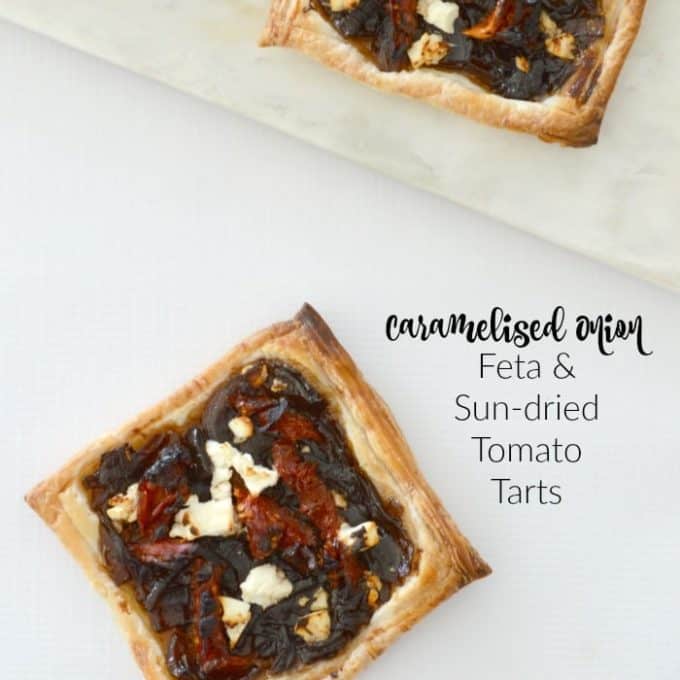 Simple Caramelised Onion and Feta Tarts
Ingredients
290

g

jar of Simply Stirred Caramelised Onion

1

sheet of partially thawed puff pastry

100

g

of feta cheese

100

g

of sun-dried tomatoes

½

cup

of finely grated parmesan cheese

Salt and pepper to taste
Instructions
Preheat your oven to 220 degrees and line a tray with baking paper.

Cut the puff pastry in half diagonally and vertically to create four individual squares.

Using a sharp knife, score a 1cm border around the edge of each pastry square, making sure you don't cut all the way through.

Prick the centre square of each tart with a fork and sprinkle ¼ of the parmesan cheese onto each pastry square, taking care not to sprinkle it onto the border.

Add a quarter of Simply Stirred Caramelised Onions to each of your tarts.

Add the sun-dried tomatoes and crumbled feta to the top of each tart and place them onto a baking tray.

Season with a little salt and pepper and place into the oven to cook for 12 - 15 minutes or until the pastry is a lovely golden brown.
Nutrition