Christmas really isn't the time to be thinking about going on a diet, there are just way too many yummy treats on offer everywhere that you look.  So far I've made two batches of Rocky Road. Knowing that it would be hard to resist, I made the first batch early in the morning and then cut it and wrapped it up for gifts.  It's a whole different story with the second batch though.  After eating a fair sized chunk, I've banished it to the back of the fridge, and am heading out shortly to buy some more cellophane paper to wrap it up so it's out of sight – and mind!
This is a great homemade Christmas gift idea for friends, family and teachers.  Simply wrap a few delicious pieces in some coloured cellophane and decorate with a Christmas ribbon, or pop some into a cute Christmas themed box or container – you can find a great variety of these at your local discount store.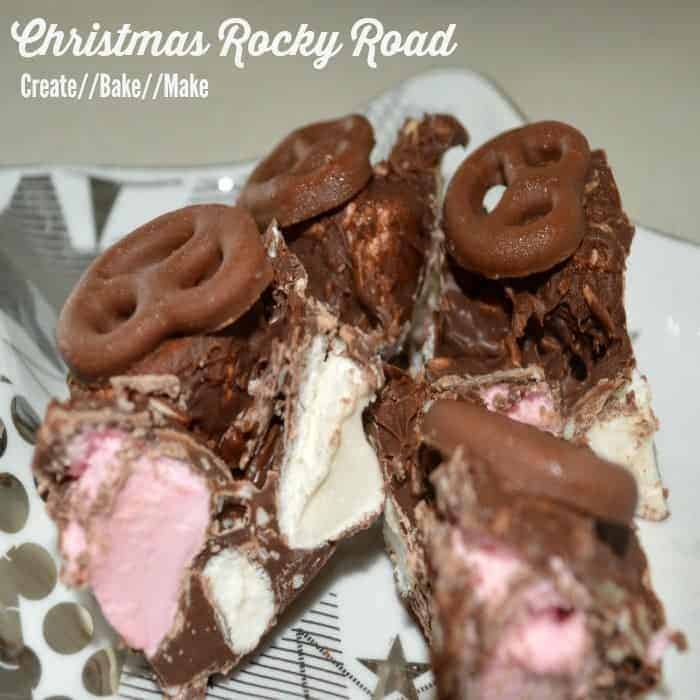 There really aren't any rules when it comes to making Rocky Road, it's all about adding a yummy combination of goodies to delicious melted chocolate.  Each batch I make varies, depending on what I have in the pantry.  This year I'm loving the addition of chocolate coated pretzels, both as a decoration on top, and also broken up throughout the slice.
To make Rocky Road (as pictured above) you will need:
375g bag of milk chocolate melts
1 pack of pink & white marshmallows
1pack of chocolate coated pretzels
¼ cup of crasins
½ cup shredded coconut
½ cup raw peanuts
Let's put it together!
* Melt chocolate in microwave, cooking for 30 second spurts until melted.
* Add marshmallows, peanuts, coconut, crasins & ½ bag of chocolate coated pretzels and stir until coated with chocolate.
* Pour into a slice tin lined with baking paper, decorate top of slice with remaining pretzels
* Pop into the fridge, once set cut into pieces and enjoy!
Linking up on this beautiful Monday morning with The Multitasking Mummy