Last Friday I had the rare opportunity to sneak out of the house for a few hours to catch up with two beautiful ladies I've met through blogging, whom I now feel privileged to also call my friends.  Naturally I offered to bring something sweet and delicious to our catch up, and after finding out our host was making chocolate mousse (which was quite possibly the best chocolate mousse I've ever tasted) I knew I had to come up with something a little bit different.
Over the past few weeks, I've jumped on the cheesecake bandwagon, having made both a Tolberone and Baked Lemon Cheesecake, so it only seemed natural to keep that momentum and try a cheesecake slice recipe.  After spying Oreos on special at the supermarket, I easily decided an Oreo Cheesecake Slice was the way to go.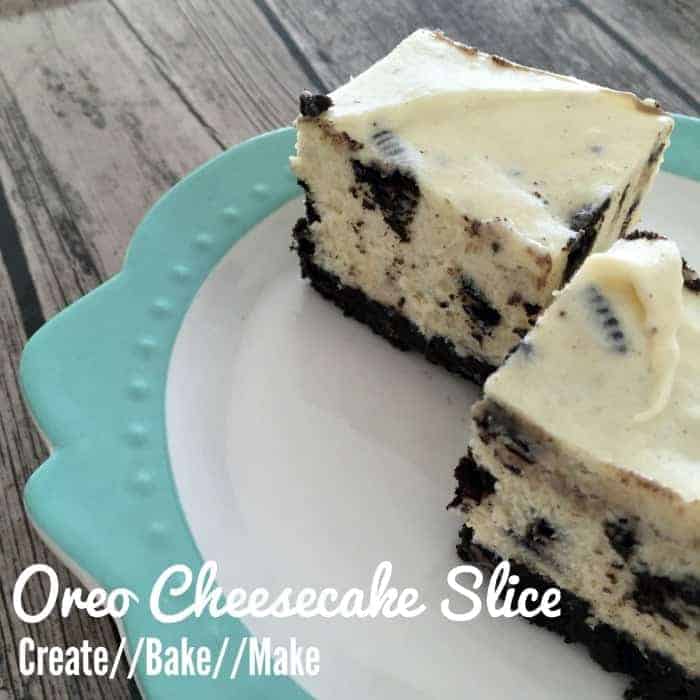 This slice doesn't take much effort to put together, the hardest part is waiting for it to set!  The simplicity of this recipe certainly doesn't take away from it's taste.  I'll be honest and say there were several pieces missing when the time came to plate it up and head out for the night, and my husband may have requested I leave a couple of slices at home for him to enjoy once the boys were in bed.
Using all of my will power I resisted the urge to sneak a slice on the drive over. Thankfully once I arrived I was distracted with plenty of laughter, talking, wine, food and of course photos – because let's be honest, with three bloggers in the room there was always going to be plenty of photos taken!  After gorging myself with delicious cheeses and mini quiches, when the time came for dessert I opted for our host's deliciously smooth and rich chocolate mousse rather than my slice (but to be honest, I'd probably already eaten enough off it that day!) which was the perfect way to end a lovely evening.
To make this Oreo Cheesecake Slice, you will need: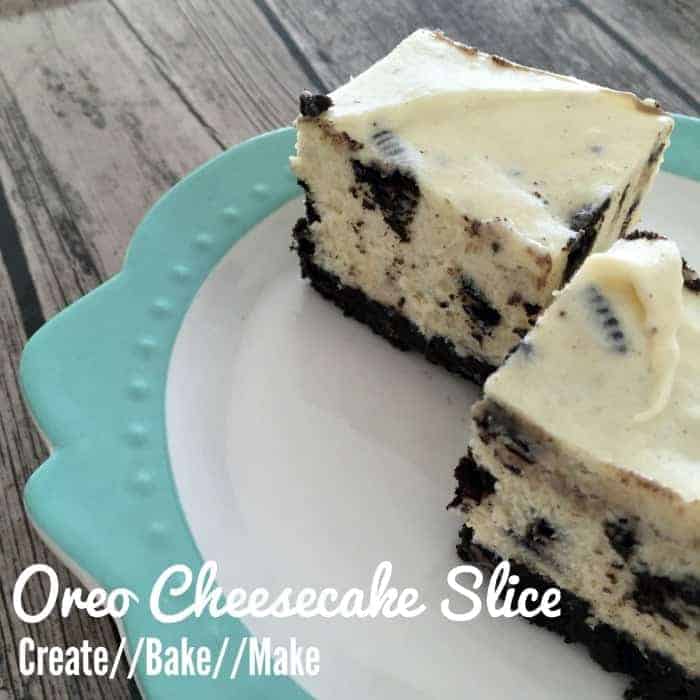 Oreo Cheesecake Slice and new friends
Ingredients
400

g

of Oreo Original Cookies

80

g

of butter - melted

375

g

block of Cream Cheese - softened

½

cup

of caster sugar

1

teaspoon

of vanilla essence

1

cup

of cream

3

teaspoons

of powdered gelatine

¼

cup

of boiling water

200

g

of white chocolate - melted and slightly cooled
Instructions
Cover the base and sides of an 18 x 28cm slice tin with baking paper - make sure to leave paper hanging over the sides.

Melt the white chocolate in the microwave - cooking for 30 second spurts and once melted set aside to cool slightly.

Add the gelatine to a cup of boiling water and stir to combine.

Crush 250g of Oreo cookies either in a food processor, or with using a rolling pin until they resemble fine crumbs. Add the melted butter and stir to combine. Press the crumbs in the base of the slice tin and place in the freezer to chill for 30 minutes.

Using an electric mixer, combine the cream cheese, sugar and vanilla essence until smooth. Add the cream and mix to combine.

Stir through the gelatine mixture and white chocolate.

Chop the remaining Oreos into large chunks and stir through the cheesecake mixture.

Spoon the mixture over the chilled base and refrigerate for 3 hours or until the slice has set.
Nutrition
Serving:
0
g
Calories:
41
kcal
Carbohydrates:
10
g
Fat:
0.01
g
Sodium:
5
mg
Potassium:
1627
mg
Fiber:
0.02
g
Sugar:
4
g
Calcium:
1
mg
Iron:
0.4
mg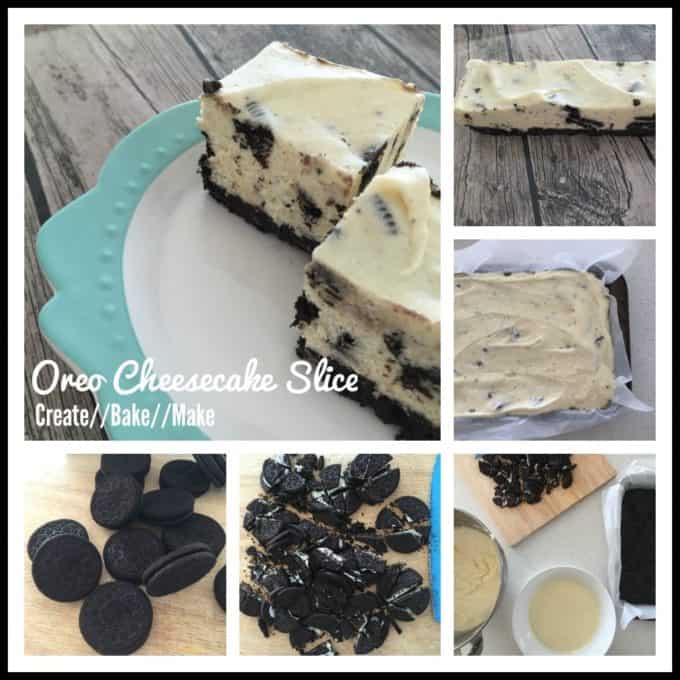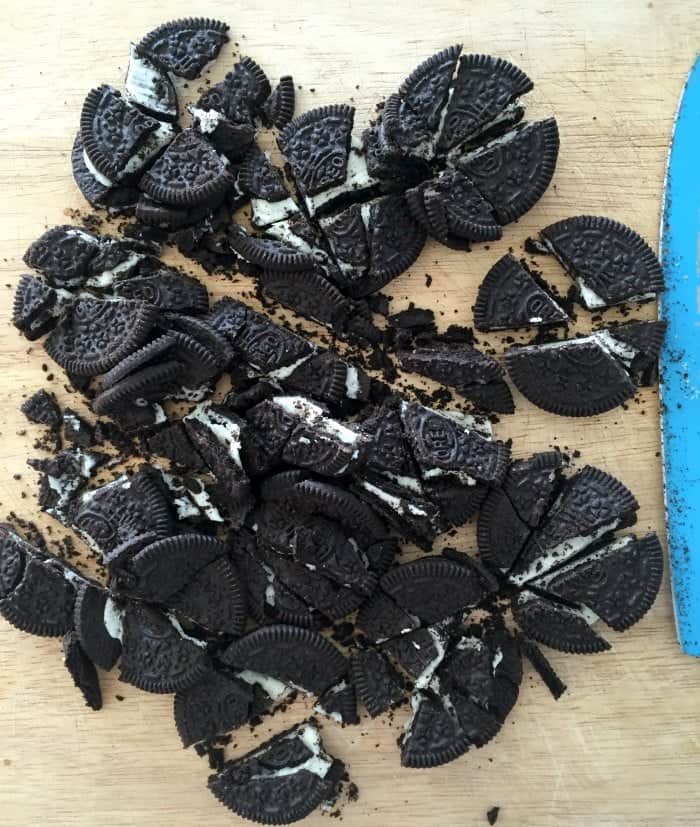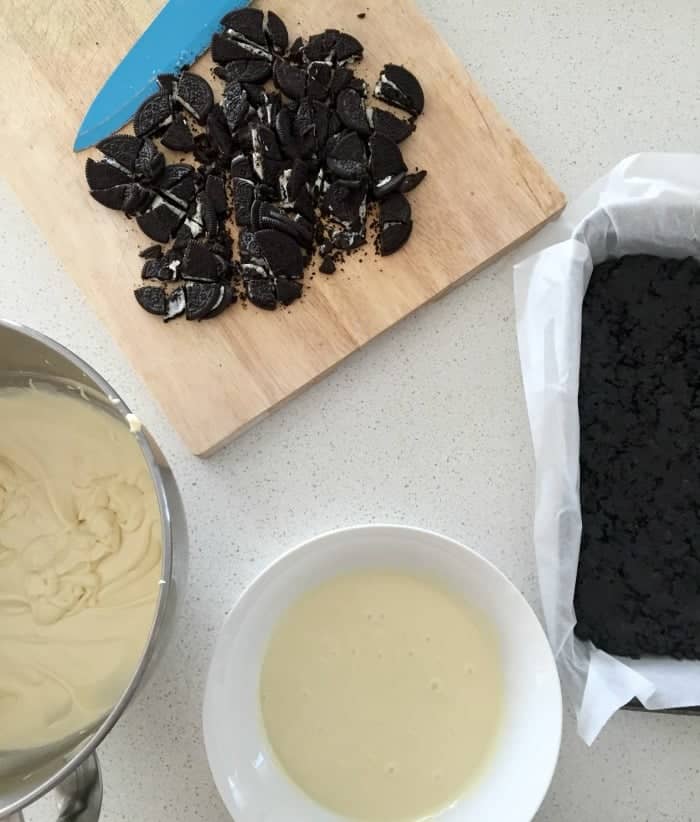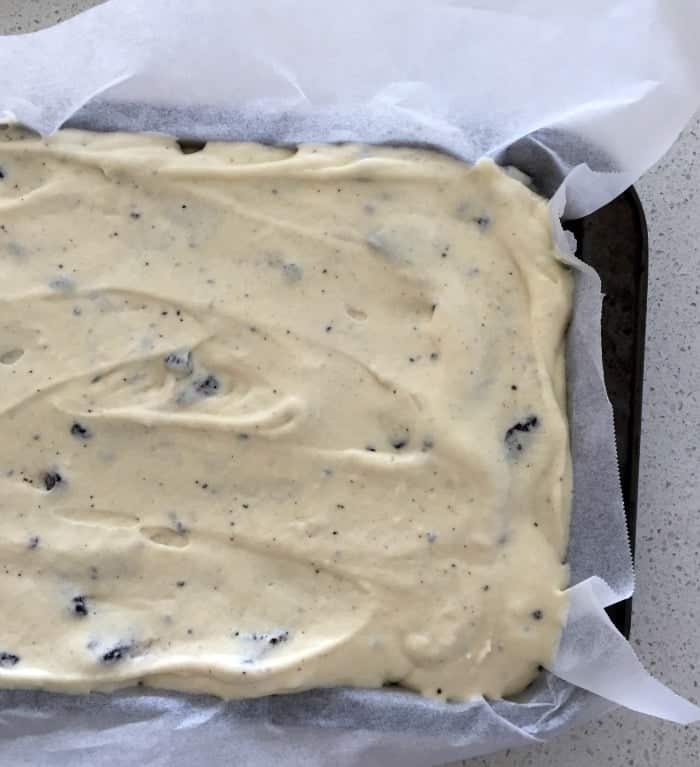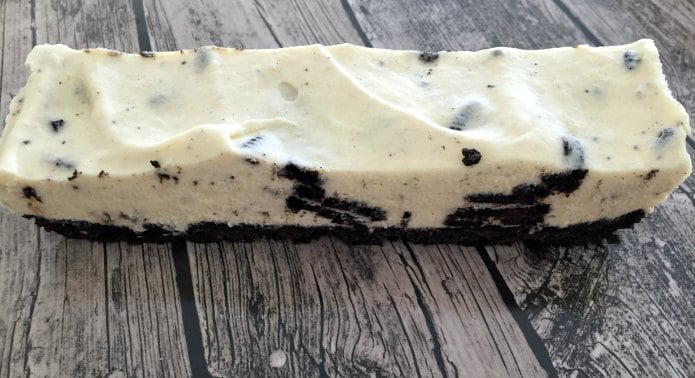 If you haven't already met the lovely Bec and Renee from The Plumbette and Mummy, Wife and Me, make sure you pop over and visit their blogs today.
xx