Argh! Can you believe that it's nearly Christmas. I swear this whole week I've been going through moments when I feel super organised and then suddenly I have moments when I feel totally disorganised (like when I was writing out Christmas cards in the car on the way to a Christmas lunch!!). Anyway, if you checked out last weeks Fabulous Foodie Fridays party, you would certainly know that Christmas is nearly here… there were SO many yummy Christmas recipes. Here's a few of my faves from last week:
First up is this yummy M&M Cookie Pie from the Sweet Menu.  I don't think I really need to say anything else about it!
It's no secret that I'm a HUGE fan of Oreos, so of course this recipe from Peregination Gourmande had to be included in my favourites this week!
My Kitchen Stories has done it again with another great recipe – this time Pizza Dip!  I'm already planning to make this for New Years Eve!
To balance out all the chocolate and sweets I'm consuming, this Malay Noodle Salad from Land of Zonkt is the perfect light lunch or dinner.
We all enjoyed this Slow Cooked Satay Chicken from Lime and Mortar, my two little people cleared their plates!
Now pop over and check out Lucy's yummy picks too.
And it's over to Lucy for this weeks feature recipe…
This week I'm sharing one of my favourite salad recipes (and it's also a great one for Christmas Day!). It's an absolute classic and is really healthy (so you can totally justify that second slice of pav). Yep, it's my Broccoli, Bacon & Cranberry Salad. See how it's red and green… that makes it totally Christmassy right!?
I love this Broccoli, Bacon and Cranberry Salad salad because you can prep it ahead of time and then add the dressing just before serving. Which means you can kick back and enjoy the festivities without having to race around the kitchen getting all flustered… mind you, that could very well still happen!
Now if you prefer, you can always make this salad using raw broccoli. I personally love broccoli but can't stand it raw, so I cook it just for a minute. This way it still stays crunchy, but doesn't have that real raw flavour. If you're like me and prefer cooked broccoli just make sure you only cook it ever so slightly and then drain it really well (you don't want a soggy salad!).
To save on dishes, cook the bacon in a frying pan and when it's nice and crispy remove it from the pan and add the pine nuts and sunflower seeds and cook for a minute or until just golden. A word of warning: watch those little pine nuts because they'll cook really quickly! Meanwhile finally chop a red onion.  To make the dressing, mix the mayonnaise, wholegrain mustard, honey and lemon juice in a bowl and set aside.
When the bacon, pine nuts and seeds are ready, pop them into a serving bowl with the drained broccoli and the red onion. Add in the dried cranberries and give them all a toss. If you're serving the salad immediately, drizzle over the dressing and mix to combine well. If you're preparing the salad ahead of time, simply add the dressing just before serving.
So that's it, the perfect salad for Christmas… or a summer BBQ… or really anytime of the year!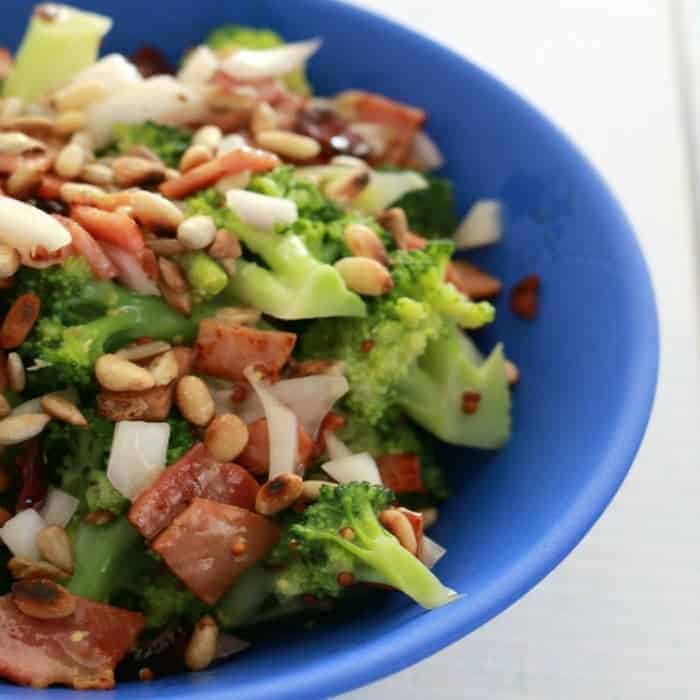 Broccoli, Bacon & Cranberry Salad - Fabulous Foodie Fridays #31
Ingredients
2

heads of fresh broccoli

chopped into small florets

8

slices

shortcut bacon

1

tbs

olive oil

1

small red onion

finely chopped

¼

cup

sunflower seeds

¼

cup

pinenuts

½

cup

dried cranberries

craisins

1

cup

mayonnaise

2

tbs

wholegrain mustard

4

tablespoons

honey

1

tablespoon

fresh lemon juice
Instructions
Chop the broccoli into small florets and place into a bowl.

Pour boiling water over the broccoli and leave for 1 minute.

Drain the broccoli thoroughly so that there is no excess moisture.

Chop the shortcut bacon into small pieces and fry in a pan over medium heat with the olive oil.

When the bacon is crispy remove it and add the sunflower seeds and pine nuts to the pan.

Cook for one minute or until the nuts and seeds have just started to turn golden.

Finely chop the red onion and set aside.

Place the broccoli, pine nuts, bacon, sunflower seeds, dried cranberries and red onion into a large serving bowl.

Mix the mayonnaise, wholegrain mustard, honey and lemon juice in a bowl.

When ready to serve, pour the dressing over the salad and mix well to combine.
PS – Have you bought our Christmas Homemade Gifts eBook yet? It's packed full of everything from sauces and condiments, to cookies and biscuits, slices and bars, and of course, all your classic favourite – there really is something to suit everyone! Click here to buy your copy for $7.99 (or if you subscribe to Create Bake Make you can purchase it for only $3.99! And I promise I won't email you any junk… just yummy recipes!!).
You're Invited!
Lauren from Create Bake Make & Lucy from Bake Play Smile have put their chocolate filled minds together, to bring you the newest and yummiest link up party in town…. Fabulous Foodie Fridays.
Each week we'll select 5 of our favourite recipes to feature on the following Fabulous Foodie Fridays link up party, so be sure to check back and see if your recipe is featured.
The rules for the party are simple:
1. Please only link up food or drink related posts. You can share up to 3 posts each week. They don't have to be recent posts, but please make them new to the 'Fabulous Foodie Fridays' party.
2. Simply add your links and they will automatically show up on both of our blogs… it's that easy!
3. It's sooo not a party without mingling…. please visit and comment on at least three other links that are near you in the list.
4. Follow us on social media so you can keep up to date with all the Fabulous Foodie Fridays goss!
Bake Play Smile:      Facebook    Instagram   Pinterest    Twitter
Create Bake Make:   Facebook   Instagram    Pinterest    Twitter
Fabulous Foodie Fridays:   Facebook    Instagram    Pinterest
5. Feel free to grab the Fabulous Foodie Fridays button and share the love around!
6. Leave a comment below so we know that you came and partied with us – we want to return the favour and visit you too.
* By adding your link, you are giving Bake Play Smile and Create Bake Make permission to post one photo from your post with a link back to the full recipe for party features and future roundups on our blogs and possibly share your image and link on social media. Oh and of course we will also let you know about upcoming Fabulous Foodie Fridays link parties!