I PROMISE you this is the BEST Potato Salad recipe you will ever make!!
My love of chocolate and all things sweet is pretty obvious, but I also have a soft spot (well a few actually!) for savoury recipes as well.  This Potato Salad is based on a recipe my Mum has made ever since we were kids, and while I've stuck pretty close to the original I just had to add my own special twist!
Now I don't like to brag, but this is seriously the BEST Potato Salad recipe you will ever try – I promise!   It's always one of the first dishes we run out of whenever we have a BBQ and I may have been known to pop a little bit into a container in the fridge, just so I get some myself to enjoy!
It's a combination of a two special ingredients (seeded mustard and sour cream) and the way this Potato Salad is prepared which makes it amazing.  When making this Potato Salad, it's best to put it together a day in advance and to combine all of the ingredients while the potatoes and bacon is still hot. This helps the potatoes to absorb the delicious flavours of all the other ingredients which gives it so much extra flavour.

Along with enjoying this salad at a BBQ, it also help make the perfect lazy Summer lunch when served alongside a roast chicken and some oven baked corn – yum!
You can watch how to make the Best Potato Salad Recipe below: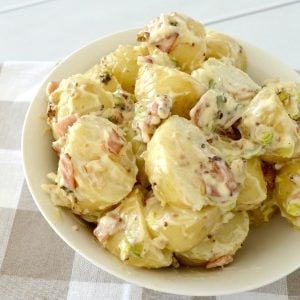 The Best Potato Salad Recipe
Ingredients
1.5

kg

of baby potatoes

3

spring onions - finely diced

4

slices

of short cut bacon - finely diced

1

cup

of mayonnaise

1/2

cup

of sour cream

1

generous dessertspoon of seeded mustard

salt and pepper to taste
Instructions
Cut the potatoes in half and add to a pot of salted boiling water to cook.

Meanwhile, place the bacon and spring onions into a frying pan and cook until the bacon begins to brown.

Drain the cooked potatoes and place into a large serving bowl. Add the cooked bacon and spring onions along with the mayonnaise, sour cream, mustard and salt and pepper.

Carefully mix until all of the ingredients have combined.

Cover the bowl with cling wrap and place into the fridge until ready to enjoy
For more family favourites, check out our 'Family Dinners Made Easy' Book – Thermomix version also available. You can also shop the full range of print and eBooks here.