It's a little scary to think it was a whole year ago that I attended a parent information session for our son's kindergarten and found myself learning ALL about lunch boxes (seriously who knew there was so much to consider!) what to look for and what ones are best for younger kids.  To be honest I'd already been scoping out what was on offer and ultimately I decided to purchase a Yumbox for both Mr 4 and Mr 3 to use both at kindy for Mr 4 and as their lunch/snack box to take whenever we went out and about, so today I'm talking about 'Is a Yumbox a good choice for Kindy Kids'.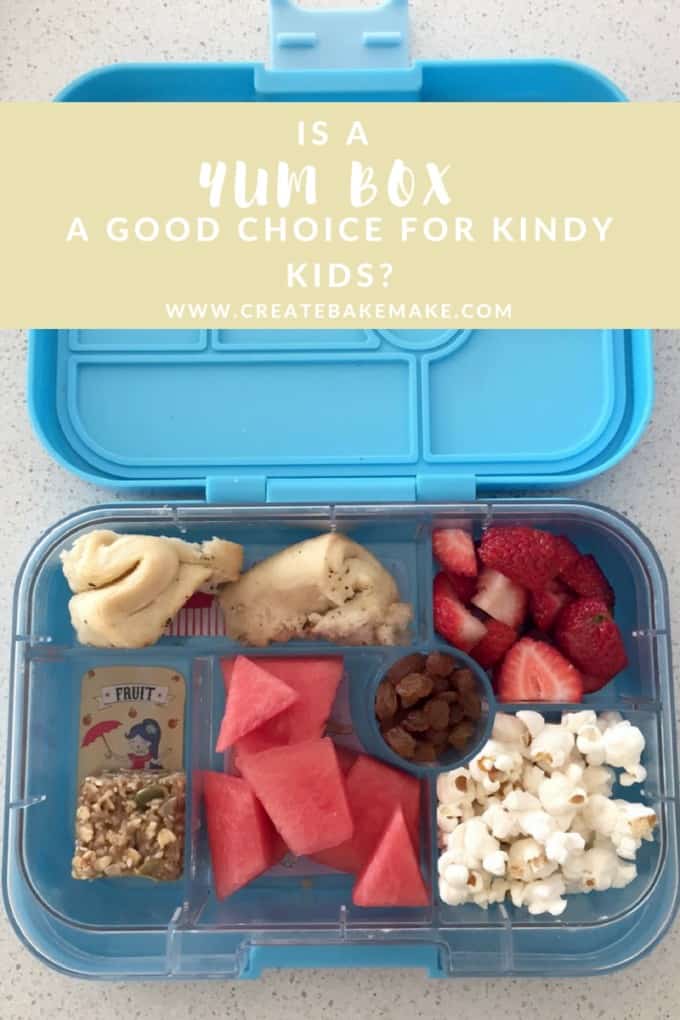 This is not a sponsored post, however it does contain affiliate links – I will earn a small commission (and you don't pay any extra!) if you purchase a Yumbox. 
Practically every time I've shared pictures of our Yumboxes on Instagram I've received several messages/emails asking if I firstly recommend them and secondly where did I get them from.  I purchased two Yumboxes for my older boys towards the end of 2015 as Christmas gifts for them and also in preparation for Mr 4 starting Kinder last year.  The kindergarten he attended is 'package free' so I knew I needed a lunchbox which could hold all of his favourite foods easily and without leaking.  At the beginning of the year I was a little concerned that I may not have made the right choice, as it took him 4 – 5 times using it before he started kindy to get the hang of how to open it and also how to open it the right way up! However he was able to quickly master this 'skill' as was his little brother, and they both now don't want to leave the house without their 'box of snacks'.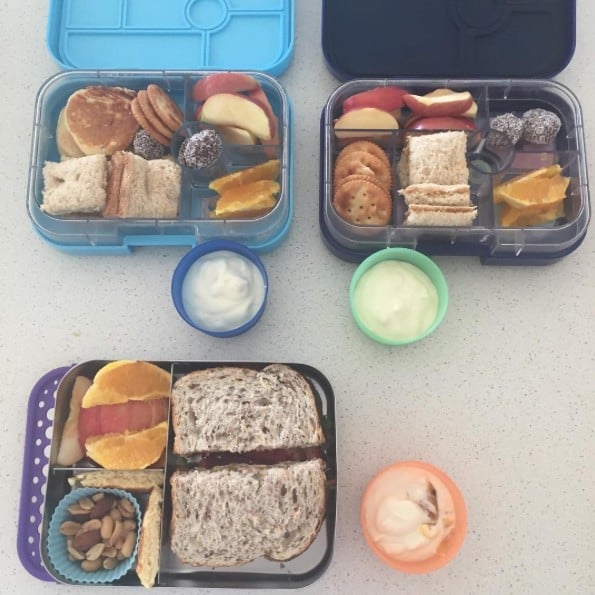 Some of the reasons why I think a Yumbox is a good choice for kindy kids are:
There is variety
I was initially a little worried that I wouldn't be able to add enough food to our Yumboxes to keep the boys going throughout the day but I needn't have worried as you really can fit a lot into them.  We also love the fact we can include lots of different types of food such as chicken, fruit and vegetables, dips, popcorn etc to help keep their little tummies full.
They can make eating well fun 
When adding food to our Yumbox I ALWAYS include at least one portion of fruit and some healthy foods for the boys to snack on (e.g. chicken, fruit, veggie sticks, corn, homemade muesli slice etc) and I can guarantee that they will ALWAYS eat it when it's served in their Yumbox but turn their nose up if I was to put it on a plate for them to eat…. crazy I know! However while it's a good way to get some healthy food into them, I can also guarantee that they will want to eat any 'treats' that I might have included first before the other food!
They really are leak proof
This is the ULTIMATE test a lunch box needs to pass to get a big tick from me and the Yumbox REALLY IS leak proof.  Both of the boys are obsessed with yoghurt and I regularly add it along with dips and stewed fruit into their Yumbox and it has never leaked between the dividers or out of the lunchbox itself – winning!
They keep food fresh
With our third little man arriving half way through the kindy year I started preparing Mr 4's Yumbox the night before in an attempt to help us get to kinder in time and I was stoked that his sandwiches stayed soft in the fridge overnight and most importantly sliced apple and other fruit didn't turn brown and was still fresh the next day.
They are tough
As a Yumbox is a fairly big investment to make, you want it to last. Mr 4's lunchbox is still going strong a year later after being used at least 3 -4 times a week and being dropped, sat on and even thrown – don't even get me started on how that happened!
Easy to wash
I usually just hand wash our Yumboxes (which takes no time at all), purely because I know I'm going to need them again before the dishwasher has been fully packed and washed, however I also pop them in the dishwasher once a week or so and we've never had any problems with them warping or fading.
So there you have it, a few of the reasons why I think a Yumbox is a good choice for kindy kids.  If you want to get your hands on your very own Yumbox, you can purchase one here.
Do you have a Yumbox or something similar?
What do your kids like to put in it?