If you are going to bake with kids – especially toddlers, I think you need to be prepared for mess.
Even though our kitchen adventures ALWAYS end up with a scene resembling a flour bomb going off, I honestly do enjoy having fun with the boys in the kitchen and watching them learn.  One of our favourite things to make is muffins or "little boy cakes" as our three year old calls them.  We like to mix it up when it comes to the different flavours, but these easy Blueberry Muffins are one of our all time favourites.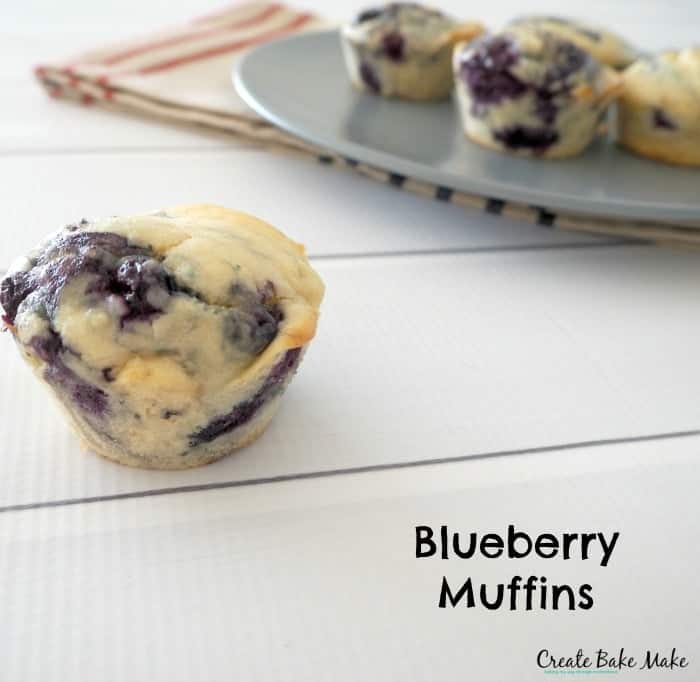 They take very little time to put together and as long as you have some blueberries sitting in your fridge or freezer you just need basic pantry ingredients to make these yummy and freezer friendly treats.
Print Recipe
Easy Blueberry Muffins
Ingredients
2 1/2

cups

of self raising flour

1/2

cup

of caster sugar

1 1/2

cups

of milk

2

eggs - lightly beaten

1

teaspoon

of vanilla essence

150

g

butter

300

g

of blueberries - fresh or frozen
Instructions
Preheat your oven to 200 degrees and lightly grease two 12 hole muffin baking trays.

Place the butter into a microwave safe bowl and cook for 30 seconds or until melted. Set aside to cool.

In a large mixing bowl, sift the flour and add the sugar before stirring to combine and make a well in the centre.

In a large jug, combine the milk, eggs and vanilla essence.

Pour the mixture from the jug into the well and add the cooled melted butter. Gently fold the ingredients together with a large metal spoon until the mixture is almost combined.

Add the blueberries and gently fold through - make sure you don't over mix as they blueberries will bleed (if using frozen) and overworking the mixture will give you a dense muffin.

Spoon the mixture into the prepared muffin tins and place into the oven to bake for 18 minutes or until cooked through when tested.
This recipe makes approximately 24 muffins however you can also use a mini muffin tray to make smaller toddler friendly sized portions.

Do your kids make a mess in the kitchen too?