This post is sponsored by Coles
When it comes to cooking with kids, it's all about keeping it simple. Although my two little guys are pretty confident when it comes to helping me in the kitchen (they have been 'helping' me since they were babies), it's still really important to not overwhelm them (or me!) with tricky recipes and projects.
Given that Christmas is next week, we decided to have some fun with the Coles Gingerbread Mix.  We just needed to add a little water, melted butter and an egg to the Gingerbread Mix, and our three year old had a great time (and thought he was very important too!) stirring the ingredients together with a spoon – with his dinosaur supervising of course!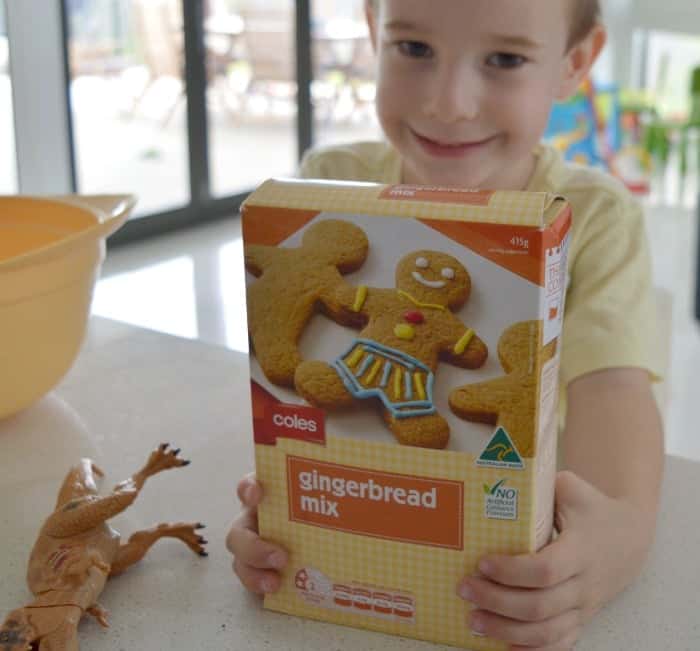 He did get a little help from me when it was time to turn the mixture onto the bench and lightly knead, after all, Gingerbread Dough isn't quite the same as the Play Dough he normally squishes and mixes together!  After a minute or two our Gingerbread Dough was ready to roll out and the fun could begin!
I like to use a sheet of baking paper when rolling out dough to help give it a nice smooth surface, although I really shouldn't have bothered considering our dough ended up being covered in fingerprints and flour.
Both of the boys had a great time using our Coles Christmas Cookie Cutters and their favourite shape by far was the reindeer or donkey as they called it.
They again had a little help from me when it came time to transfer the Gingerbread shapes onto our baking tray and we ended up making around 16 Gingerbread biscuits.
Our Gingerbread took around 12 minutes to cook, however cooking times will vary depending on the size and thickness of your Gingerbread biscuits.
After trying to distract them so they wouldn't eat ALL of the Gingerbread, it was finally cool enough to decorate.
When it comes to decorating your Gingerbread, the only limit is your imagination!  On the back of the pack is an easy recipe for icing which you can add a little colour to.  The boys decided they wanted to use a little bit of EVERYTHING, so our Gingerbread was covered with sprinkles, M&M's, icing, silver cachous and even a little chocolate for good measure.
Yes they may not look 'Pinterest worthy' but I can tell you now that when we give a few of these special Gingerbread biscuits to their Grandparents on Christmas Day, they will absolutely love them.
As well as letting the kids just run wild when decorating Gingerbread, you can also try some of these great ideas from the other lovely ladies who have also been having some fun with the new range of baking products from Coles. A HUGE thank you goes out to five of my readers for trialling and reviewing a collection of products from the range as well.  Here is a little of what they had to say and some of their fabulous creations:
Alison
"I have recently made a few batches of Gingerbread people so it was interesting to compare.  I think the dough would definitely benefit from resting in the fridge before rolling out.  They did rise and puff up quite a bit more than any other Gingerbread I have made before. I would roll them much thinner, like 2-3mm I think if I used it again.  The taste was quite subtly of ginger. A good amount of sweetness but not too much. I cooked for 13 minutes and they were crisp on the edges and a bit softer/chewy in the middle – quite a good texture I thought.  My two girls thought they were really yummy."
Alison also used the Sprinkles and 100s and 1000s to make these cute Chocolate Balls
And the Coles Vanilla Cake Mix was used to put together this gorgeous Apple and Sour Cream Cake.
Cheryl
"I made the Coles Gingerbread this morning – it was really nice (I was surprised how good it was actually!) I used the white chocolate to decorate instead of traditional icing/glaze."
"My son had heaps of fun decorating these little Christmas tree cupcakes with all the fabulous sprinkles – and perhaps a few ended up on the floor…as they do !"
Ashlee
"I am so grateful that I was able to try and review the incredible range of Coles baking products. What a wonderful way to spend the afternoon with my boys. We have been enjoying an array of foods we normally wouldn't make. I absolutely LOVE the baking products and all have been too quality and super easy to use. Thank you SO much."
Samantha
"I was so excited to be one of the lucky people chosen to trial some of the new Coles baking range. I had seen the range starting to appear on the shelves at my local store and was excited to try them out. I love baking, I find it therapeutic and love being able to include my 18 month old at the same time.  We started with the Banana & Coconut muffins. They were very easy to make and anyone can make them, regardless of our baking skills. 
It was great that the mix asked for ingredients that we keep as staples in our cupboards. Matilda helped mash the banana and mix the batter together. We had enough batter to make 16 muffins. They taste just as good as they look. This flavour combination wouldn't be one I would normally go for, but the flavours worked really well together. The muffins are moist and perfect balance of flavour. I'm sure they won't last long. The Banana & Coconut muffins will be added to our regular baking list."  
"When I saw the gingerbread men mix, I was thrilled. I had decided to make gingerbread men this year as I had never made them before. Receiving this pack came at the right time. It was so easy and convenient to use instead of trying to find a nice recipe to make from scratch. I had to use a bit more water then the recipe asked for, and the dough was a bit sticky. When I make them again, I will place the dough in the fridge for half an hour to firm it up a bit to make it easier to work with. 
Once I had used the cookie cutter to get my shape, I placed them in the fridge for 10 minutes to help hold the shape when I baked them. 
Instead of making them as traditional gingerbread men, I decided to mix it up a bit and make them into reindeer instead. It was super easy to do and will be a great plate to bring to my family christmas get together this weekend."
If you haven't already, I highly recommend checking out Coles new range of baking and decorating products. You will find everything you need to put together an amazing creation for Christmas, Birthdays or simply just because!