It's no secret that Quesadillas are one of my go to lunches and this Chicken Avocado and Pesto Quesadilla is my current favourite!
After a short break (probably due to eating so many!) I'm back on the Quesadilla bandwagon.  Along with being the perfect easy lunch for me (they seriously take 10 minutes to prepare and cook) both of the older boys have decided that they are in love with these 'special toasted sandwiches' too and won't stop requesting them – even to take to school!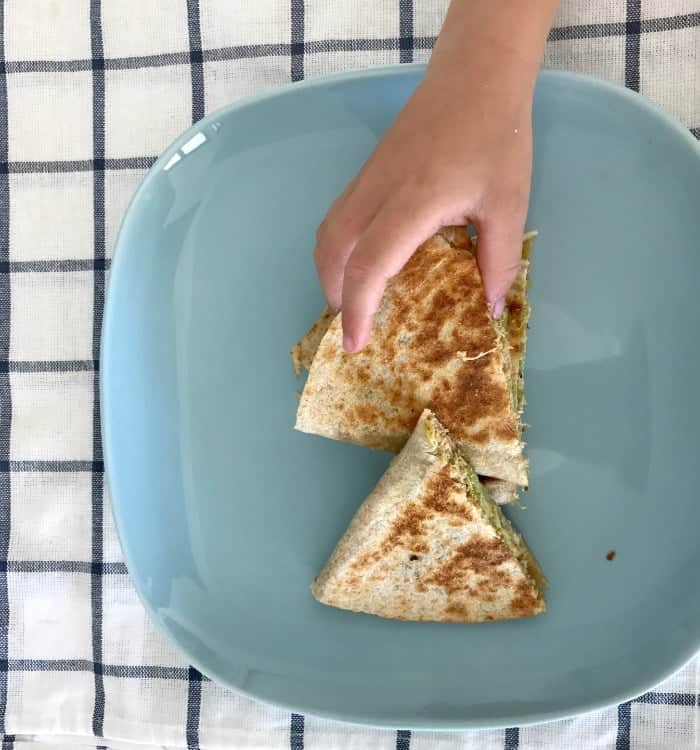 This Chicken Avocado and Pesto Quesadilla is a variation of my Chicken Cheese and Pesto Quesadilla that I couldn't get enough of while I was pregnant and I'm sure our baby boy will love them too once he is old enough to give them a try 😉  As well as being an easy meal (or snack) to make, these can be eaten one handed (which is super important for me when juggling the three boys) and they are also quite filling thanks to the yummy chunks of avocado and chicken throughout which helps to stop me snacking on not so good foods for the rest of the day.
I like to add both mozzarella and feta cheese to these quesadillas (after all who can resist the combination of cheese and avocado?!), however you can use any type of cheese you like when making these.  If you are feeling particularly organised, you can make these Chicken Avocado and Pesto Quesadillas a day ahead and just store them in the fridge until you are ready to eat them. I usually make a couple of these at a time so that they are ready for the boys whenever they are about to pass out from starvation – which happens all of the time according to them!
Chicken Avocado and Pesto Quesadilla
Ingredients
2

Tortillas

100

g

of cooked chicken cut into small pieces

½

an avocado which has been cut into chunks

¼

cup

of mozzarella cheese

20

g

of feta cheese cut into small pieces

1

tablespoon

of basil pesto
Instructions
Lightly grease a frying pan and place over a medium heat.

Place one of the tortillas into your frying pan and add the chicken, avocado and cheeses.

Spread the basil pesto over one side of the remaining tortilla and place on top of the tortilla already in the pan.

Cook the Quesadilla for 3 minutes or until the tortilla begins to brown before carefully flipping over and cooking for another 3 - 4 minutes or until the cheese has melted and the tortilla has browned.

Serve immediately
Notes
You can leave out the feta cheese if you prefer
These can be eaten hot or cold
Nutrition
Serving:
0
g
Calories:
0
kcal
Carbohydrates:
0
g
Protein:
0
g
Fat:
0
g
Saturated Fat:
0
g
Polyunsaturated Fat:
0
g
Monounsaturated Fat:
0
g
Trans Fat:
0
g
Cholesterol:
0
mg
Sodium:
0
mg
Potassium:
0
mg
Fiber:
0
g
Sugar:
0
g
Vitamin A:
0
IU
Vitamin C:
0
mg
Calcium:
0
mg
Iron:
0
mg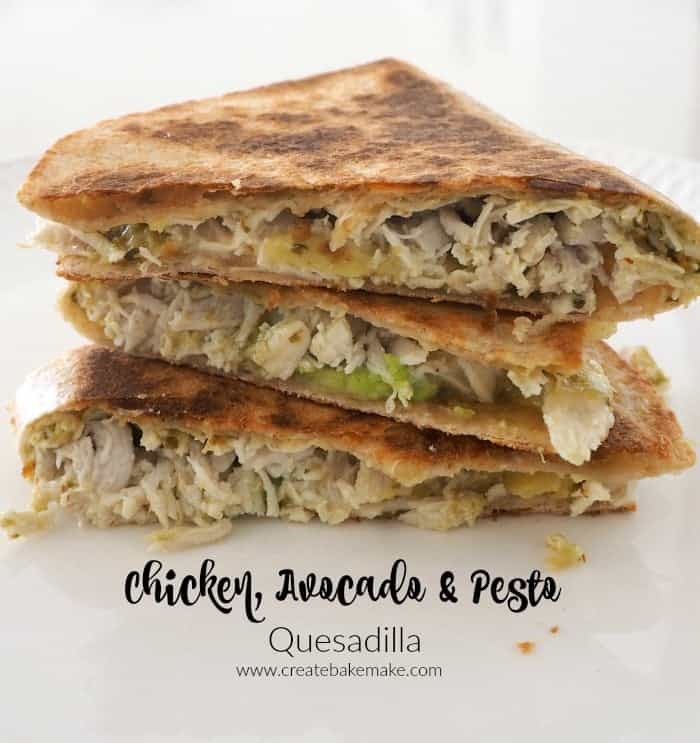 What's your favourite easy lunch