While I'm taking some time off to enjoy our new bub, a few of my favourite food bloggers are sharing some of their delicious recipes with you guys. Today the gorgeous (and also recently new Mum of #2) Krissy from Pretty Wee Things is sharing her yummy Simple Roasted Vegetable Salad, not only does is taste (and look!) amazing, but it's also a great way to use up those veggies lurking in the bottom of the fridge.
Pretty Wee Things is a space to inspire health and wellness in the prettiest way possible. Krissy is an ex-sugar-addict (qualified in the areas of nutrition and psychology) and a mum who has overcome disordered eating and healed her relationship with food. She wants you to have your (refined sugar free, whole food) cake and eat it too. Skip the diet – just eat healthy.
 And now it's over to Krissy!
What do you do when you have those left over veggies in the fridge that are starting to look a little sad?
Instead of considering the bin, heat up the oven and make this delicious and simple roasted vegetable salad.  Impressive, delicious and PACKED with nutrients, there is really not a lot you can't love.
The best thing about this roasted vegetable salad is that you can use almost ANY root vegetable you have handy!
When it comes to roasting delicious veggies you can't beat coconut oil.  Not only is it the healthiest option because it doesn't go rancid at high temperatures (rancid oil is oxidized oil and should be avoided), but it also creates the most delicious flavour!
I'm a little keen on organic veggies and would recommend finding an organic salad leaf (want to know why? Check out this post), but if you can't afford organic the next best option is local veggies that are WELL washed.  Farmers markets are an awesome spot, or you could grow your own!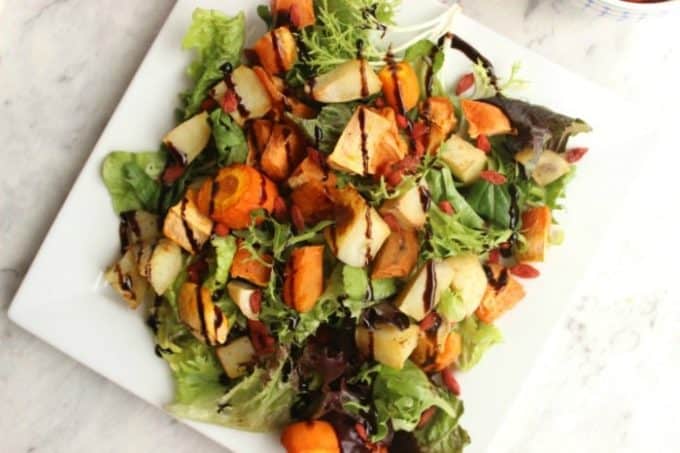 Serve this salad as a side to your favourite dish, or add protein and serve as a main.
Simple Roasted Vegetable Salad
Ingredients
2

medium carrots

peeled

2

medium potatoes

peeled

2

medium sweet potatoes

or one large, peeled

1

tablespoon

coconut oil

2

cloves

garlic

crushed

Salt and pepper to taste

100

g

mixed salad leaf

washed

1

tablespoon

gogi berries

sub cranberries

1

tablespoon

balsamic glaze to serve
Instructions
Pre-heat oven to 180 degrees and line a baking tray with baking paper;

Chop the carrots, potatoes and sweet potatoes into approximately 2x2cm cubes and place into a bowl;

Add the coconut oil, crushed garlic, salt and pepper and stir well with a spoon.  Ensure all vegetables are lightly coated in coconut oil;

Spread the vegetables over the baking tray and place the tray in the oven for 60 minutes, or until vegetables are cooked through;

Remove from the oven and set aside to cool;

In a serving dish, arrange the mixed salad leaves.  Place the roasted vegetables over the mixed salad leaves and sprinkle with gogi berries;

Drizzle with balsamic glaze before serving.
Nutrition
Serving:
0
g
Calories:
0
kcal
Carbohydrates:
0
g
Protein:
0
g
Fat:
0
g
Saturated Fat:
0
g
Polyunsaturated Fat:
0
g
Monounsaturated Fat:
0
g
Trans Fat:
0
g
Cholesterol:
0
mg
Sodium:
0
mg
Potassium:
0
mg
Fiber:
0
g
Sugar:
0
g
Vitamin A:
0
IU
Vitamin C:
0
mg
Calcium:
0
mg
Iron:
0
mg
Thanks so much Krissy!  For more of Krissy's recipes, make sure you check out her website Pretty Wee Things and you can also find here here:
Facebook: http://www.facebook.com/prettyweethingsblog/
Instagram: http://www.instagram.com/prettyweethings/
Pinterest: http://www.pinterest.com/pwtsblog/