If you are looking for the perfect summer slice, then you just can't go past this easy Passionfruit Slice recipe.  This sweet treat never lasts long in our house thanks to it's deliciously creamy and tangy filling and crisp base.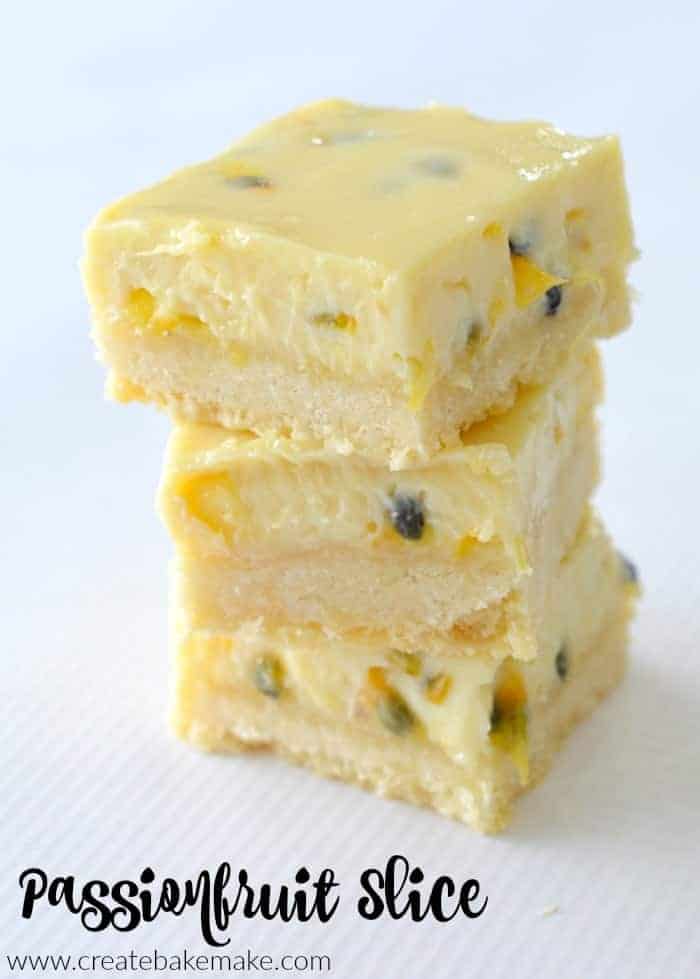 When I discovered we'd managed to accumulate half a dozen passionfruit in the crisper I was stoked to have a good excuse to make this slice. I used three large passionfruit when making this filling, so if you have small ones, it's probably a good idea to add an extra one or two.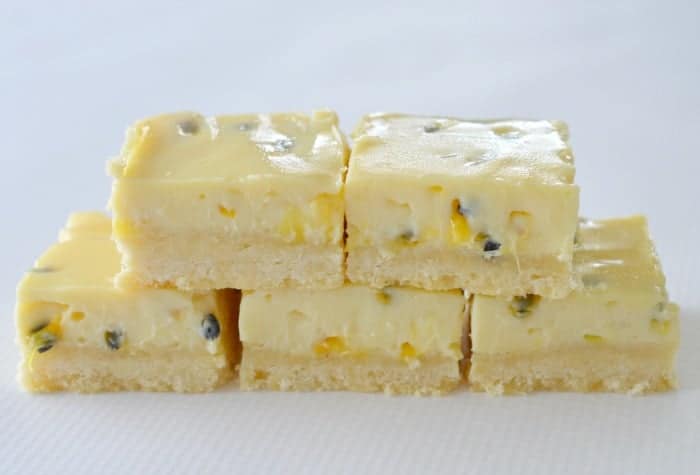 Although this Passionfruit Slice does have a bit of a tang to it, both of the boys still enjoyed the little piece from the ends that they tried, although they were concerned as to why there were 'flies in the cake'.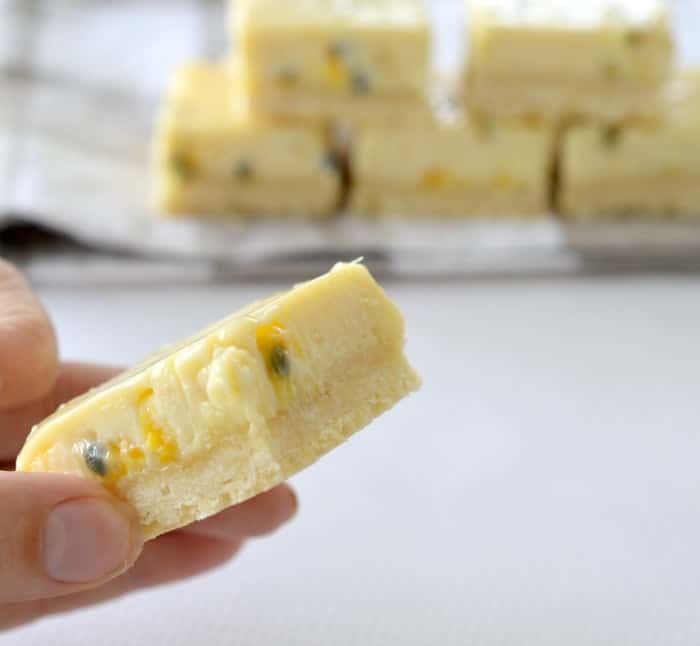 In the past when I've made this easy Passionfruit Slice, I've substituted the lemon juice for orange juice (simply because I didn't have any lemons) and was more than happy with how it turned out.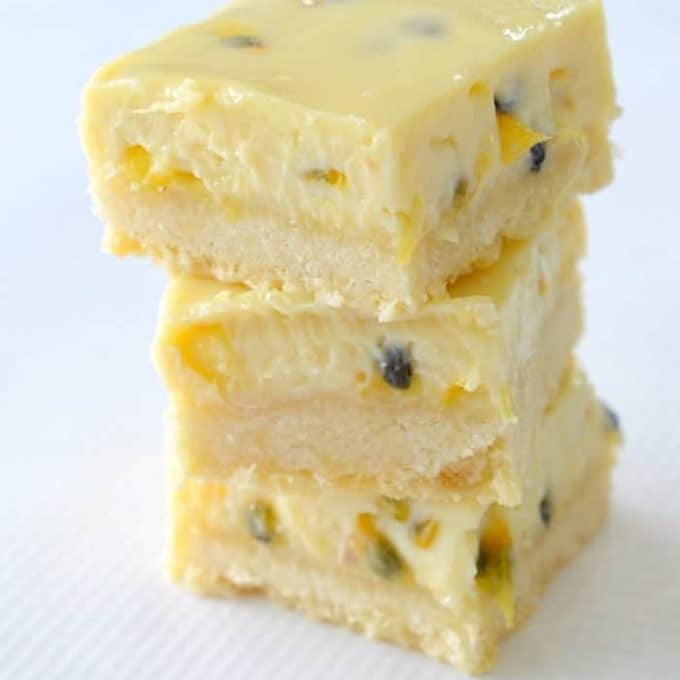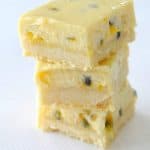 Print Recipe
Easy Passionfruit Slice Recipe
Ingredients
1

cup

150g of self raising flour

1

cup

85g of desiccated coconut

1/2

cup

115g of caster sugar

100

g

of butter- melted

1

& 1/2 cans of condensed milk

approximately 580g

1/2

cup

o fresh lemon juice

Pulp from three passionfruits
Instructions
Preheat your oven to 180 degrees and line a 28x18cm slice tin with baking paper - make sure you leave paper hanging over the sides to help you remove the Passionfruit Slice once it has cooked.

Place the flour, coconut, caster sugar and melted butter in a large bowl and stir to combine before using your hands to bring the dough together.

Transfer the dough to slice tin and use a metal spoon to press it down firmly over the base.

Place the slice into the oven and bake for 12 minutes or until light golden brown and set aside to cool.

Reduce the oven temperature to 150 degrees.

Use a whisk to combine the condensed milk, lemon juice and passionfruit pulp in a bowl

Pour and spread evenly over base

Bake for 15 minutes or until just firm to the touch.

Place the baked slice into the fridge for 2 - 3 hours or until it has completely cooled before cutting into squares to enjoy.
Thermomix Easy Passionfruit Slice Recipe Instructions
Preheat your oven to 180 degrees and line a 28x18cm slice tin with baking paper.
Place the butter into your Thermomix bowl and cook for 3 minutes at 60 degrees on speed 2 or until the butter has melted.
Add the self raising flour, desiccated coconut and caster sugar to your Thermomix bowl  and mix for 20 seconds on speed 4 – scrape down the sides of you bowl half way through the mixing time.
Pour the contents of your Thermomix bowl into your prepared baking tray (don't worry it will be crumbly) and press down with a spoon to flatten the surface.
Place the baking tray into your oven and bake for 12 minutes or until golden brown.  Reduce the temperature of your oven to 150 degrees.
Place the condensed milk, passionfruit pulp and lemon juice into a clean Thermomix bowl and mix for 10 seconds on speed 4 REVERSE to combine. Scrape down the sides of the bowl and mix for a further 5 seconds, speed 4, REVERSE before pouring pouring the mixture over the top of your cooked Passionfruit Slice base.
Put the Passionfruit Slice into the oven to bake for 15 minutes or until it is firm to the touch.  Place the cooked slice into the fridge for 2 – 3 hours to allow it to cool completely before cutting into squares.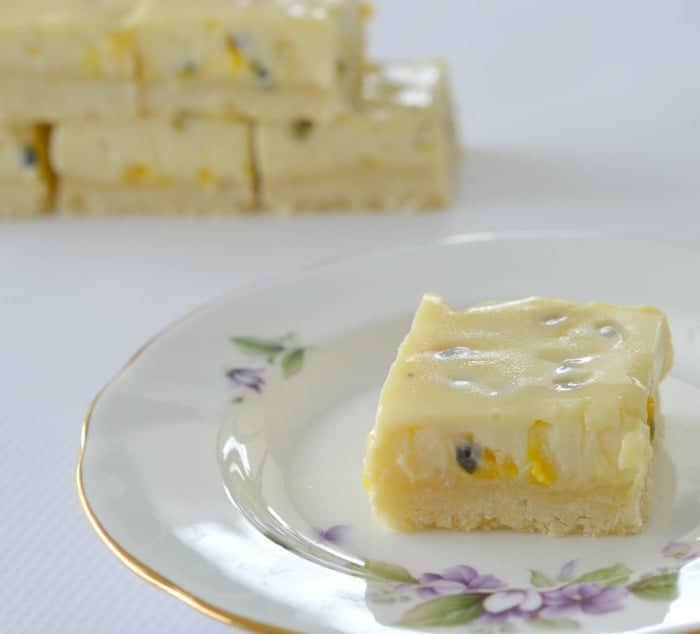 If you LOVE slices, make sure you check out our fab No Bake Slices Ebook!  Use the code sale when checking out to receive 50% off!