Opening the door to our freezer last week while attempting to put away our fortnightly shopping , I was met with an avalanche of bread, icy poles and sausages – and not just one package of sausage but three. Given I was trying to find space for yet ANOTHER pack, I knew I needed to cook some soon!  They are just one of those things I regularly pop into the trolley each time I shop.  I know they are not the most nutritious food, but all THREE of the boys enjoy them and I'm always guaranteed to have empty plates after dinner.  My boys are also crazy for carbs, so it seemed natural to pair two of their favourite things together.  A further raid of the pantry and fridge and we had all the ingredients to create a Curried Sausage Pasta Bake.
I had planned on using just four sausages for this recipe, but while my back was turned my little helper decided to dunk an extra sausage into the curry powder… so five sausages it was!
It took no time to put this together. I pre cooked everything before combining it in a 20cm square casserole dish, adding the chopped tomatoes (I originally planned to use just one tin, but felt it needed some extra sauce) and cheese before popping it into the oven.
My little helper was by my side the whole time, eager to help mix everything together and he may have eaten half of the cheese I had planned to use.
While this isn't anything fancy, it still tasted great and all four of us enjoyed it.  Our version was quite mild so the boys could still eat it, I had been planning to add a tablespoon of curry powder, but reduced it slightly after I had no choice but to add the curry coated fifth sausage.  You could sneak some veggies in if you like, I'm thinking some mushrooms, zucchini and even eggplant would be great – but we were happy to enjoy it with our greens on the side.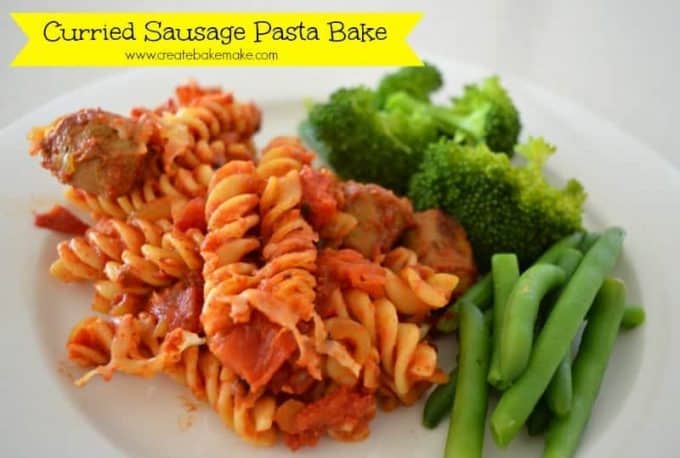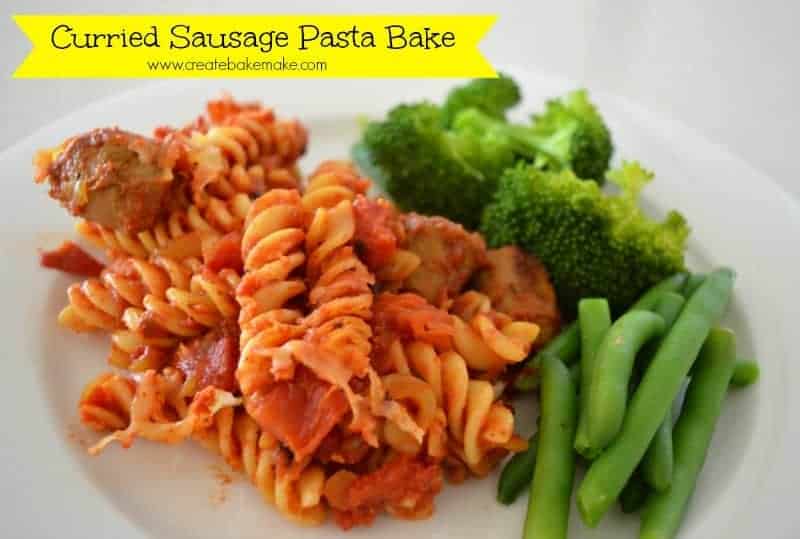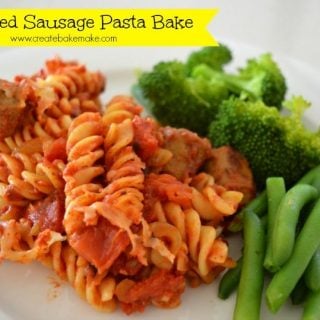 Curried Sausage Pasta Bake
Ingredients
4

approximately 260g beef, herb and garlic sausages - you can use any flavour though.

2

x 400g tins of crushed tomatoes

2

cloves

of crushed garlic

2

teaspoons

of curry powder - you can add less/more if you prefer

1

brown onion

¾

cup

of cheddar cheese - again feel free to substitute for another variety if you prefer

1

teaspoon

olive oil

salt & pepper to taste

250

g

of dried spiral pasta
Instructions
Preheat oven to 190 degrees (fan forced)

Heat water in a medium saucepan over a high heat. When the water begins to boil, add the pasta and cook as per packet instructions.

Finely chop the onion and set aside.

Cut the uncooked sausages into small pieces and also set aside - using kitchen scissors is the easiest way to do this.

Place a frypan over a medium high heat, add oil and once it starts to warm up, add the onion, garlic, curry powder and cook for a two minutes, stirring as you go.

Add sausage pieces and cook for approximately 10 minutes or until the sausages have browned and are almost cooked through. Remove from heat.

Drain pasta and tip it into a 20cm square oven safe casserole dish. Add cooked sausage, onion, garlic and curry mixture before carefully pouring both tins of crushed tomatoes over the top. Sprinkle with a little salt and pepper and add approximately ¼ cup of grated cheese.

Using a large metal spoon, carefully mix ingredients all together until combined.

Sprinkle remaining cheese over the top and place into oven for 35 minutes, or until the cheese has melt and begins to turn brown.

We enjoyed this with steamed beans and broccoli, but it's also yummy enough to eat on it's own. This recipe made enough to feed two adults and two toddlers and there was also enough left over to freeze.
Nutrition
Serving:
0
g
Calories:
0
kcal
Carbohydrates:
0
g
Protein:
0
g
Fat:
0
g
Saturated Fat:
0
g
Polyunsaturated Fat:
0
g
Monounsaturated Fat:
0
g
Trans Fat:
0
g
Cholesterol:
0
mg
Sodium:
0
mg
Potassium:
0
mg
Fiber:
0
g
Sugar:
0
g
Vitamin A:
0
IU
Vitamin C:
0
mg
Calcium:
0
mg
Iron:
0
mg
What food do you always have in your freezer? Are your kids crazy for carbs too?