This post is sponsored by Coles
One of my favourite things about this time of year is that there are so many cute and delicious Christmas recipes to make and enjoy!  Thanks to spending waaaay too much time on Pinterest (and watching The Great Australian Bake Off!), I've got a collection of fun Christmas (and if I'm honest every other type!) of recipes that I can't wait to try.
When it comes to re-creating some of these masterpieces I've seen, I'm sometimes put off by the difficulty in finding some of the items that I need, after all who wants to be dragging two toddlers around town trying to find the right cake board, fondant and everything else you need?
My dilemma (and I'm sure others!) has been sorted thanks to Coles recently launching their new baking and decorating range, which includes over 100 products and has everything from cake and biscuit mixes, ready coloured fondants to cake decorations and equipment – see problem solved!!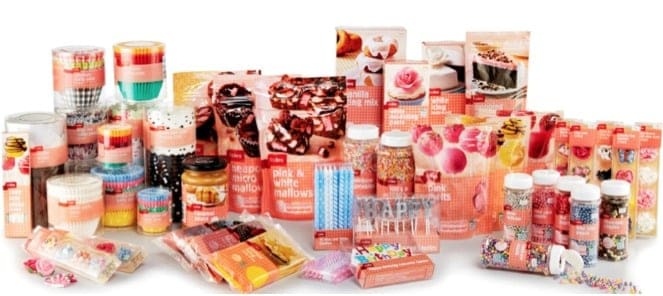 It's so handy (not to mention less expensive!) being able to pick up ALL the cake decorating and baking products I need from my local Coles, and the bonus is I also get inspired to try new recipes when I see all the awesome new products in their baking aisle – I have my sights firmly set on a cheesecake creation using their Caramel Sauce!
The Coles baking range caters for ALL skill levels and makes creating amazing unique cakes and other creations accessible to everyone – even novice bakers and the kids!  All of their products taste great and are free from artificial colours and flavours.
I was more than thrilled when asked if I'd like to have a play with their products and given we are just three weeks away from Christmas (eeek!) I decided to make some Christmas Tree inspired cupcakes using products from Coles new range.
These Christmas Tree Cupcakes are an impressive Christmas Party dessert or you could even give them as a gift to teachers, friends or family.  They really are easy to put together – even with the 'help' of my boys!
To create these Christmas Tree Cupcakes, you will need:
Coles Chocolate Cake Mix with Icing
12 x Coles Patty Pans – Red
250g of butter – softened
4 cups of icing sugar – sifted
1 teaspoon of vanilla extract
Green Gel Colouring
Coles Silver Cachous
Coles Popping Candy
Coles ready to roll Red Icing – 250g
Small star shape cutter
Piping bag and star nozzle
Wooden skewer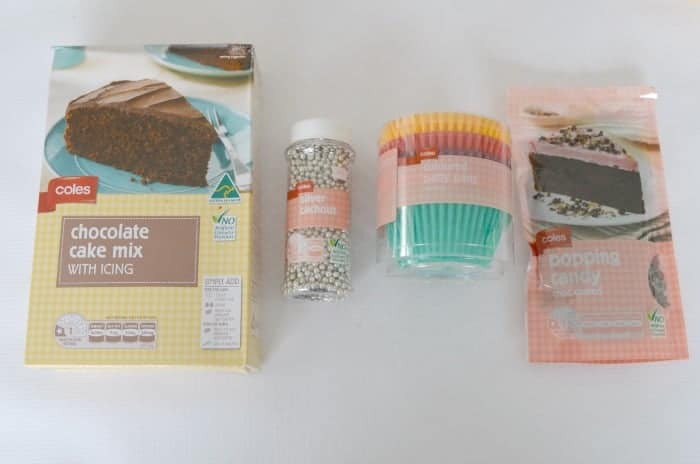 Creating these Christmas Tree Cupcakes is really easy!
First, place 12 Coles red patty cases into a 12 hole muffin tin and follow the instructions on the Coles Chocolate Cake Mix box.  Divide the chocolate cake mixture amongst the patty cases and bake for approximately 20 minutes.
Remove the cupcakes from the oven and allow them to cool for 10 minutes in the tin before carefully transferring to a wire rack to completely cool.
To make your buttercream, place the icing sugar, softened butter and vanilla extract into the bowl of an electric mixer and beat for 5 minutes or until the ingredients turn pale and creamy. Add the green gel colouring a little at a time until you achieve the desired colour.
While the buttercream is mixing, sprinkle a little cornflour onto your bench and roll out a small ball of red fondant icing until it's approximately 5mm thick.  Cut out 12 stars.  Use the end of your wooden skewer to make a small indent into the centre of your fondant star and gently press a silver cachous into it. Repeat until all of your stars are decorated.
Transfer the green buttercream into your piping bag and assemble everything you need on your bench
Pipe the buttercream onto your cupcakes, as you are wanting to get as much height as possible, make sure you cover the surface of the cupcake completely with buttercream before you begin increase the height of the buttercream to give it a stable base. Repeat until all of your cupcakes are covered with buttercream.
Now it's the fun part! Decorate your cupcakes with silver cachous, popping candy (along with any other decorations you like) and place one of the fondant stars on top of your 'Christmas Tree' to finish. Repeat until you have decorated all of your cupcakes.
These Christmas Tree Cupcakes are best enjoyed on the same day that you decorate them. You can make the cupcakes a day or two in advance and decorate them as needed.
See these Christmas Tree Cupcakes really are simple to make! To prove just how easy it is to put together fun and unique creations in the kitchen with the Coles Baking and Decorating range, we're looking for five home bakers to have some fun and review some of the new baking goodies available at Coles. If you'd like to be involved, all you need to do is leave a comment below telling me what inspires you in the kitchen.
Good luck and happy baking!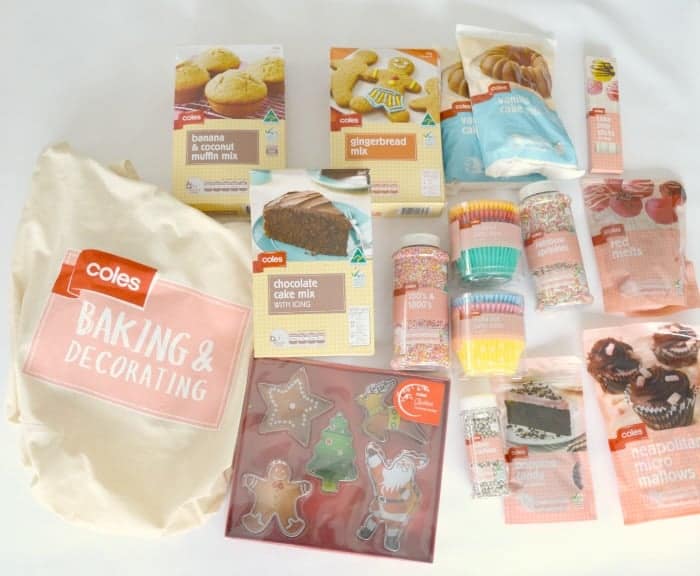 Conditions
Submissions close Sunday 6th of December at 6pm AEST and successful applicants will be contacted the same day via email and asked to provide a mailing address.
A valid email address is required
We do ask you to please provide feedback and/or images of the creations made using your review pack by Monday 14th of December.
This opportunity is only available to Australian residents.
Each Review Pack includes:
Cake Pop Ingredients:
· Coles Cake Pop Sticks 24 Pack
· Coles Decorating Chocolate Coated Popping Candy 100g · Coles Pink Chocolate Melts 200g
· Coles Rainbow Sprinkles 200g
· Coles Vanilla Cake Mix
· Coles Silver Cachous 85g
Gingerbread Ingredients:
· Coles Gingerbread Mix
· Coles Neapolitan Micro Mallows 100g
· Christmas Cookie Cutters Set 6 pack
· Coles 100's & 1000's 350g
· Use silver cachous and popping candy from Cake Pop ingredients list
Cupcake Ingredients:
· Coles Patty Pans Polka Dot
· Coles Banana and Coconut Muffin Mix
· Coles Patty Pans Multicolour
· Coles Chocolate Cake Mix with Icing 440g