Looking for an easy dessert that you don't have to share? This Tim Tam Mug Cake is for you!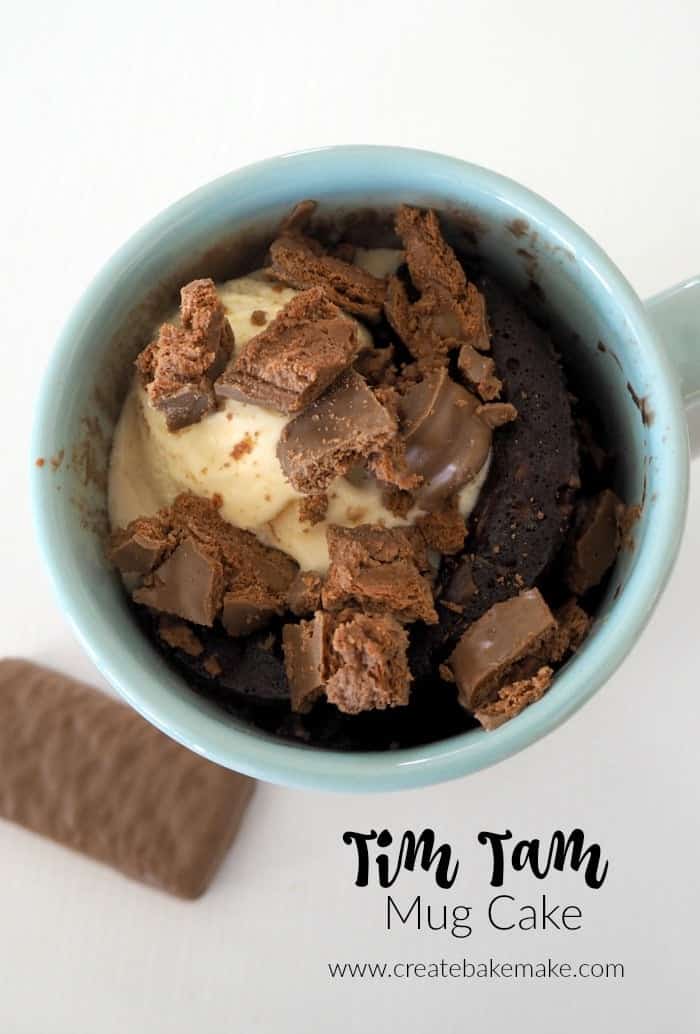 Life always seems to be a bit hectic around here and with a tired preppie, the end of the term can't come fast enough!  On the weekend my husband set off on a work trip to South Africa, not only leaving me  with the three boys for a week (which I don't mind) but most importantly he is going to be away for my birthday!  While I've already worded him up on a few items to purchase duty free to help make up for it, I've also been consoling myself with this incredibly delicious and most importantly super simple Tim Tam Mug Cake.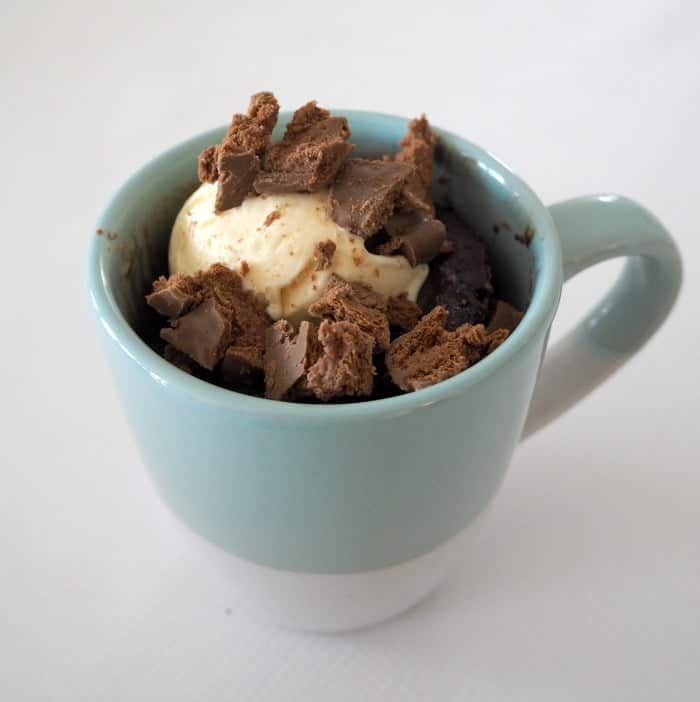 I'm a fan of mug cakes (check out my Nutella Mug Cake and Mars Bar Mug Cake recipes) and after finally getting all three boys into bed the other night, I decided to indulge and reward myself with cake while I caught up on my real housewives episodes.  This Tim Tam Mug Cake is the perfect dessert when you are craving something sweet and best of all if you use a large mug, you don't have to share! You can easily eat this mug cake without adding a scoop of ice-cream and an extra Tim Tam but I figure if you are going to indulge, you might as well do it properly!
Makes 1
Tim Tam Mug Cake
This super simple Tim Tam Mug Cake is the perfect indulgent dessert!
Ingredients
4 tablespoons of self raising flour
2 tablespoons of caster sugar
2 tablespoons of cocoa
1 egg
3 tablespoons of milk
3 tablespoons of vegetable oil
3 Tim Tams
Vanilla ice-cream
Instructions
Place the self raising flour, caster sugar, cocoa, egg, milk and vegetable oil into a medium bowl and whisk together to combine.
Roughly chop 2 of the Tim Tams and gently stir through the cake mixture.
Pour the mixture into a large mug - making sure you don't fill it more than halfway as it will overflow otherwise.
Place the mug into your microwave and cook on high for 45 seconds - 1 1/2 minutes. The cooking time will vary depending on your microwave.
Roughly chop the remaining Tim Tam and serve the mug cake immediately with a scoop of vanilla ice-cream and the extra chopped Tim Tam sprinkled on top.
Notes
You can split the mixture into two small mugs to make two servings. The cooking time will vary depending on your microwave.
7.7.0.1
379
https://createbakemake.com/2017/06/19/tim-tam-mug-cake/
Enjoy!