Tim Tams are one of my go to guilty pleasures so you can just imagine how much I love this Three Ingredient Tim Tam Fudge!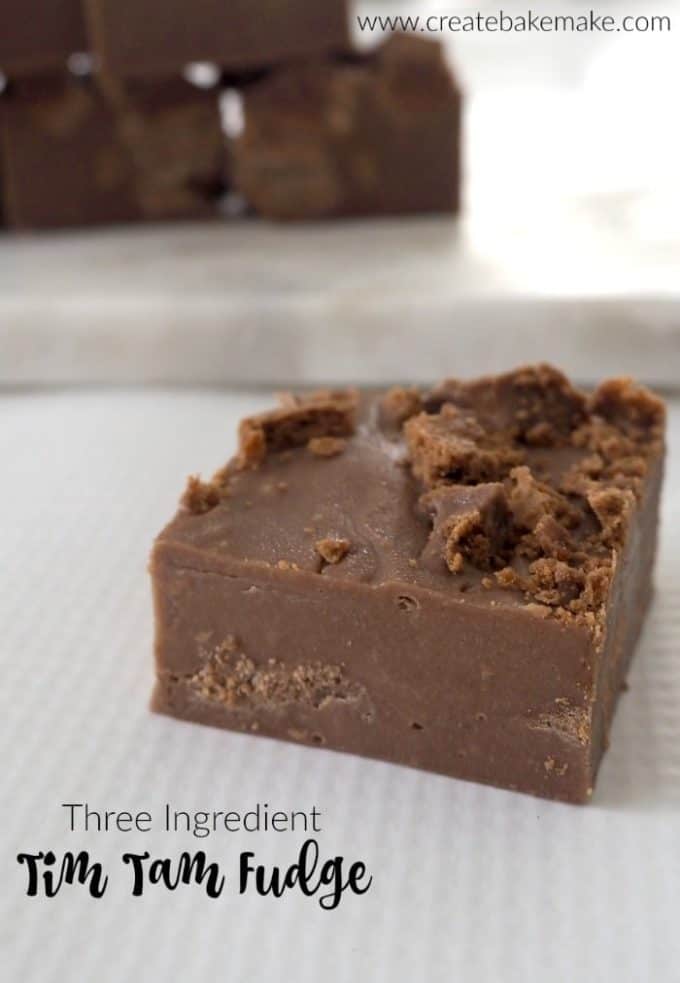 Ok, so I really don't know why it's taken me so long to make this three ingredient Tim Tam Fudge recipe as after just one bite I was in love!  I made this recipe for the first time around a month ago when I was putting together Christmas gifts for friends and thought a yummy fudge would be perfect alongside homemade shortbread.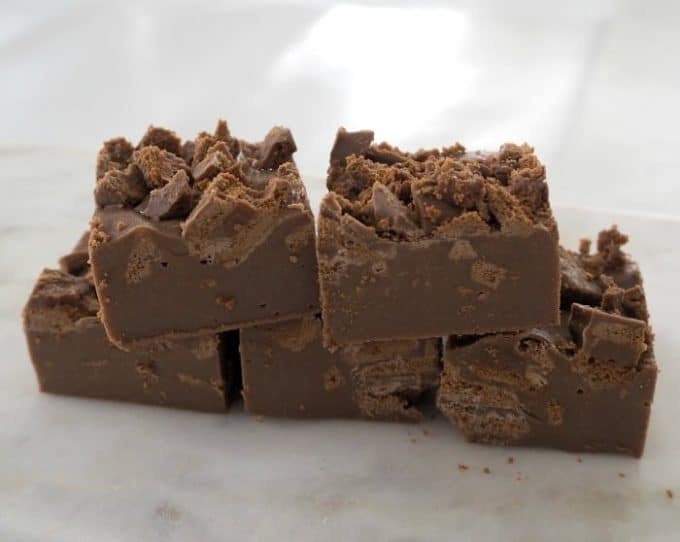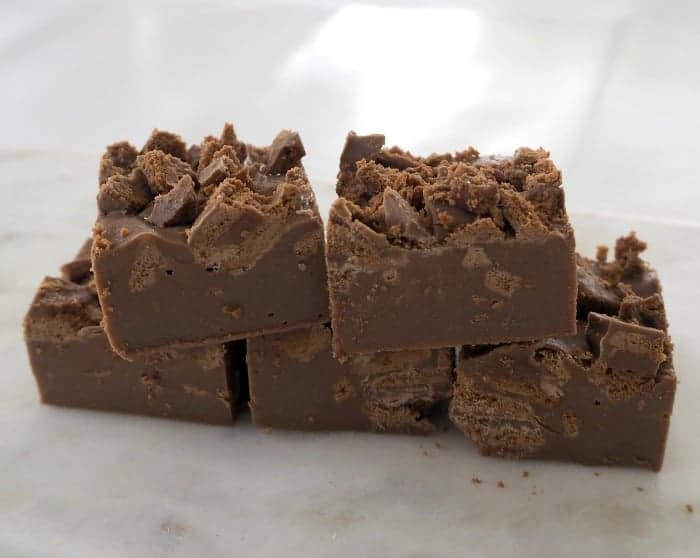 I wasn't wrong, this fudge turned out perfectly and just a few pieces may not have made it into my Christmas hampers!  I decided to add around ¾ of the chopped Tim Tams to the fudge itself and then sprinkled the remaining pieces over the top of the fudge before placing it into the fridge.  This ensure you still got whole Tim Tam pieces to enjoy in each mouthful as the Tim Tams will melt a little when stirred through the hot fudge.
I also used plain Tim Tams (which are my favourites, you can't go wrong with the original after all!) to make this fudge, however you could easily use your favourite flavoured Tim Tams, I'm thinking Caramel would be pretty amazing too!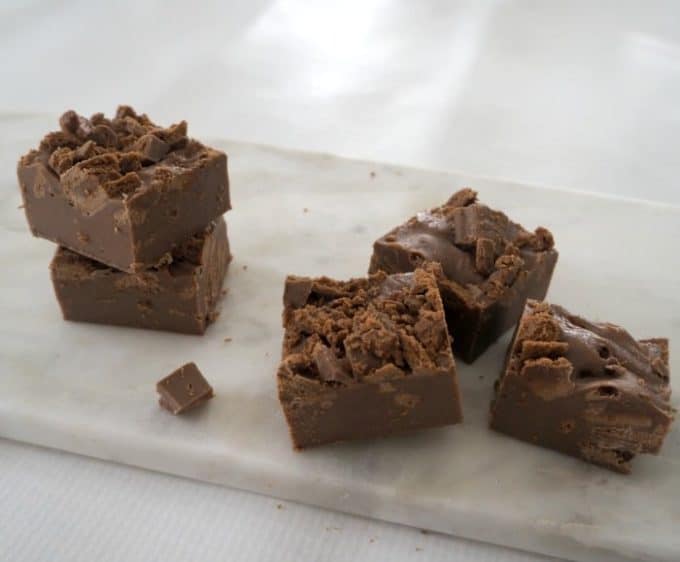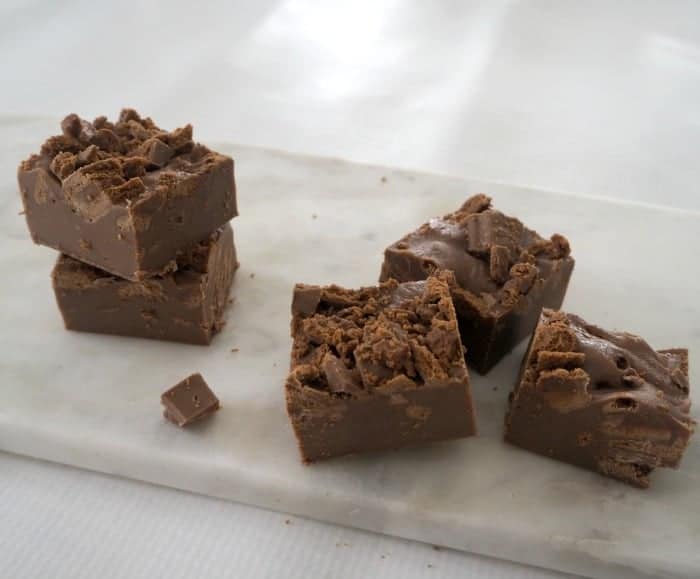 If you think this fudge recipe looks familiar, you are right! It's my two ingredient chocolate fudge recipe which honestly is one of the EASIEST and BEST recipes you will ever try.  I've lost count how many variations of this recipe I've now made over the years and I've even now got my husband giving me suggestions of what combinations I should try next!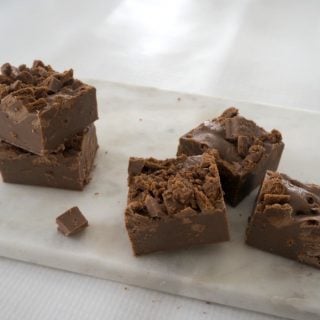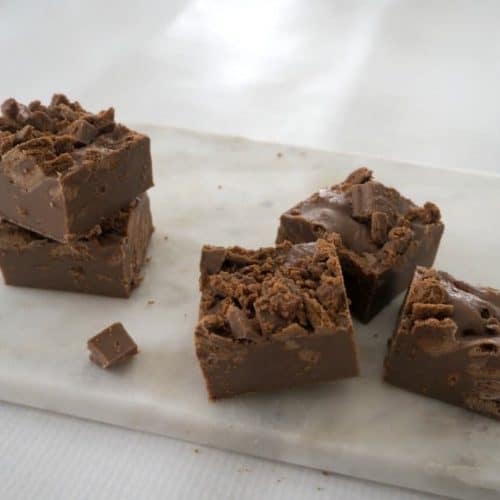 Three Ingredient Tim Tam Fudge
Ingredients
400

g

of milk chocolate

395

g

tin of sweetened condensed milk

200

g

pack of Tim Tams
Instructions
Line a 20cm square cake tin with baking paper - make sure you leave plenty of paper hanging over the sides to help you remove the fudge once it has set.

Roughly chop the Tim Tams into pieces and set aside until needed.

Pour the sweetened condensed milk into a medium saucepan over low heat and add the milk chocolate - which has been broken into squares.

Cook condensed milk and chocolate mixture and stir regularly until the chocolate has melted and the ingredients have combined.

Remove the saucepan from the heat and add approximately ¾ of the chopped Tim Tams before quickly stirring through.

Pour the fudge into the prepared tin and sprinkle the remaining Tim Tams over the top. Place in the fridge for a minimum of 6 hours (preferably overnight) to set.

Remove the set fudge from the fridge and cut into squares.
Notes
This recipe is best made the day before it's needed as leaving the fudge in the fridge overnight will give it plenty of time to set properly.
It's important to ensure you are using sweetened condensed milk and NOT evaporated milk as otherwise the fudge will not set properly.
Some brands of condensed milk can give this fudge a softer texture, I use Nestle Sweetened Condensed Milk.
Nutrition
Serving:
0
g
Calories:
63
kcal
Carbohydrates:
11
g
Protein:
2
g
Fat:
2
g
Saturated Fat:
1
g
Polyunsaturated Fat:
0.1
g
Monounsaturated Fat:
0.5
g
Cholesterol:
7
mg
Sodium:
25
mg
Potassium:
73
mg
Sugar:
11
g
Vitamin A:
53
IU
Vitamin C:
1
mg
Calcium:
56
mg
Iron:
0.04
mg
Thermomix Three Ingredient Tim Tam Fudge
Place the Tim Tams into the Thermomix bowl and chop of 3 seconds on speed 5 – you want your Tim Tam pieces to be chunky. Transfer into a new bowl and set aside until needed.
Break the milk chocolate into pieces and place in the Thermomix bowl.
Add the condensed milk and cook for 10 minutes, 100 degrees on speed 3.
Add ¾ of the Tim Tam pieces and mix for 8 seconds on reverse, speed 1.
Working quickly, pour the fudge into the prepared pan and sprinkle with the remaining Tim Tam pieces. Place in the fridge for 4 hours (preferably overnight) to set.
Remove fudge from the fridge and cut into small pieces.
Enjoy!