This simple Chicken Noodle Soup recipe is the perfect warming winter meal and can be made both conventionally or using a Thermomix.
Although we are not that far into winter, we've been battling coughs, colds and other random viruses in our house for the past two months now and I'm well and truly over it!  I really hate seeing the kids sick (especially bub) and I've been making a bigger effort to ensure their little tummies are getting filled with good nourishing food in an attempt to try and ward off some of these bugs that keep invading our house.  This simple Chicken Noodle Soup recipe has been on a regular rotation recently as not only is it good for the kids (including bub), but perhaps more importantly it also requires little effort on my behalf to make it, which is exactly the type of recipe I'm looking for when I'm not feeling well either.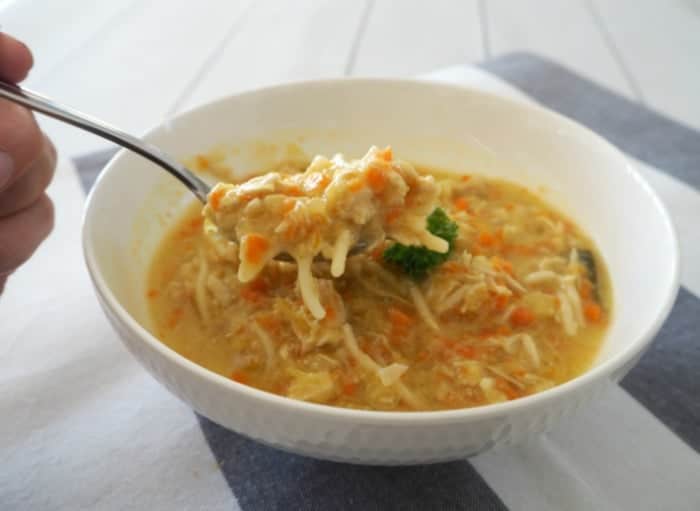 I've made a few different versions of this recipe as I use pretty much whatever vegetables we have in the fridge/pantry to help bulk up this soup.  Zucchini, Carrot and Sweet Potato are a few of our favourites but the kids are really drawn to the chicken and pasta in this recipe anyway!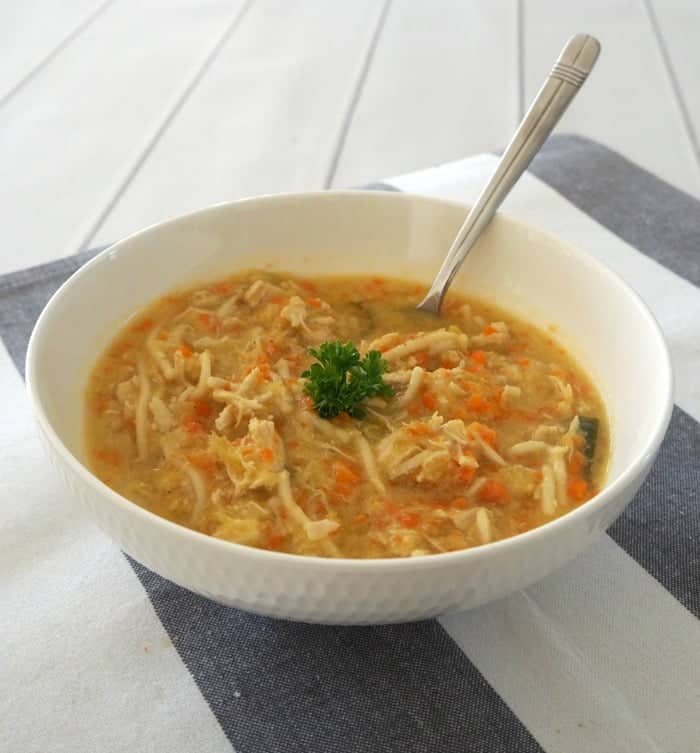 This recipe makes enough to feed all five of us with leftovers for the next day, or you could comfortably serve four adults.  It's quite a thick soup, so if you prefer it to be a little lighter (or want to stretch it further!) simply add a little extra water.
Simple Chicken Noodle Soup
This simple Chicken Noodle Soup recipe is the perfect meal to end the day with. It can be made using any leftover vegetables and can also be made using a Thermomix.
Ingredients
1

Litre

1000g of water & 2 tablespoons of vegetable stock if making using a Thermomix

1

Litre of vegetable stock if cooking conventionally.

20

g

of olive oil

1

celery stalk

1

carrot

400

g

chicken breast - chopped into pieces

400

g

tin of corn kernels

2

garlic cloves

1

onion

2

teaspoons

of corn flour

80

g

of spaghetti broken into small pieces
Instructions
Add the vegetable stock to a large saucepan over a medium high heat and bring to the boil. Add the chopped chicken pieces and return to the boil.

Reduce the heat until the stock is simmering. Cover the saucepan with a lid and cook for 10 minutes or until the chicken pieces are cooked through. Remove from the heat and let the chicken sit in the liquid for 5 minutes before transferring the chicken pieces to a separate bowl. KEEP the stock!

Meanwhile, add the olive oil to a frying pan along with the garlic cloves (which have been crushed), onion (finely diced) and celery and carrot which has been chopped into small pieces. Cook for 4 - 5 minutes or until the onion turns translucent.

Place the saucepan with the stock back onto the stove over a medium heat. Add the ingredients you have just cooked in the frying pan along with the corn flour and stir to combine. Bring the mixture to the boil then reduce the heat and let it simmer for 10 minutes.

Add the corn kernels and shredded chicken and spaghetti pieces and cook for a further 5 - 8 minutes or until the spaghetti is al dente.

Transfer the soup to four serving bowls and enjoy.
Notes
You can use any vegetables you like when making this recipe.
If you prefer a tin soup, simply omit the cornflour.
Thermomix Simple Chicken Noodle Soup Recipe
Place the chicken (which has been cut into cubes) and 1000g of water into your Thermomix bowl. Cook for 12 minutes on Varoma, speed 2 with the measuring cup in place or until the chicken has cooked through.
Drain and save the cooking water for use later.
Blitz the chicken for 3 seconds on speed 4. Transfer to a new bowl and set aside until needed.
In a clean and dry Thermomix bowl add the garlic clove, onion, carrot and celery (which have both been cut into 3cm pieces) and blitz for 4 seconds on speed 6.
Add the olive oil and cook for 3 minutes, 100 degrees, speed 2.
Add the reserved cooking water, corn flour and cook for 12 minutes, 100 degrees, speed 2.
Add the reserved shredded chicken, spaghetti (which has been broken into small pieces) and corn kernels and cook for a further 6 minutes, 100 degrees  speed 2, reverse. If the spaghetti hasn't quite cooked through, cook for a further 2 minutes, 100 degrees, speed 2, reverse.
Pour the soup into 4 bowls to serve.
You can find more yummy (and easy!) soup recipes here.