This easy Chicken Tortilla Soup recipe is one of our new family favourites and it's super simple to make both conventionally and in a Thermomix!
Chicken Tortilla Soup has been one of those recipes I discovered on Pinterest YEARS ago and have been meaning to make ever since.  Recently when we had a cold snap in Brisbane (the temperature dropped below 25 degrees!) I decided it was soup weather and was a bit excited to discover I had all of the ingredients I needed (well to make my version anyway!) to make this easy Chicken Tortilla Soup recipe.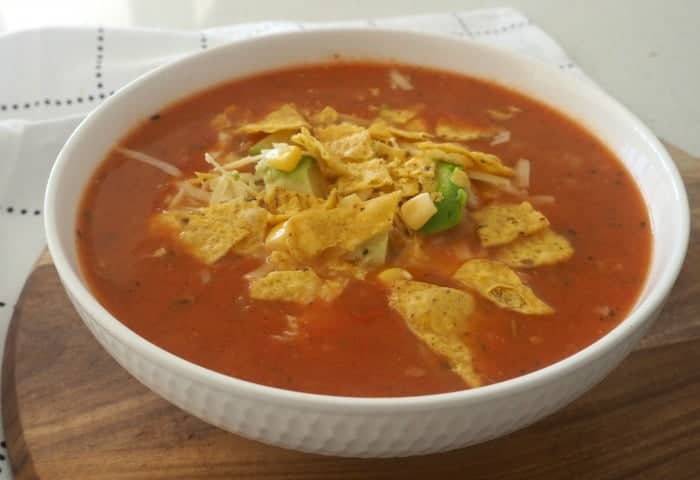 I added some finely diced celery and zucchini to my Chicken Tortilla Soup recipe to help boost the veggie content.  I also used ½ a teaspoon of medium Mexican Chilli powder to give it a little heat and while both of my boys enjoyed it, if your kids aren't fans of anything too spicy you can simply reduce the chilli powder to ¼ teaspoon or use a mild chilli powder instead.
When it comes to making this recipe, don't be put off by the list of ingredients and steps, as it truly is simple to make – I now make a batch in the morning while the kids are all having breakfast ready for dinner that night! Both of the boys were VERY excited while watching me break up a couple of tortilla chips to top their bowls of soup with and the chips quickly disappeared when I set their bowls down at the table!  This is a great meal to enjoy on these cooler nights and you can also make it a day in advance and simply reheat when you need.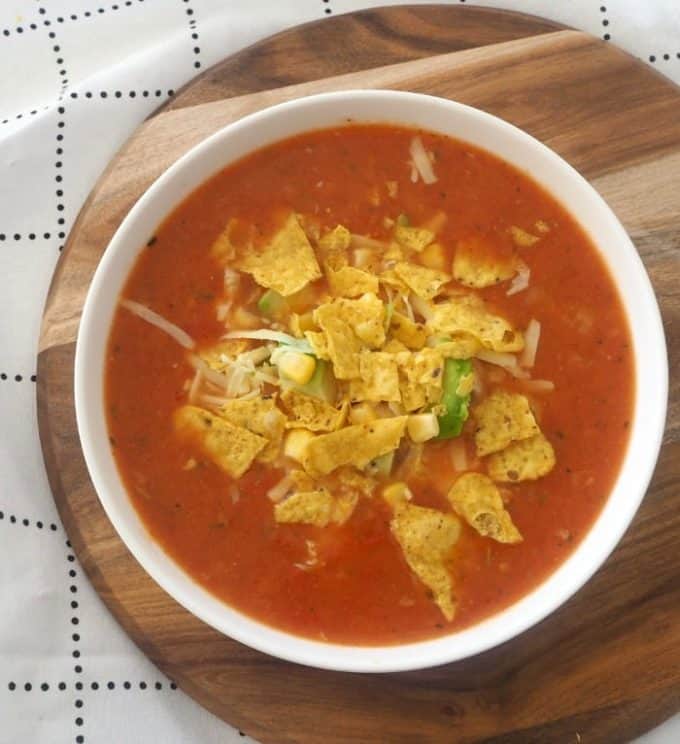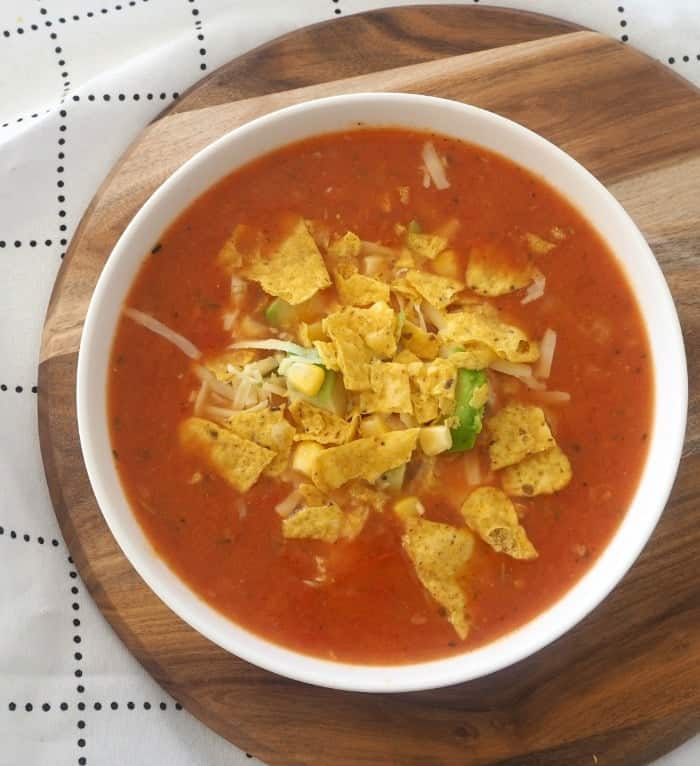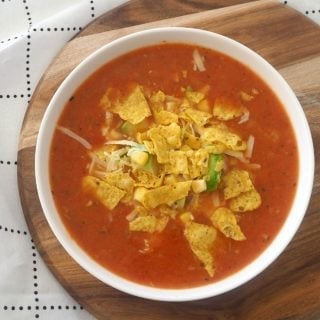 Easy Chicken Tortilla Soup
This easy Chicken Tortilla Soup recipe will quickly become a family favourite. Both conventional and Thermomix instructions included.
Ingredients
500

g

of chicken breast - cut into 3cm cubes.

800

g

of water & 2 tablespoons of vegetable stock if making using a thermomix

800

ml

of vegetable stock if cooking conventionally.

20

g

of olive oil

1

celery stalk

400

g

tin of corn kernels

3

garlic cloves

1

onion

½

teaspoon

of mexican chill powder

mild

1

teaspoon

of dried mixed herbs

400

g

of crushed tomatoes

50

g

of tomato paste

2

teaspoons

of corn flour

50

g

of corn chips

100

g

of cheddar cheese - grated to serve

1

avocado
Instructions
Add the vegetable stock and mixed herbs to a large saucepan over a medium high heat and bring to the boil. Add the chopped chicken pieces and return to the boil.

Reduce the heat until the stock is simmering. Cover the saucepan with a lid and cook for 10 minutes or until the chicken pieces are cooked through. Remove from the heat and let the chicken sit in the liquid for 5 minutes before transferring the chicken pieces to a separate bowl. KEEP the stock!

Meanwhile, add the olive oil to a frying pan along with the garlic cloves (which have been crushed), onion (finely diced) and celery which has been chopped into small pieces. Cook for 4 - 5 minutes or until the onion turns translucent.

Place the saucepan with the stock back onto the stove over a medium heat. Add the cooked onion/garlic and celery pieces, crushed tomato, tomato paste, mexican chill powder and corn flour and stir to combine. Bring the mixture to the boil and then gently simmer for 10 minutes.

Add the corn kernels and shredded chicken and cook for a further 3 minutes. If at this point you feel the soup is too 'thin' simply add a cup of water when adding the chicken and corn and stir through.

Transfer the soup to four serving bowls and top with pieces of corn chips, avocado pieces and grated cheese to serve.
Notes
This recipe will serve 4 adults.
You can make this recipe a day in advance.
If you are making this recipe on the stove top, please use liquid vegetable stock. If you are making this recipe using a Thermomix, please use 800ml of water and 2 tablespoons of vegetable stock.
Nutrition
Serving:
0
g
Calories:
0
kcal
Carbohydrates:
0
g
Protein:
0
g
Fat:
0
g
Saturated Fat:
0
g
Polyunsaturated Fat:
0
g
Monounsaturated Fat:
0
g
Trans Fat:
0
g
Cholesterol:
0
mg
Sodium:
0
mg
Potassium:
0
mg
Fiber:
0
g
Sugar:
0
g
Vitamin A:
0
IU
Vitamin C:
0
mg
Calcium:
0
mg
Iron:
0
mg
Thermomix Easy Chicken Tortilla Soup Recipe
Place the cheddar cheese into your Thermomix Bowl and blitz for 8 seconds on speed 8 to grate. Set aside until needed.

Without washing the bowl add the chicken which has been cut into cubes and 800g of water. Cook for 12 minutes on Varoma, speed 2 with the measuring cup in place or until the chicken has cooked.  

Drain and save the cooking water and place into a jug for use later.

Blitz the chicken for 4 seconds on speed 4. Transfer to a new bowl and set aside until needed.

In a clean and dry Thermomix bowl add the garlic clove, onion and celery (which has been cut into 3cm pieces) and blitz for 4 seconds on speed 6.

Add the olive oil and cook for 3 minutes, 100 degrees, speed 2.

Add the reserved cooking water, mexican chilli powder, mixed herbs, crushed tomatoes, tomato paste and corn flour and cook for 12 minutes, 100 degrees, speed 2.

Add the reserved shredded chicken and corn kernels and cook for a further 5 minutes, 100 degrees  speed 2, reverse.

Pour the soup into 4 bowls to serve and top with the grated cheddar cheese previously set aside, corn chips and avocado pieces.
Enjoy!