Since Easter Eggs started appearing on the supermarket shelves a few months ago, I've shown an incredible amount of restraint by not adding a pack (or two) to my shopping trolley.  However last week that resolve went out the window and I may have gone just a little overboard buying a few (ok, four) bags of different flavoured mini Easter Eggs.
Although I could think of nothing better than hiding the eggs away in the back of the pantry for only myself to enjoy, when buying all of these eggs, my intentions were good and I've slowly been turning them into fun and yummy Easter recipes.
I've always wanted to make chocolate bark and there is no real reason I haven't made it before.  I decided to have some fun and use a bag some leftover popping candy from Christmas to create this Popping Easter Egg Bark.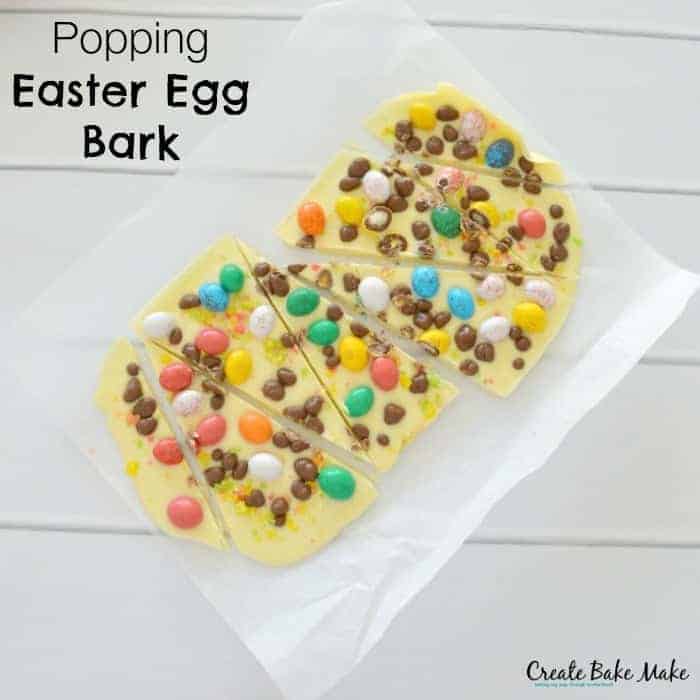 This is honestly one of those recipes which takes just five minutes to put together and best of all, you can use whatever Easter Eggs or candy you like.  During my big Easter Egg buy up, I also bought a box of Crunchie Sprinkles and thought the addition of little Crunchie honeycomb pieces would be a yummy addition to this Popping Easter Egg Bark.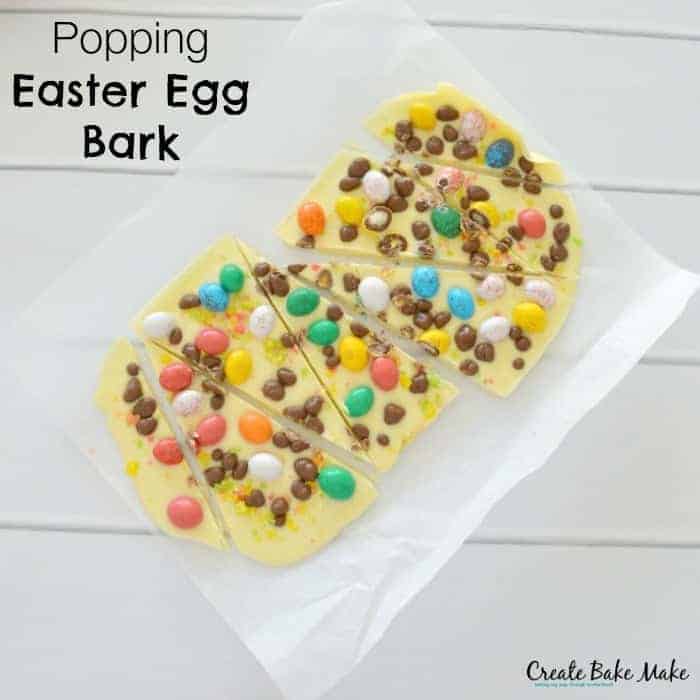 Popping Easter Egg Bark
Ingredients
200

g

white chocolate

100

g

of mini easter eggs

55

g

of crunchie sprinkles

1

tablespoon

of popping candy
Instructions
Cover a small baking tray with baking paper and place all of your ingredients close by.

Break the white chocolate into pieces and place in a microwave safe bowl. Place the bowl into the microwave and cook for 30 second spurts until it has almost melted before stirring until it completely melts.

Pour the melted chocolate onto the prepared baking tray and move the tray around to get a thin layer of chocolate.

Sprinkle the mini easter eggs, crunchie topping pieces and popping candy over the top of the melted chocolate until it's covered.

Once done, place the tray into the fridge for 1 hour or until it's set.

Remove from the fridge and then cut into large pieces
Nutrition
Serving:
0
g
Calories:
0
kcal
Carbohydrates:
0
g
Protein:
0
g
Fat:
0
g
Saturated Fat:
0
g
Polyunsaturated Fat:
0
g
Monounsaturated Fat:
0
g
Trans Fat:
0
g
Cholesterol:
0
mg
Sodium:
0
mg
Potassium:
0
mg
Fiber:
0
g
Sugar:
0
g
Vitamin A:
0
IU
Vitamin C:
0
mg
Calcium:
0
mg
Iron:
0
mg
This Easter Egg Bark would make a great Easter gift for teachers, friends and family and I'm already planning to make another batch for the boys kindy teachers this year.  Because it's such an easy recipe, it's also a great one for the kids to help you with.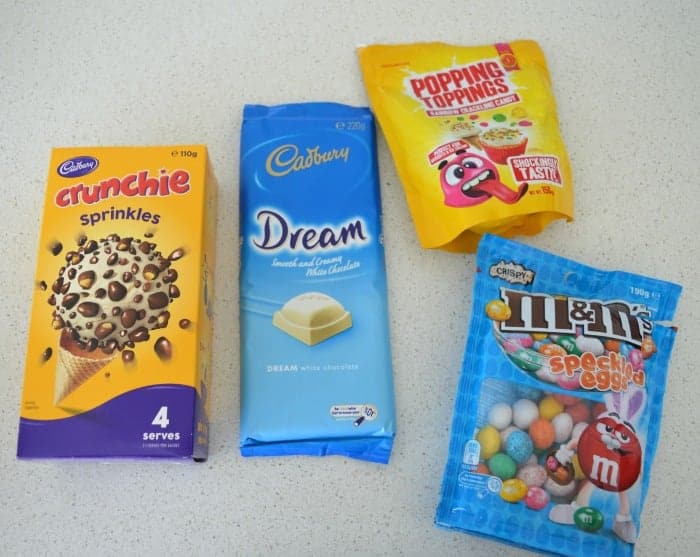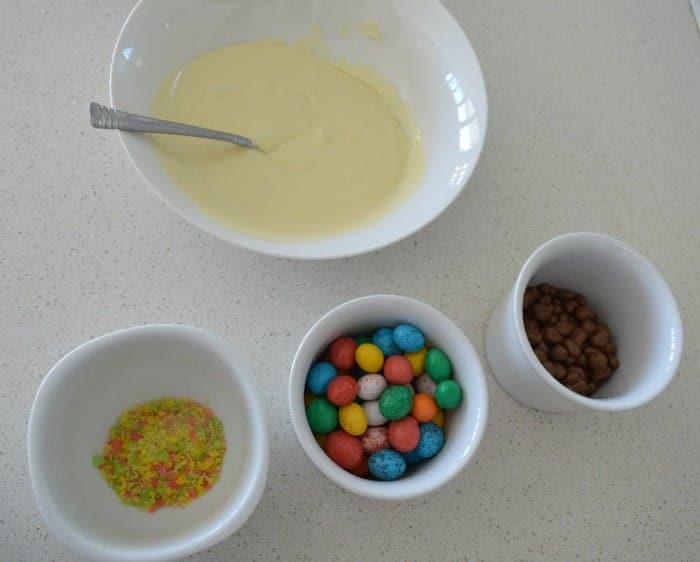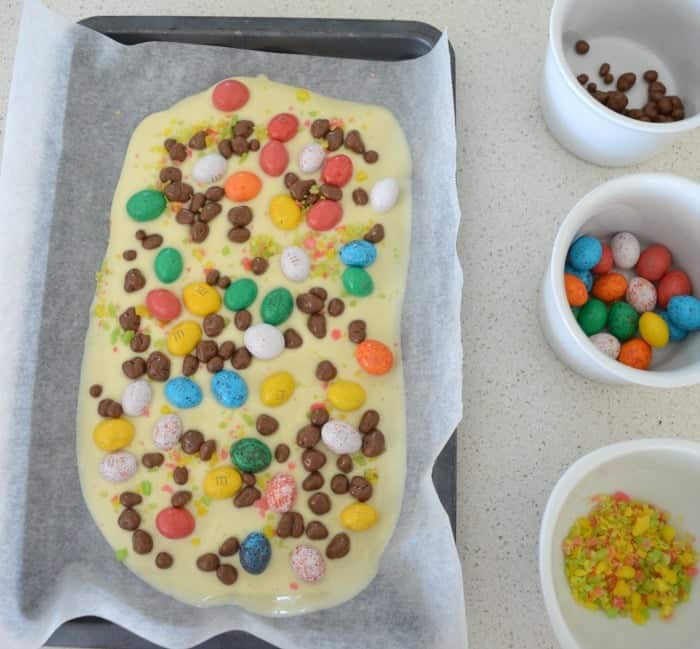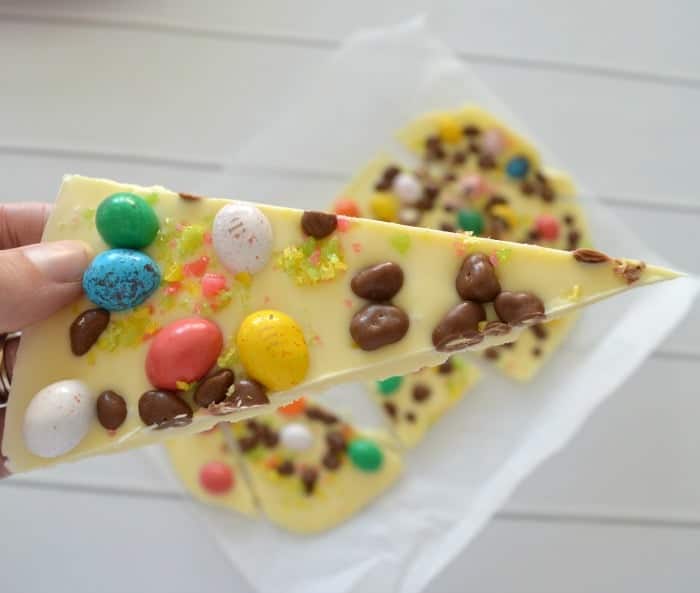 Who wouldn't want a few slices of this Popping Easter Egg Bark as a gift?
What is your favourite Easter egg flavour? Are you a popping candy fan?