This Cranberry and Apple Coleslaw with Walnuts is a fun (and delicious!) twist on a classic Coleslaw recipe.
I've currently got an obsession with all things salad and it's not only because I'm trying to lose this baby weight! Each week I have been cooking up a roast lamb/chicken over the weekend to add to my salads for lunch or dinner through the week and I've really been enjoying experimenting with different salad ingredients and seeing just how much goodness I can pack into one meal. I also love how I can prepare my salads in advance which makes them an easy meal to grab from the fridge – and stops me from just eating the boys leftovers!
This Cranberry and Apple Coleslaw with Walnuts is a great alternative to traditional Coleslaw.  I added celery, carrots, spring onion and both red and green cabbage as the 'base' of this salad, but it's really the apple pieces, cranberries and walnuts which make this something super special.  The dressing I use for this recipe is not quite your traditional dressing, however you can always use a store bought Coleslaw dressing if you prefer and that will also make this salad even easier to prepare.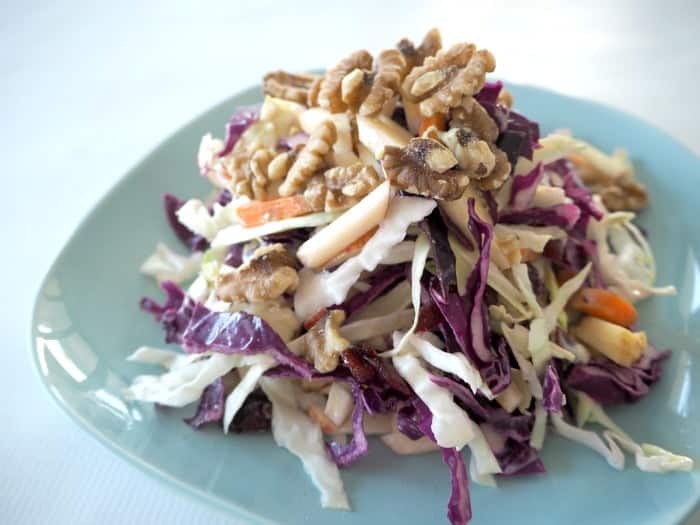 Although the idea of making your Coleslaw can sometimes be put into the 'too hard' basket, I promise you it really is super simple to make (it takes just half an hour I promise!) and once you've made your own, you will never buy store bought Coleslaw again!  I've been adding a generous helping of this Cranberry and Apple Coleslaw with Walnuts to my everyday lunch salad (baby spinach leaves, cherry tomatoes, avocado, cheese and carrot) and just can't get enough of it.
Cranberry and Apple Coleslaw with Walnuts
Ingredients
½

red cabbage

½

green cabbage

2

carrots

2

sticks of celery

2

spring onions

3

red apples

½

cup

of cranberries

½

cup

of walnuts

2

tablespoons

of lemon juice

½

cup

of mayonnaise

2

tablespoons

of mustard

salt and pepper to taste
Instructions
Thinly slice the red and green cabbage and place into a large bowl.

Finely chop the carrots, celery, spring onions and apples and add them to the bowl with your cabbage.

Add the lemon juice and cranberries and stir to combine.

In a separate bowl combine the mayonnaise and mustard with a whisk (you can also your store bought dressing if you prefer).

Pour the dressing over the top of the salad and stir to combine. Top with the walnuts and salt and pepper and serve immediately.
Notes
This recipe will serve approximately 6 - 8 adults as a side dish.
You can also use store bought dressing to make this salad even easier.
Nutrition
Serving:
0
g
Calories:
99
kcal
Carbohydrates:
25
g
Protein:
2
g
Fat:
0.4
g
Saturated Fat:
0.1
g
Polyunsaturated Fat:
0.1
g
Monounsaturated Fat:
0.03
g
Sodium:
49
mg
Potassium:
481
mg
Fiber:
6
g
Sugar:
16
g
Vitamin A:
4347
IU
Vitamin C:
76
mg
Calcium:
78
mg
Iron:
1
mg
Enjoy!