After the delicious success that was my Caramel Chocolate Ripple Cake Christmas Wreath, I didn't need much of an excuse to make this yummy dessert again for a recent BBQ at home.
This really is the ULTIMATE Chocolate Ripple Cake and our guests were pleasantly surprised to find gooey caramel inside the cake as well.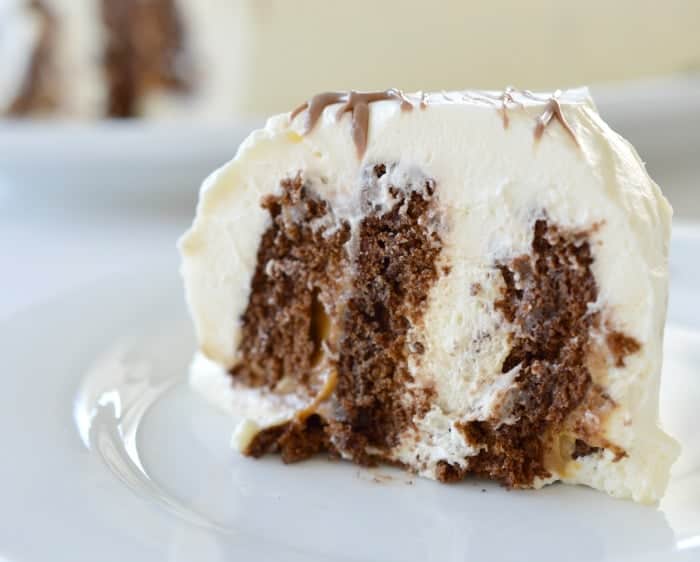 This Chocolate Ripple Cake really takes no time to make and is best made either the day before/morning of when you need it as it's essential you let the cake rest for 6 – 8 hours to allow the yummy cream and caramel to soften the biscuits.
You could drizzle the milk chocolate over the top of your Chocolate Ripple Cake when you first make it, however I think it's easier to leave it until you are ready to serve, that way the chocolate hasn't set and doesn't crack when you cut through it.

Chocolate Ripple Cake with Caramel
Ingredients
300

mll of thickened cream

1

tablespoons

of icing sugar

1

teaspoon

of vanilla extract

250

g

of Chocolate Ripple Biscuits

390

g

of Caramel Top and Fill

50

g

of milk chocolate
Instructions
Pour the Caramel Top & Fill into a small bowl and use a small whisk to mix until smooth. Set aside until needed.

Pour the thickened cream into a large bowl and add the icing sugar and vanilla essence and use an electric hand mixer to whisk the cream until soft peaks form.

Place a large serving plate onto your bench and place a little of the whipped cream onto the base as this will help support your filled biscuits.

Place a little cream between two chocolate ripple biscuits and stand them on your plate in the cream. Smear some of the Caramel Top and Fill onto the base of another chocolate ripple biscuit and sandwich it next to one of the chocolate ripple biscuits already on your plate. Repeat alternating between cream and caramel until you have completed your Chocolate Ripple log.

Use a spatula to spread a thick layer of cream all over your Chocolate Ripple Cake. Make sure it's covered well and you can't see any of the biscuits.

Carefully cover the cake (I find it easiest to use toothpicks to hold up the cling wrap) and place it into the fridge for a minimum of 8 hours to allow the cream and caramel to soften the biscuits.

When you are ready to serve your Chocolate Ripple Cake, drizzle the melted milk chocolate over the top and serve.
Nutrition
Serving:
0
g
Calories:
1
kcal
Carbohydrates:
0.1
g
Sodium:
0.04
mg
Potassium:
1
mg
Sugar:
0.1
g
Calcium:
0.1
mg
What's your favourite easy dessert?
Have you tried this Chocolate Ripple Cake with Caramel yet?
For more sweet treats, make sure you check out our eBooks, especially our Cakes and Cheesecakes for every occasion – also available in a Thermomix version!