Whenever we are brave enough to head down to our local for dinner with the kids, inevitably either myself of my husband will ALWAYS order the Chicken Parmigiana.  I know it's not the healthiest choice – hey it's not health at all! But it's one of my favourite treat meals and hands down my favourite pub meal of all time.
A few weeks ago although we were planning to go out for dinner, life (aka toddler tantrums) got in the way, so we decided it would be safer easier to eat in.  As I'd been planning on having a 'parma' for tea and was a little disappointed, I decided to try and recreate the meal at home in a way that we could all enjoy.  Considering our boys love all things pasta, cheese and chicken – our three year old considers every kind of meat to be chicken, I thought I would get a little inventive and combine all of our loves by creating a Chicken Parmigiana Pasta Bake.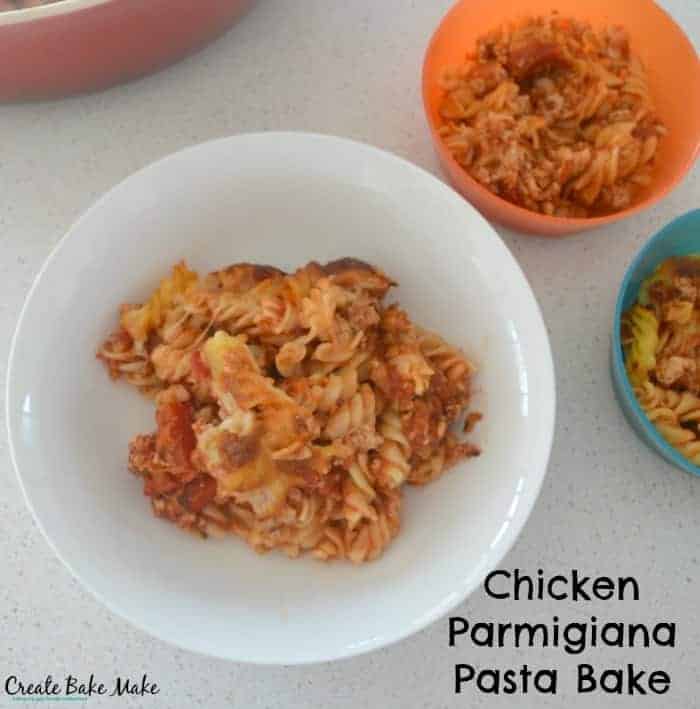 The beauty of this recipe is you can use pantry staples along with whatever veggies you have lurking around in the bottom of your crisper.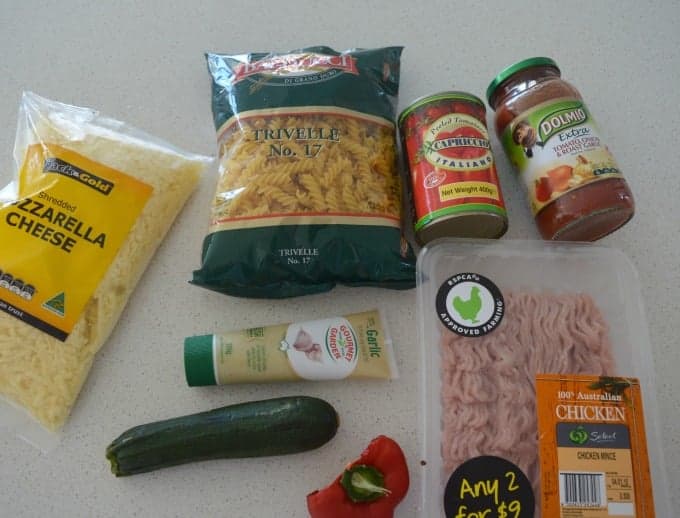 This recipe also makes more than enough to feed two adults and two kids, with plenty left over for the next day.  It's also freezer friendly and can be kept in the freezer for up to 6 weeks. You can also find more easy family meals here.

Chicken Parmigiana Pasta Bake
Ingredients
300

g

of dried spiral pasta

400

g

can of diced tomatoes

500

g

of pasta sauce

1

cup

of mozzarella cheese

500

g

of chicken mince

1

brown onion

1

clove

of garlic - crushed

1

zucchini

½

a capsicum

1

teaspoon

of sugar

salt and pepper to taste
Instructions
Preheat your oven to 190 degrees and set aside a large casserole dish.

Finely cut the brown onion and place it along with the crushed garlic into a non stick frying pan. Cook for 2 – 3 minutes over a medium to high heat until the onion starts to turn translucent.

Place the pasta into a saucepan of boiling water and cook as per instructions on the packed. When cooked, drain the excess water and set aside.

Add the grated zucchini and diced capsicum to the frying pan and cook for a further 2 minutes, before adding the chicken mince - use a wooden spoon to break up the mince.

Once the mince has almost cooked through, add the crushed tomatoes, pasta sauce, sugar and salt and pepper to taste. Reduce the heat and simmer for 7 – 10 minutes. It's important to stir it occasionally.

When the sauce has thickened, remove the pan from the heat and pour the cooked pasta into the casserole dish before pouring over the tomato sauce. Carefully stir the sauce through the pasta to ensure it's evenly covered.

Sprinkle the mozzarella cheese over the top of the pasta bake and pop it into the oven for 25 minutes or until the cheese has melted and is beginning to brown.

Carefully remove the casserole dish from the oven and serve.
Nutrition
Serving:
0
g
Calories:
19
kcal
Carbohydrates:
4
g
Protein:
1
g
Fat:
0.2
g
Saturated Fat:
0.1
g
Polyunsaturated Fat:
0.05
g
Monounsaturated Fat:
0.01
g
Sodium:
5
mg
Potassium:
168
mg
Fiber:
1
g
Sugar:
2
g
Vitamin A:
99
IU
Vitamin C:
11
mg
Calcium:
14
mg
Iron:
0.2
mg
You can add as many or as few veggies as you like, my guys were too busy eating this as quickly as they could to take any notice of what was actually in it!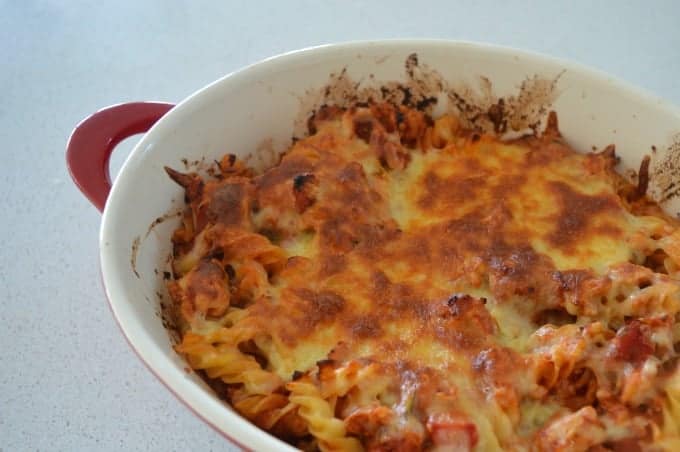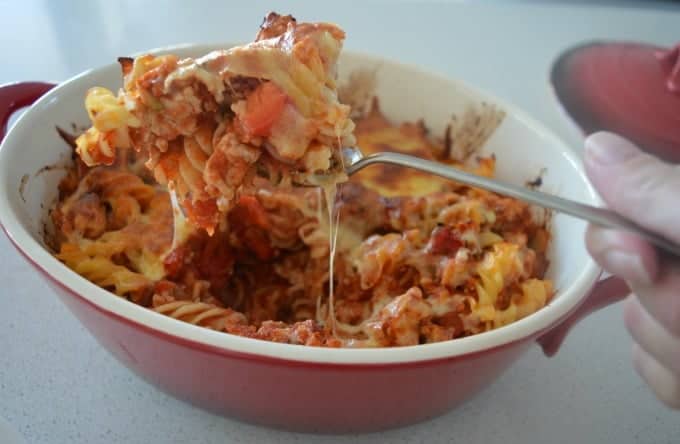 What is your favourite pub meal?
Do your kids inhale food too?