This post is bought to you by Nuffnang and Fountain Good Choice Sauces

While there is no denying my boys are great little eaters, they have picked up a few what we will call 'flavour quirks' thanks to their Dad.  Amongst the odd combinations on high rotation in our house are vegetables mashed onto cold toast or toast with mayonnaise and apricot jam – yep, you read that right. It seems they have developed a taste for two of my husband's favourite condiments – Sweet Chill and BBQ Sauce and have taken to asking to have it added to EVERY SINGLE MEAL.
You can imagine their excitement when we received a box of Fountain Good Choice Sauces to try it, in their opinion it was the best delivery ever!  I decided to embrace this excitement and new found love of sauce, and come up with an easy dinner recipe which incorporates not only their love of BBQ and Sweet Chilli Sauce, but also their  two other favourites – chicken and pasta.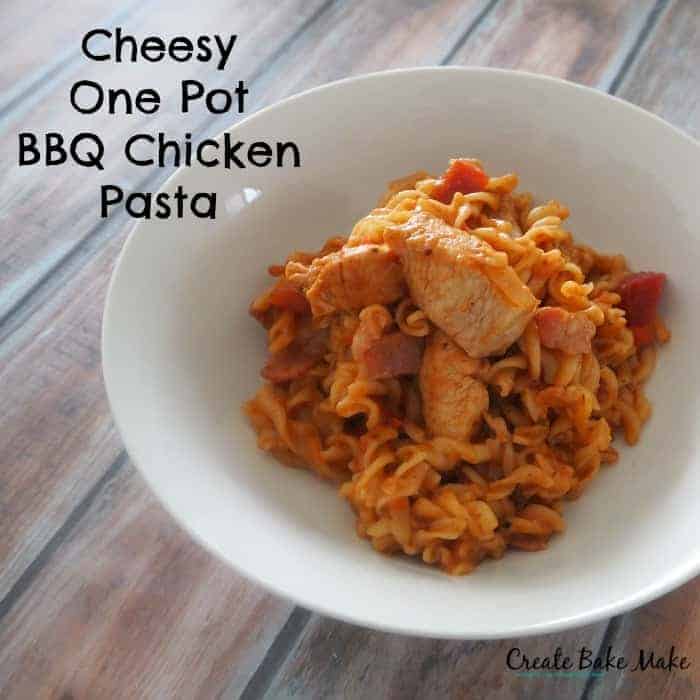 If you are looking for an easy midweek meal the whole family will love, then you can't go wrong with this Cheesy One Pot BBQ Chicken Pasta, it took just 30 minutes (not including time to take photos for the blog!) to prepare and have it ready to serve.  Better yet, this recipe is also makes enough to feed a family of four with leftovers for the next day or you could pop the extra serves into the freezer for another time.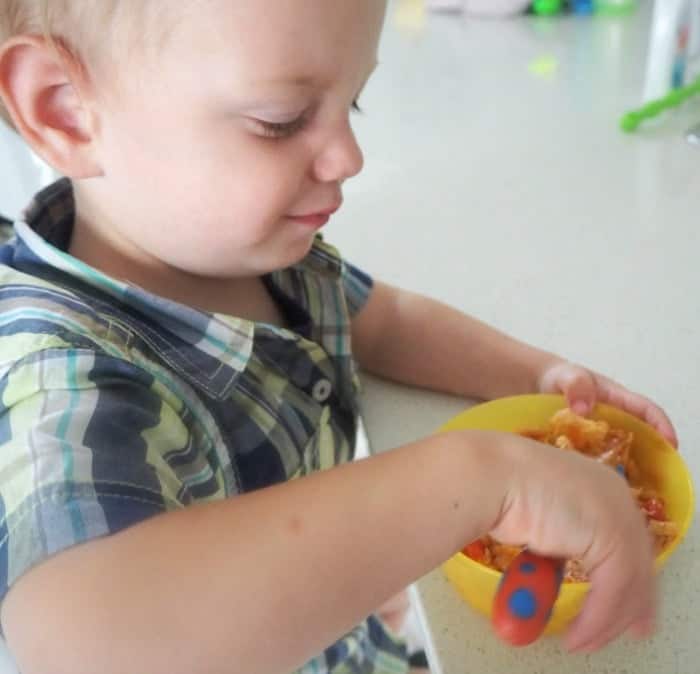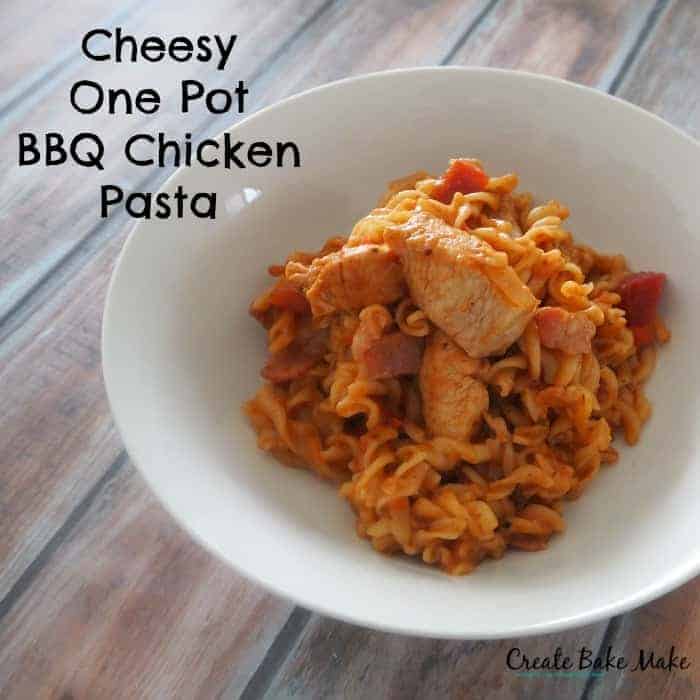 Cheesy One Pot BBQ Chicken Pasta
Ingredients
300

g

of dried spiral pasta

400

g

of chicken breast

4

rashers of shortcut bacon

2

cloves

of garlic - crushed

1

capsicum

1

brown onion

400

g

of crushed tomatoes

2

cups

of chicken stock

½

cup

of Fountain Good Choice BBQ Sauce

2

tablespoons

of Fountain Good Choice Sweet Chill Sauce

2

tablespoons

of cream

1

cup

of mozzarella cheese - plus extra to serve

1

tablespoon

of olive oil
Instructions
Dice the capsicum and onion into small pieces.

Drizzle a little olive oil into a large saucepan and heat over a medium/high heat before adding the onion, capsicum and garlic and cooking for 3 minutes or until the onion begins to turn translucent.

While it's cooking, cut the chicken breast into medium sized pieces and dice the bacon rashers. Add these to the saucepan and mix through before cooking for 3 -4 minutes or until the outside of the chicken begins to turn golden.

Add the chicken stock, diced tomatoes, Fountain Good Choice BBQ Sauce, Fountain Good Choice Sweet Chilli Sauce, cream and dried pasta to the saucepan and stir to combine all the ingredients.

Reduce to a medium/low heat and cover the saucepan with a tight fitting lid and cook for 10 minutes or until the pasta has cooked through - make sure you give it a stir approximately half way through the cooking time.

Remove the saucepan lid and add the mozzarella cheese and stir through. Cook for another 2 minutes uncovered before removing from the heat to serve.
Nutrition
Serving:
0
g
Calories:
130
kcal
Carbohydrates:
9
g
Protein:
3
g
Fat:
9
g
Saturated Fat:
3
g
Polyunsaturated Fat:
1
g
Monounsaturated Fat:
4
g
Trans Fat:
0.03
g
Cholesterol:
15
mg
Sodium:
152
mg
Potassium:
1366
mg
Fiber:
1
g
Sugar:
2
g
Vitamin A:
940
IU
Vitamin C:
40
mg
Calcium:
10
mg
Iron:
1
mg
You can also watch me put this recipe together here: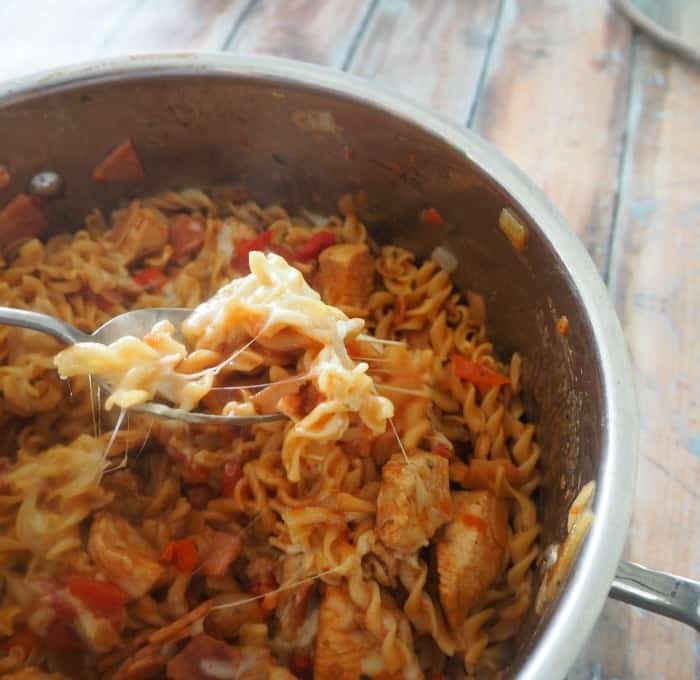 By using Fountain Good Choice BBQ and Sweet Chilli Sauce for my recipe, it helped ensure it was full of BBQ and Sweet Chilli flavour – which helped make it a huge hit with my little (and big!) sauce mad boys –  in fact I'd recommend halving the amount of Sweet Chill Sauce I used if you prefer more subtle chilli flavours.   I was pleased to see both Fountain Good Choice BBQ and Sweet Chilli Sauce have no added sugar and are gluten free and Fountain Good Choice BBQ Sauce is also lower in salt compared to other brands – better for both my boys and my husband.
If you have a family who are also obsessed with sauce, why not try the range of Fountain Good Choice Sauces that are now available online or in the Health Food aisle in your local Woolworths.  Along with our favourites BBQ and Sweet Chilli, the range also includes Soy, Hot Chill and Tomato Sauces which are all Gluten Free and have no added sugar.
Is your family obsessed with sauce too?
What strange food combination have your or your partner taught the kids?
 Please note I was sent a selection of Fountain Good Choice Sauces to try, and as always, all opinions are my own.