This Mac and Cheese with Hidden Veggies is a great way to get extra veggies into the kids, it's freezer friendly, can be made using a Thermomix and it is popular with all three of my kids – winning!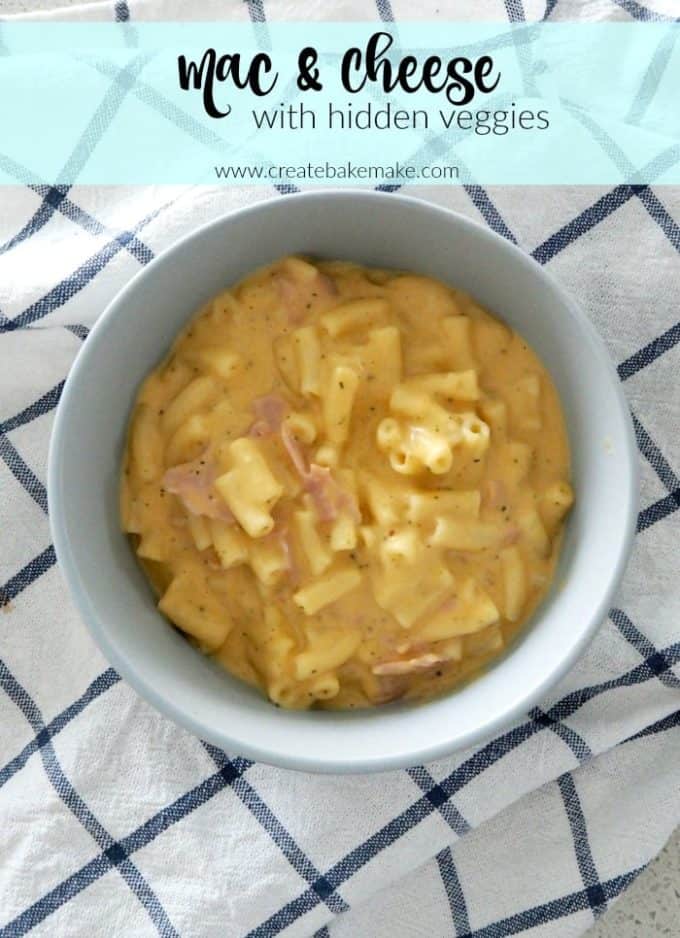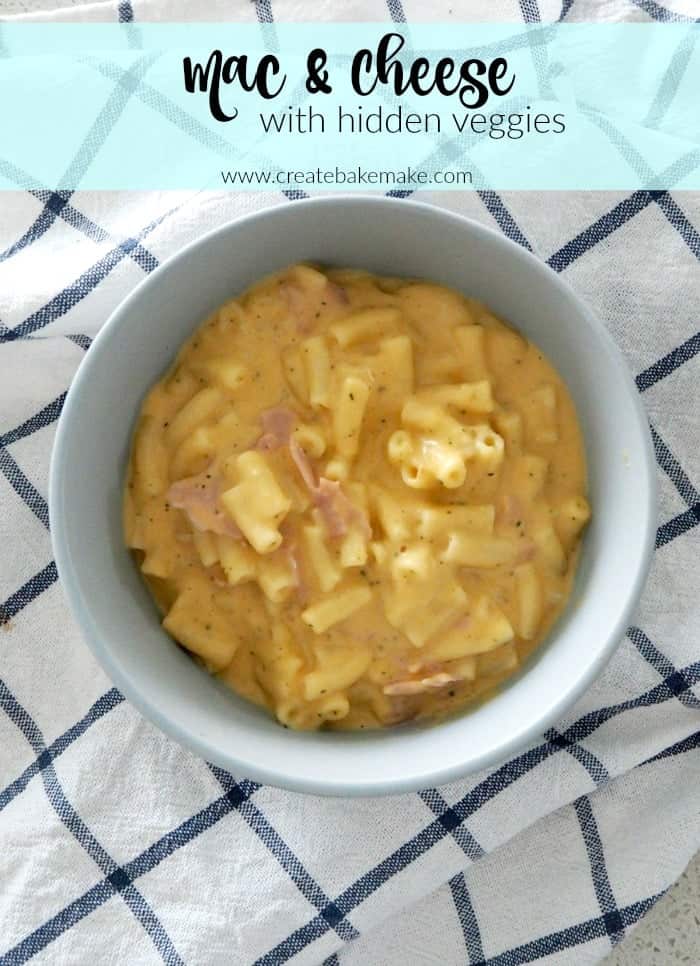 If my boys could choose just one food to live on for the rest of their lives, pasta would have to be pretty close to the top of their list. They just LOVE it and thankfully they are pretty happy to give any type of pasta a try – which is a bonus for me.  I've made this Mac and Cheese with hidden veggies a few times now and it's still a hit with the boys.  It's based on a couple of different Macaroni and Cheese with Vegetables recipes that are floating around, and I came up with it thanks to not having all of the ingredients for any particular recipe when I went to make it one day, so I decided to just create my own!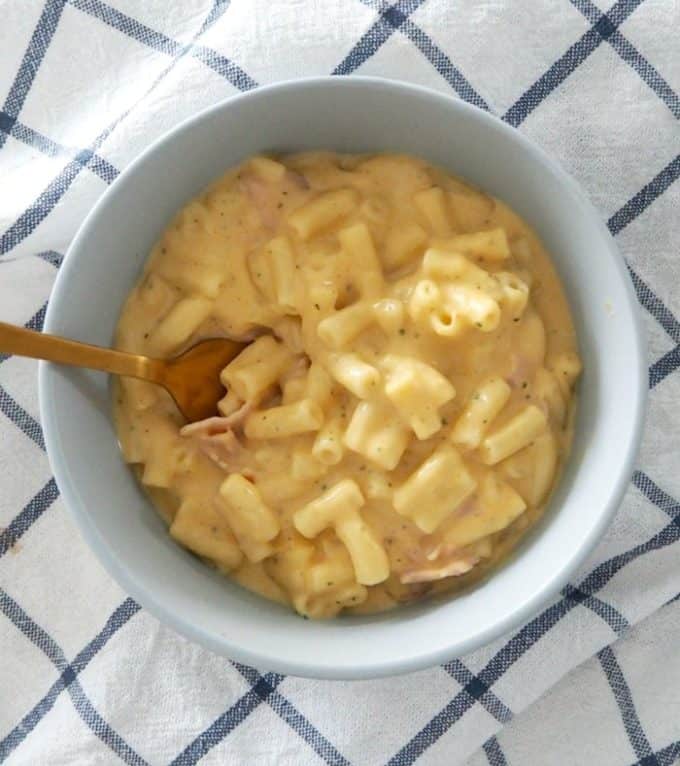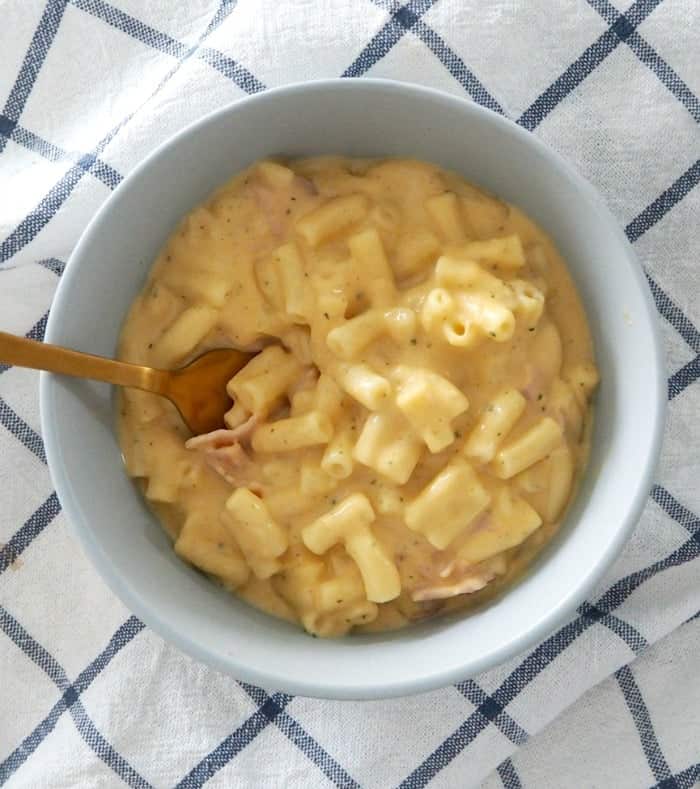 In my version of Macaroni and Cheese, along with the yummy cheese sauce, it also includes pumpkin, sweet potato and zucchini and I have trouble keeping a straight face when my boys think they are being served up a 'treat' by having a meal with no veggies!  To give it some extra flavour, I like to add a little garlic powder and nutmeg to the cheese sauce, however you can certainly leave these out if your prefer.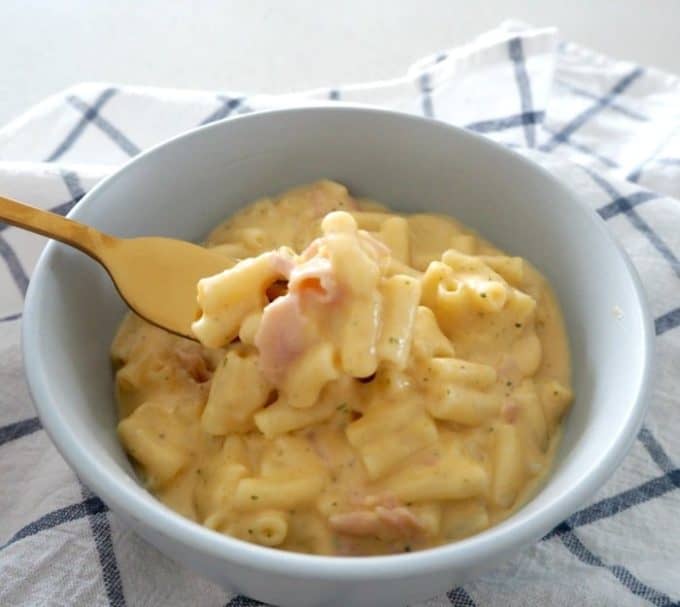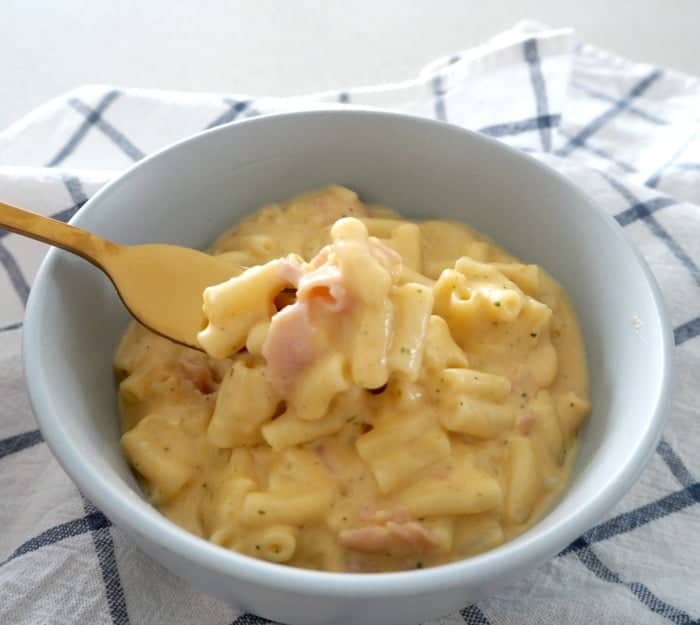 My kids aren't bothered by the small green flecks of zucchini in this pasta, however if your kids will spot it, simply peel the skin off your zucchini before steaming it.  Also if you would like to make this meat free, just omit the shaved ham – too easy!  The kids are happy to sit down to a bowl of this on it's own for a meal, but I also like to serve it alongside another one of their favourite foods: sausages as well as with Zucchini Slice, Roast Chicken – pretty much anything really!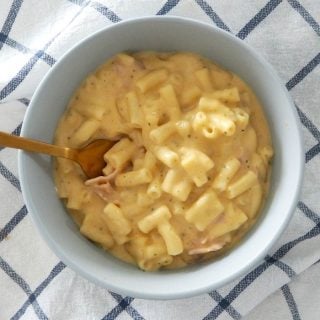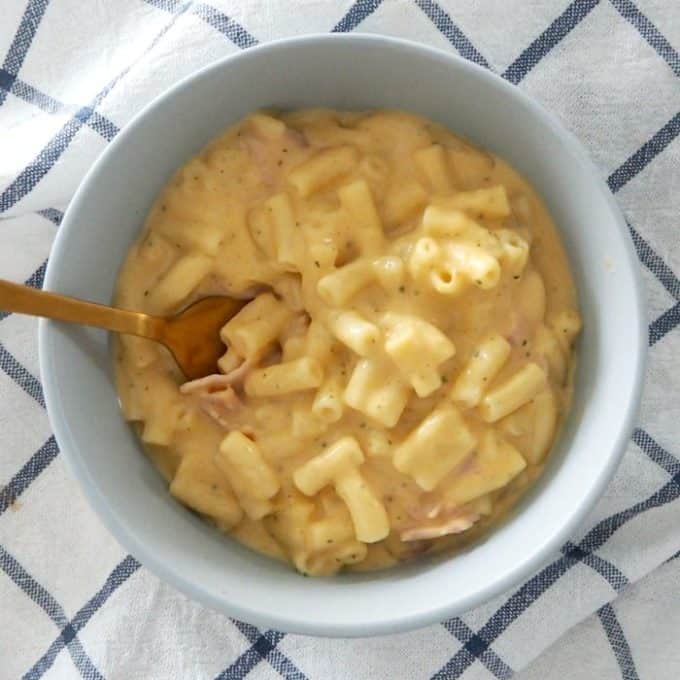 Mac and Cheese with Hidden Veggies
This super easy and delicious Mac and Cheese with Hidden Veggies is a great way to help your kids eat some extra vegetables and they will love it too. It's freezer friendly and can also be made in a Thermomix.
Ingredients
100

g

of tasty cheese

60

g

of parmesan cheese

1.2

litres

1200g of water

150

g

pumpkin - peeled

250

g

sweet potato - peeled

1

zucchini

approximately 150g

200

g

shaved ham - roughly chopped

300

g

macaroni

50

g

plain flour

500

g

milk

40

g

butter

½

teaspoon

nutmeg

½

teaspoon

garlic powder
Instructions
Grate the tasty and parmesan cheeses and set aside until needed.

Roughly chop the peeled pumpkin and sweet potato as well as the zucchini (you can also peel this if you want to) into small cubes (no bigger than 2cm) and place in a steaming basket to cook for 7 minutes, or until soft and cooked through.

In the meantime, place the macaroni into a large saucepan with boiling water and cook as per the packet instructions. Once cooked, drain and place into a large bowl.

Blitz the steamed vegetables with a stick blender (or you can also mash them) and add them to the bowl with the cooked macaroni.

Place the butter, flour, milk, nutmeg, garlic powder and grated cheeses to a saucepan and cook over a medium high heat while whisking continuously until the mixture begins to thicken, this should only take a couple of minutes.

Add the shaved ham and cheese sauce to the bowl with the macaroni and vegetables and gently stir to combine - serve.
Notes
This can be served as a side dish (will serve 6) or as a meal on it's own (will serve 4).
You can omit the ham to make this recipe vegetarian
Nutrition
Serving:
0
g
Calories:
0
kcal
Carbohydrates:
0
g
Protein:
0
g
Fat:
0
g
Saturated Fat:
0
g
Polyunsaturated Fat:
0
g
Monounsaturated Fat:
0
g
Trans Fat:
0
g
Cholesterol:
0
mg
Sodium:
0
mg
Potassium:
0
mg
Fiber:
0
g
Sugar:
0
g
Vitamin A:
0
IU
Vitamin C:
0
mg
Calcium:
0
mg
Iron:
0
mg
Thermomix Mac and Cheese with Hidden Veggies
Place the tasty and parmesan cheeses into your Thermomix bowl and blitz for 10 seconds on speed 8. Set aside until needed. 10 sec/Speed 9. Set aside.
Without washing the bowl, add the water and cook for 10 minutes, varoma, speed 1 to boil the water.
While the water is boiling, roughly chop the sweet potato, pumpkin and zucchini into pieces no bigger than 2cm (the smaller size will help them cook quicker) and place them into your varoma trays.
Add the macaroni to the boiled water and pop the varoma into place. Cook for 10 minutes, varoma temperature, speed 1 REVERSE.
Drain the water and transfer the macaroni to a Thermoserver to keep warm.
Place the flour, milk, butter, garlic powder, nutmeg and grated cheeses into your Thermomix bowl and cook of 7 minutes, 70 degrees, speed 2.
Pour the cheese sauce over the top of your macaroni before adding the steamed vegetables to your Thermomix bowl (no need to wash it first) and blitzing for 6 seconds on speed 5 to puree. Add the steamed vegetable puree to your macaroni and gently stir through.
If you are looking for some more family meal ideas, check out this collection of simple family dinner recipes.
You can also find more simple Thermomix family dinner ideas in our eBooks 'Thermomix Family Dinners and Desserts' and 'A Month of Thermomix Dinners'. You can view our eBook collection here.