These easy Lemon and Sultana Scones will be just perfect for your next special occasion!
This post is in collaboration with Maxwell and Williams
I think you would be hard pressed to find someone who doesn't love homemade scones fresh from the oven, and I'm confident that once you try these Lemon and Sultana Scones, you will have a new favourite scone recipe!  I was sent some GORGEOUS platters, dinner plates and mugs from the Royal Botanic Gardens Collection by Maxwell and Williams recently, so it was the perfect excuse to invite a couple of friends over for morning tea!
Given I'm surrounded by all males in our house (yep, even our dog is male!) I chose a selection of the Euphemia Henderson 20cm plates with matching cups and the oblong platter and pitcher (which I'm currently using as a vase) for our morning tea and all of the girls commented on the gorgeous colours of the flowers on the plates and cups.
Everyone was also impressed with the yummy Lemon and Sultana Scones, which were based on my Traditional Scone recipe with just some lemon, sultanas and a little sugar added to them.  These scones take no time at all to put together regardless of whether or not you make them regularly or using a Thermomix and you can have them on the table ready to enjoy in less than half an hour.
When making these Lemon and Sultana Scones, make sure you don't over mix the dough, and try to place the scones closely together on your baking tray to ensure you have light, fluffy and tall scones to enjoy.  We enjoyed these scones with butter and jam, however they are also really yummy with lemon curd and cream.
Enjoy!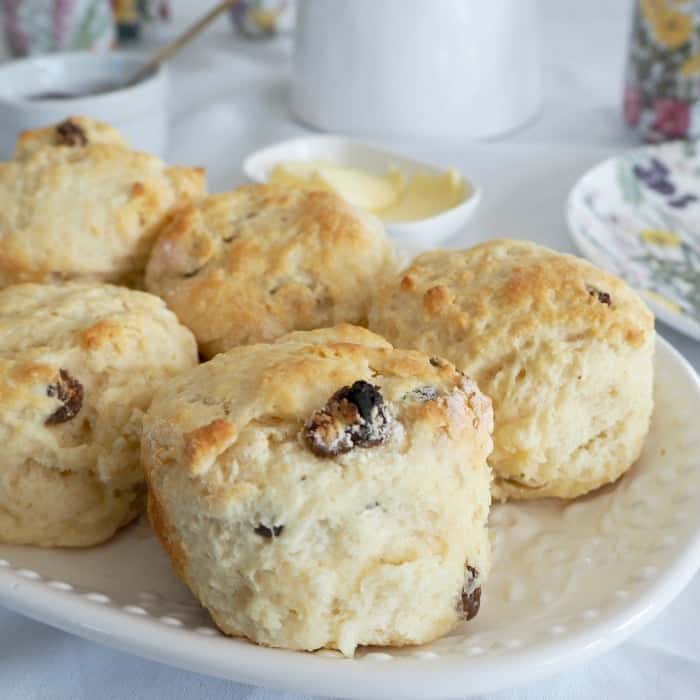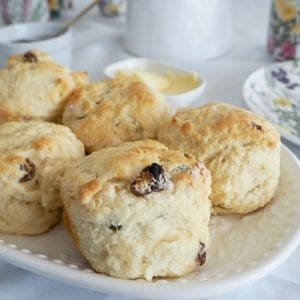 Lemon and Sultana Scones
This Lemon and Sultana Scones recipe is easy to prepare, can be made regularly or using a Thermomix and they are just perfect for your morning or afternoon tea!
Ingredients
4

cups

(600g) self raising flour

plus a little extra for your bench

rind from one lemon

juice of one lemon

¼

cup

(50g) caster sugar

½

teaspoon

of salt

90

g

of butter - cubed

2

cups

(480g) milk

+ plus a little extra to coat the scones with

½

cup

60g sultanas
Instructions
Preheat your oven to 230 degrees celsius and line a large baking tray with baking paper.

Place the flour and salt and lemon rind into a large bowl.

Add the butter (which has been cut into cubes) and use your fingertips to rub it into mixture until it resembles breadcrumbs.

Add just under the 2 cups of milk, sugar, lemon juice and the sultanas and mix together with a butter knife - if your mixture is too dry, add the remaining milk.

Turn the scone mixture onto a floured surface and knead lightly to bring it together into a dough.

Use your hands to shape the scone mixture until it's approximately 3cm thick and dip your cutter into a little flour and cut out the scones.

Bring excess dough back together and cut out more scones until all of the mixture has been used.

Place the scones into the baking tray so that they are almost touching and use a pastry brush to brush a little milk over the top of them.

Place the scones into your preheated oven and bake for 12 -15 minutes or until risen and golden.
Notes
If you mixture is too wet or dry, simply add a little extra self raising flour or milk.
Thermomix Lemon and Sultana Scones Recipe
Preheat your oven to 230 degrees and line a baking dish with baking paper.

Place the lemon peel into your Thermomix and use the 1 sec turbo function to blitz finely.

Add the flour and butter into the bowl of your Thermomix and blitz for 10 seconds on speed 9 or until the mixture resembles breadcrumbs.

Add the milk, lemon juice and salt and mix for 10 seconds on speed 4 or until combined.

Add the sultanas and use the knead function to mix for 40 seconds.

Pour onto a floured surface (don't worry it will be soft and sticky, you can add extra self raising flour if needed) and gently work the mixture into a rectangle which is approximately 3cm thick.

Coat a round cutter in flour and cut our your scones. Place them close together (you want the to almost be touching) on your baking tray. Continue until you have used all the mixture.

Brush with a little milk and place the tray into the oven for 12 – 15 minutes. The scones are ready when they begin to turn golden and make a hollow sound when tapped.

Carefully remove the tray from the oven and allow to cool for 5 minutes.

Serve with your favourite jam and fresh whipped cream.