I had never tried lactation biscuits before having our baby boy.  Whilst googling random things during a night feed (as you do), I came across 'low fat' biscuit recipes on the Lose Baby Weight website.  I have since made a few batches and have added a couple of ingredients and make my cookies smaller (usually getting between 36 – 48 cookies), so I am unsure of the nutritional content.
I snack on these easy lactation cookies during the afternoon to help boost my milk supply during the early evening when it seems to be at it's lowest.  A batch usually last up to a week (my husband won't eat them as he thinks they will make him start lactating!), and I think they have helped my supply – or I may just be telling myself that they are!
1 ½ Cups of Rolled Oats
¾ Cup of Flaxseed (Linseed Meal)
3 Tablespoons of Brewers Yeast – I use 4 x 5g sachets of brewers yeast
½ Cup of Unsweetened Applesauce
⅓ Cup of Maple Syrup – I substitute for Golden Syrup as it's cheaper
¼ Cup of Light Oil
1 small Egg
1 Teaspoon of Vanilla Extract
½ Teaspoon of Baking Soda
½ Teaspoon of Ground Cinnamon
½ Cup of Chocolate Chips – I use Cadbury dark chocolate chips… yummo!
8 -12 Pitted Dates chopped up
½ Cup of Coconut
Preheat oven to 180 degrees (Fan Forced)
Line 2 trays with Baking Paper
Combine Apple Sauce, Maple Syrup, Oil, Egg and Vanilla Extract and whisk until smooth.
Stir in Oats, Flaxseed, Brewers Yeast, Baking Soda, Coconut and Cinnamon until combined
Fold in Chocolate Chips and Dates.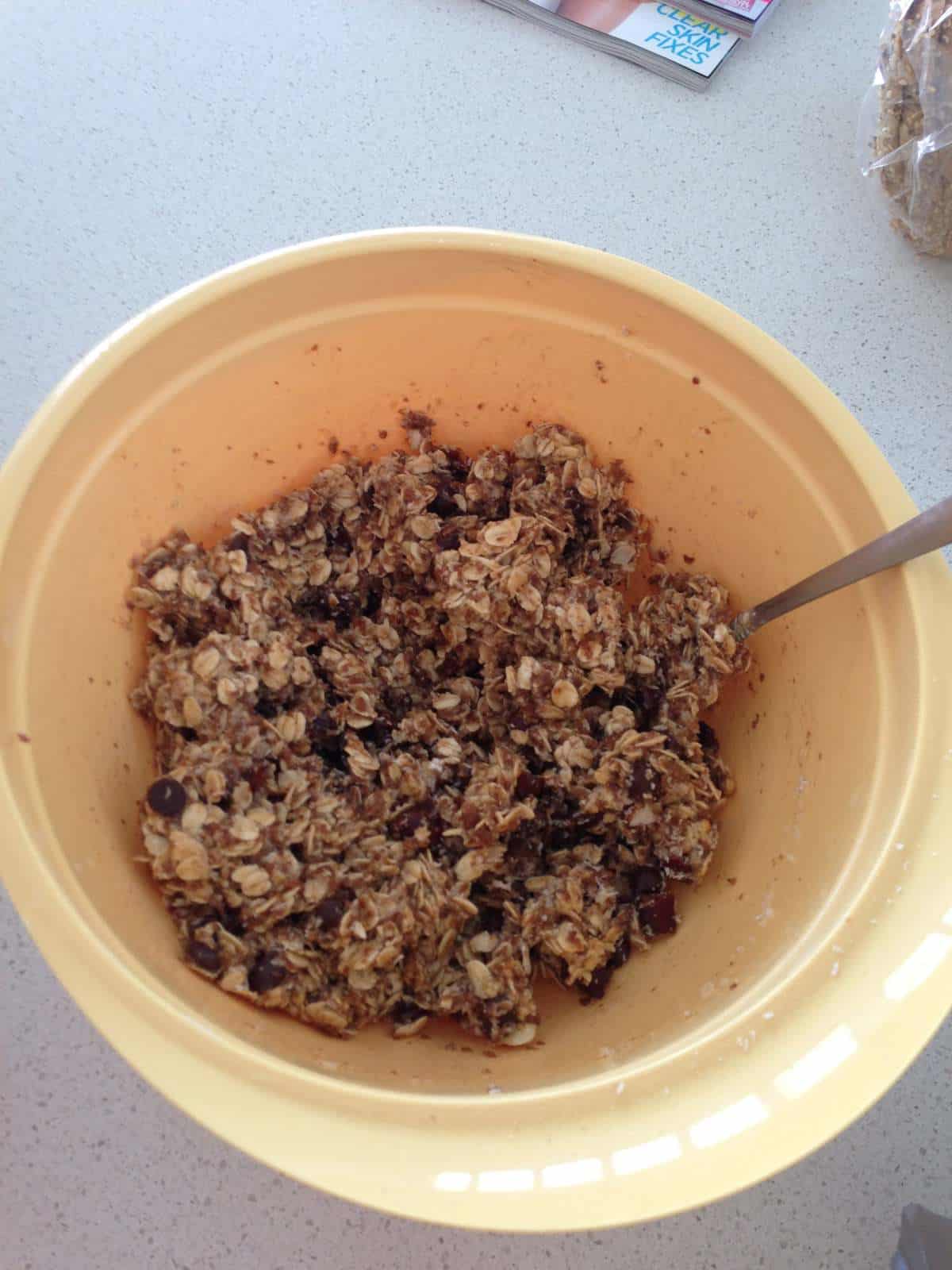 Lightly roll teaspoon sized balls of mixture and place on tray – flatten slightly with a fork
Bake for 12 – 14 minutes until starting to turn golden brown
I'd love to hear any other lactation cookie recipes that you may have – preferably ones that work!