If you like my Lemonade Scone recipe, you are going to LOVE these 4 Ingredient Sultana Scones!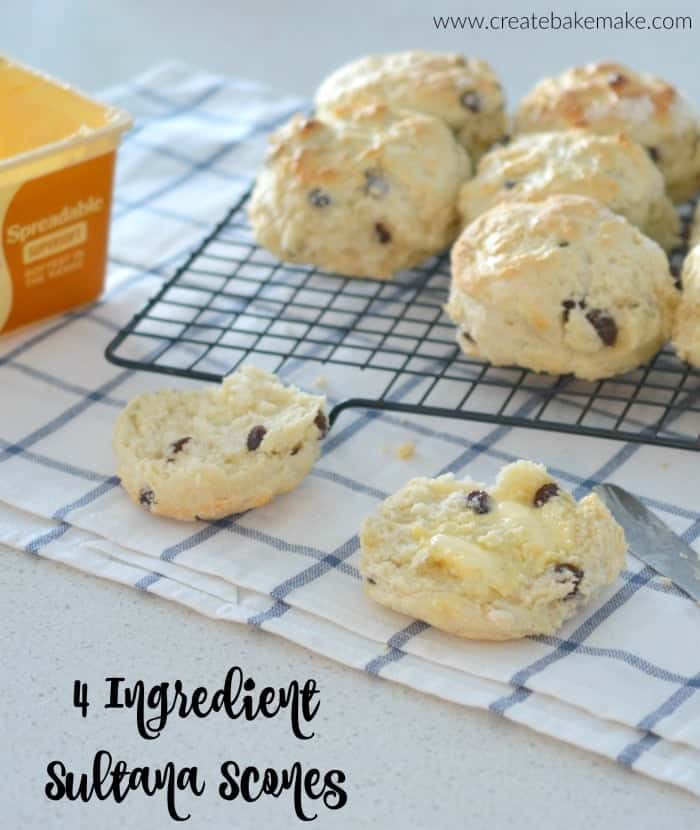 I don't know anyone who doesn't love scones (how could you not?!) especially when they are still warm from the oven and dripping butter or  jam and cream. I got the idea to make these 4 Ingredient Scones recently when I set out to make my favourite 3 Ingredient Lemonade Scone recipe while Mr 4 was sitting up at the bench eating sultanas.  He was more than happy  to help out by pouring some sultanas into my scone mixture (from the container, not the bowl he was eating from of course!) and he then volunteered to taste them as soon as they came out of the oven.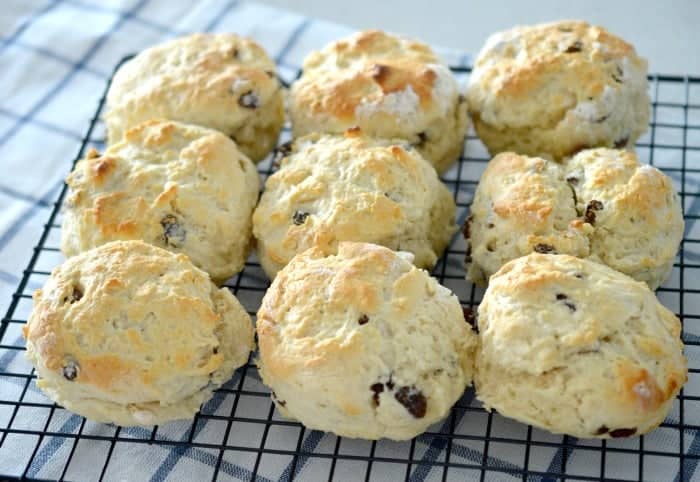 There were some tears (it was nearly witching hour) while I made him wait for these Sultana Scones to cool down (yep, I'm SUCH a bad Mum), but when they were finally cool enough to eat, he couldn't get his hands on one quick enough and was so impressed with them that he was trying to pick up all of the crumbs from his plate to eat.
I also couldn't resist trying one while still warm and I decided to add a generous amount of butter to mine which made it all the more delicious.
This recipe made around 9 good sized scones and I popped the leftovers into an airtight container so that they were still lovely and soft the next day – the perfect treat for our morning tea.
4 Ingredient Sultana Scones
Author:
Prep time:
Cook time:
Total time:
Ingredients
3 cups of self raising flour
250ml of lemonade
250ml of thickened cream
1/3 cup of sultanas
Instructions
Preheat your oven to 240 degrees and line a baking tray with paper.
Sift the self raising flour into a large bowl and add the lemonade, cream and sultanas.
Use a butter knife to bring the mixture together until it has just combined. If you find it a little soft, add an extra tablespoon of flour.
Tip the Sultana Scone mixture onto a floured surface and gently shape into a rectangle.
Use a cookie cutter or glass to cut out your sultana scones and place them onto the prepared tray. Make sure they are almost touching each other, as this will help them to rise up instead of spreading out. Repeat until you have used all of the scone dough.
Place your 4 ingredient sultana scones into the preheated oven and bake for 12 minutes or until golden and cooked through – they will sound hollow when tapped.
Carefully remove your scones from the oven and allow them to cool slightly before serving,