It was my husband's birthday a couple of weeks ago and to celebrate he took a Friday off work so we could enjoy a long weekend together.  However as luck would have it, we ended up stuck inside for almost two days thanks the unrelenting rain caused by ex Tropical Cyclone Marcia.  To help give the boys something to do (as well as cure our boredom) I decided to spend one of the days baking.  All four of us LOVE Hot Cross Buns but wanting to try something a little different, I asked the lovely people over on my Facebook page for some Hot Cross Bun flavour suggestions.  Thanks to these guys, I've now got another five combinations I want to try, but they are going to have to be pretty impressive to beat these White Chocolate and Cranberry Hot Cross Buns.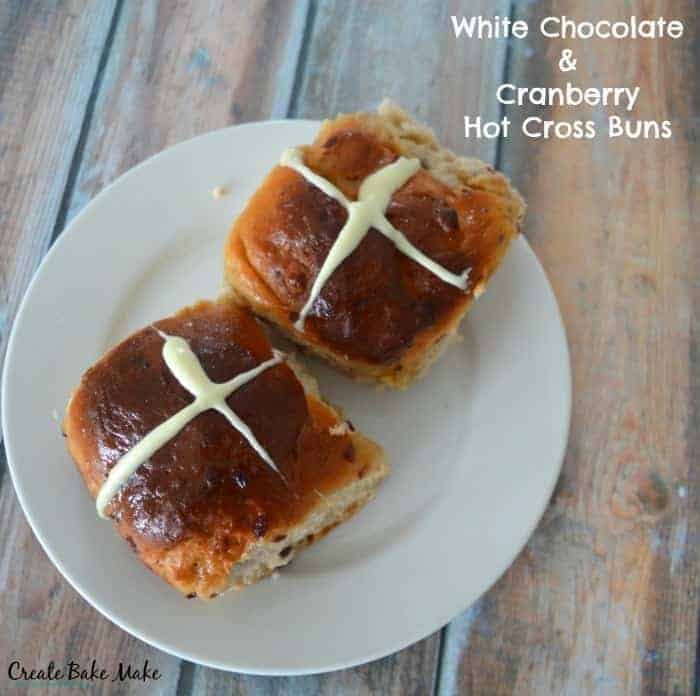 I used the same dough mixture as my Easy Hot Cross Buns recipe and just omitted the mixed spice and replaced the sultanas and raisins with dried cranberries (craisins) and white chocolate.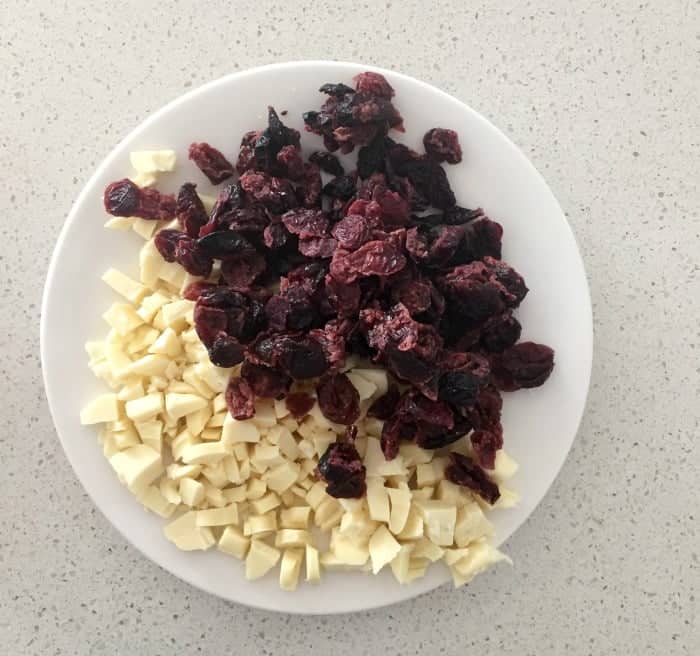 It was a little bit of a challenge to find a warm spot for the dough to rise, but after we turned the oven on to cook our lunch, we were sorted.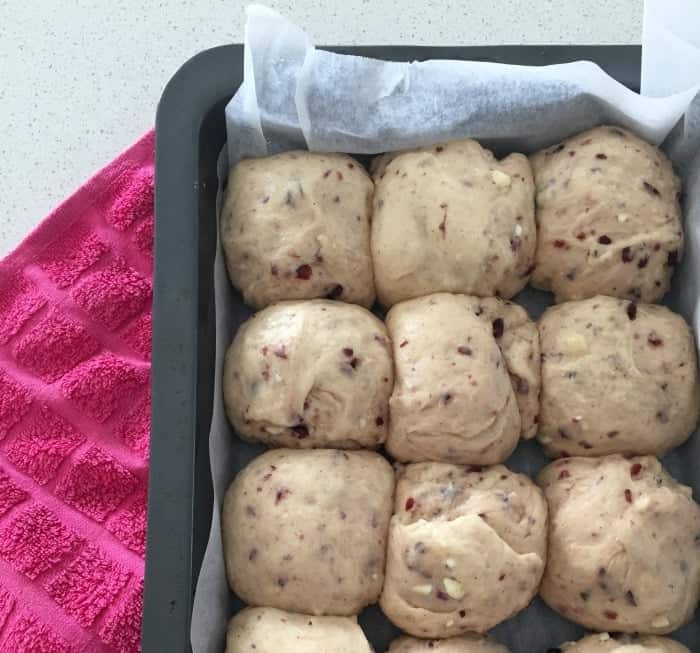 These little buns have the most beautiful flavour thanks to the white chocolate melting a little and combining with the dough while they bake.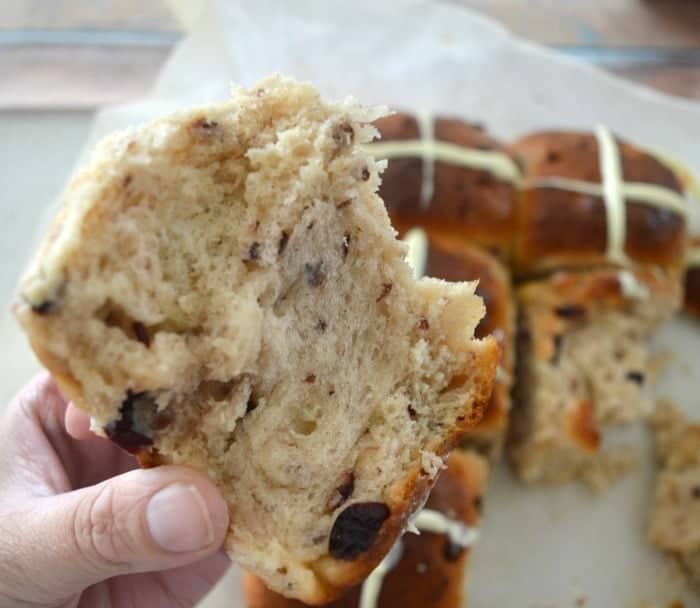 They are a light, sweet and best of a delicious variation on the good old Hot Cross Bun and will definitely be making another appearance before Easter.

Lauren
Makes 12
White Chocolate and Cranberry Hot Cross Buns
1 hr, 30 Prep Time
20 minCook Time
1 hr, 50 Total Time
Ingredients
1 tablespoon of active dry yeast
1/2 cup of caster sugar (115g)
11/2 cups of lukewarm milk (375g)
41/4 cups of plain flour (640g)
2 teaspoons of cinnamon
50g of melted butter
1 egg
1 cup of craisins (150g)
200g of white chocolate
2 tablespoons of apricot jam
2 tablespoons of water.
Instructions
Lightly oil a large bowl and line a 23cm cake tin with baking paper and set aside until needed.
Chop HALF (100g) of the white chocolate into small pieces and set aside.
Place the yeast, 2 teaspoons of the sugar and all of the milk into a small bowl and let it sit for 5 minutes. After this time the mixture should have started to foam which is a sign the yeast is active.
In a large bowl, add the flour, cinnamon, egg, butter, craisins, the chopped white chocolate, remaining sugar and activated yeast mixture. Use a butter knife to mix and combine the ingredients until a dough forms - don't worry, it will be sticky.
Turn the dough onto a floured bench and knead for approximately 8 minutes or until the dough begins to feel elastic.
Place the dough into the prepared oiled bowl, cover with a tea towel and sit in a warm place for around an hour or until the dough has doubled in size.
Remove the dough from the bowl and divide into 12 equal pieces before rolling into balls.
Place the dough balls into the prepared cake tin, cover with a tea towel and place the tin in a warm spot for another 30 minutes to allow the dough to again rise.
While the dough is rising, preheat your oven to 200 degrees.
Once the dough has risen, place the tray into the oven to bake for 20 minutes, or until the buns are golden brown and spring back when touched.
To prepare your glaze, place the apricot jam and water into a small bowl and heat in the microwave for 30 seconds before mixing to combine.
Brush the glaze over the still hot Hot Cross Buns before carefully transferring the buns to a wire rack to cool.
Once the buns have completely cooled, melt the remaining 100g of white chocolate and place it in a piping bag before piping the crosses onto the top of each bun.
Allow the chocolate to set and enjoy.
7.7.0.1
144
https://createbakemake.com/2015/03/18/white-chocolate-and-cranberry-hot-cross-buns/
 White Chocolate and Cranberry Hot Cross Buns Thermomix Instructions:
1. Break 100g of white chocolate into squares and place into your thermomix bowl. Blend for 5 seconds on speed 5 or until it's roughly chopped (time may vary due to the temperature of your chocolate).  Pour into a separate bowl and set aside.
2. Place the yeast, 2 teaspoons of the sugar and all of the milk into your thermomix bowl and cook for 2 minutes on 37 degrees, speed 1. Leave yeast mixture in bowl whilst you move onto the next steps.
3.  Lightly oil a large bowl and set aside until needed.
4. Line a 23cm cake tin with baking paper and also set aside until needed.
5. Add the flour, cinnamon, egg, butter and remaining sugar into the thermomix bowl. Mix for 15 seconds on speed 7 or until all ingredients have combined.
6. Add the craisins and whopped white chocolate to the bowl and combine for 3 minutes using the kneading function.
Follow instructions as above from step 6.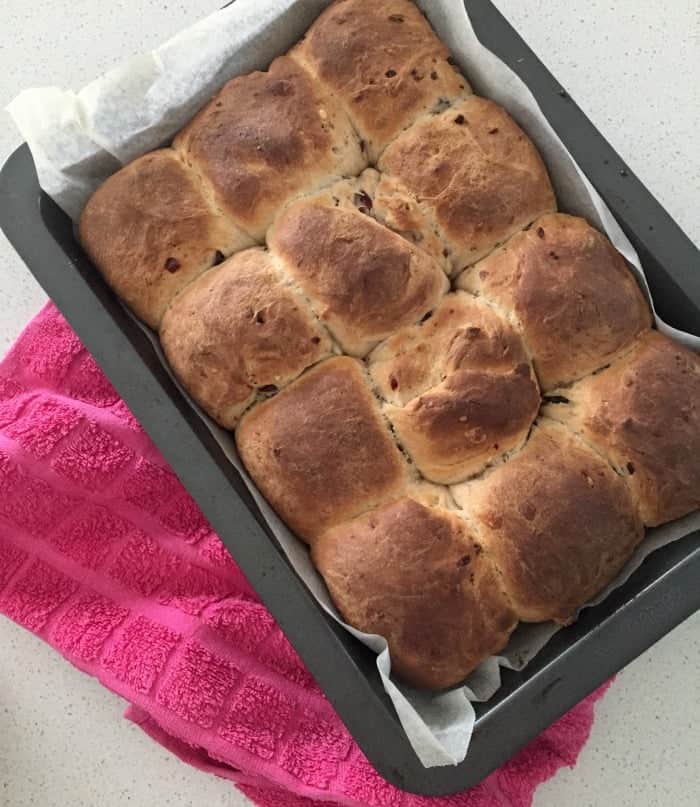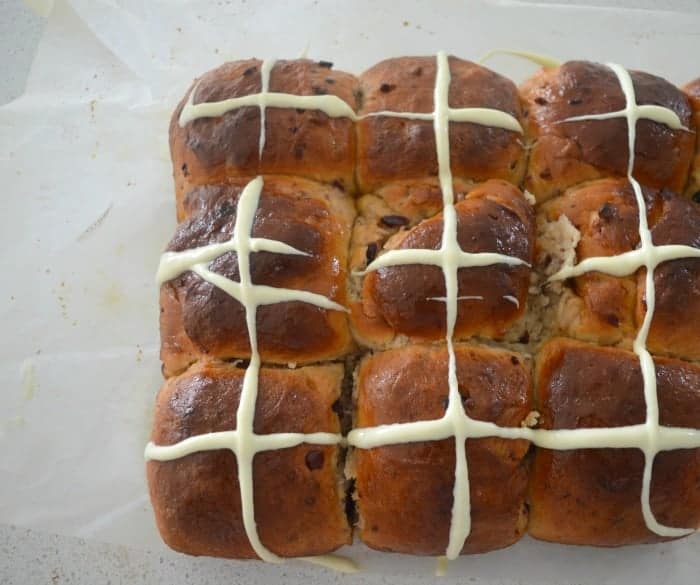 Do you like non traditional Hot Cross Buns?
What is your favourite flavour?