I don't know about you but Kmart is one of those places I always walk out of with things that I had NO intention of buying when I first walked in.  I can't resist checking out their kitchen and homewares whenever I visit and have come across some great items that we get so much use out of at home – like our Kmart Pie Maker (you can find my favourite Kmart Pie Maker recipes here) and their spatulas.  Today I'm sharing a few of my favourite kitchen accessories from Kmart – I'd love to hear what yours are too!
I ALWAYS need more space and this Chrome Extendable Shelf is the perfect way to make more storage space in the pantry and cupboards. We've got one in the cupboard above the fridge and also in the cupboard below the kitchen sink.
Have leftover casserole or meat? This pie maker is a great way to turn leftovers into a new meal – you can find more Kmart Pie Maker recipes here.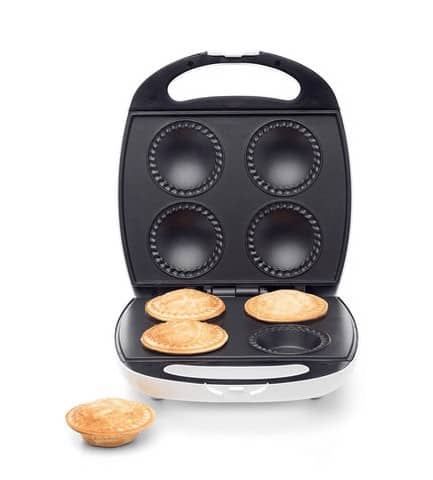 I love to do bulk cooking and these Aluminium Baking Trays are perfect.
These Clip Lid Glass Jars are perfect for homemade gifts and we also use them to store dried fruits and nuts in too.
This food jar with spoon is PERFECT when we are on they go and I fill it with yoghurt, fruit and even hot meals for bub!
My boys LOVE ice-cream and I love that I can blitz up frozen fruit and smoothies, pop it into these icy-pole moulds and they love it!
I've got a slight addiction to spatulas and may have one of silicon spatulas in every colour!
These giant ice-cube trays are the perfect size to store/freeze bub's food in.
I've got two of these mini loaf pans and they get used at least a couple of times each week. They are the perfect size for the kids and I make Zucchini Slice, Banana Bread, Finger Buns and more using them.
I don't just use these silicon cupcake moulds for baking, they are also perfect for separating food in lunch boxes and I also use them when doing fine motor skill activities with the boys.
The boys have a habit of using my tongs to use in the garden, so I have made sure to stock up on these Nylon Tongs!
What are your favourite kitchen accessories from Kmart?
Please note this is not a sponsored post, just sharing my Kmart love/addiciton!