Caramel filled Easter Eggs are my all time favourites, so you can imagine how excited I am about these Caramel Egg Muffins!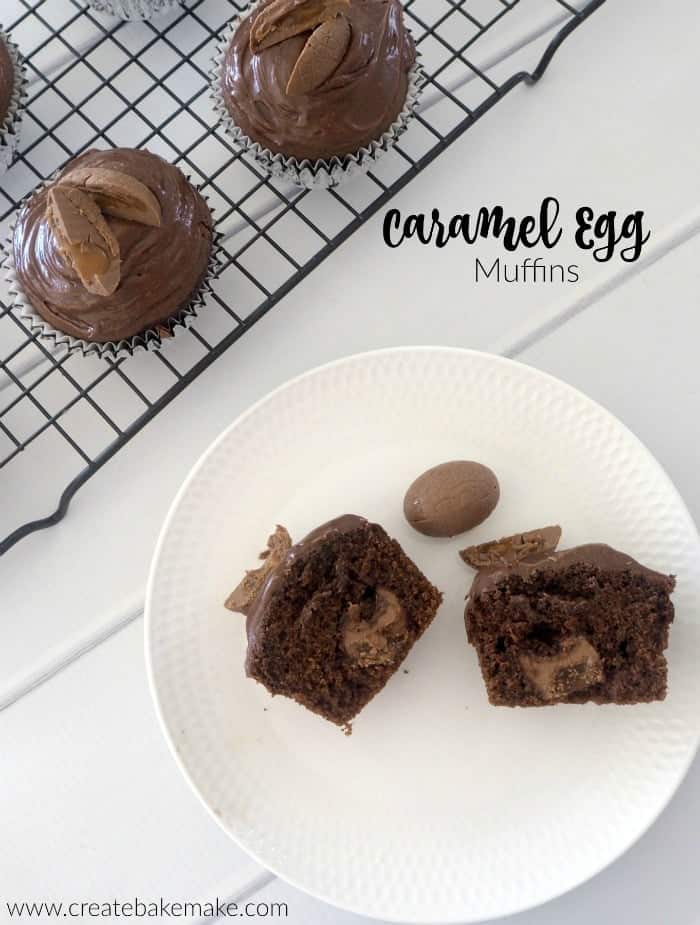 When it comes to caramel filled easter eggs, I have no will power at all and while I will tell myself I'm going to eat just one, that quickly turns into two, ok maybe three!  These Caramel Egg Muffins are the perfect easter treat or dessert and when you top them with a couple of slices of caramel egg, they almost look too cute to eat!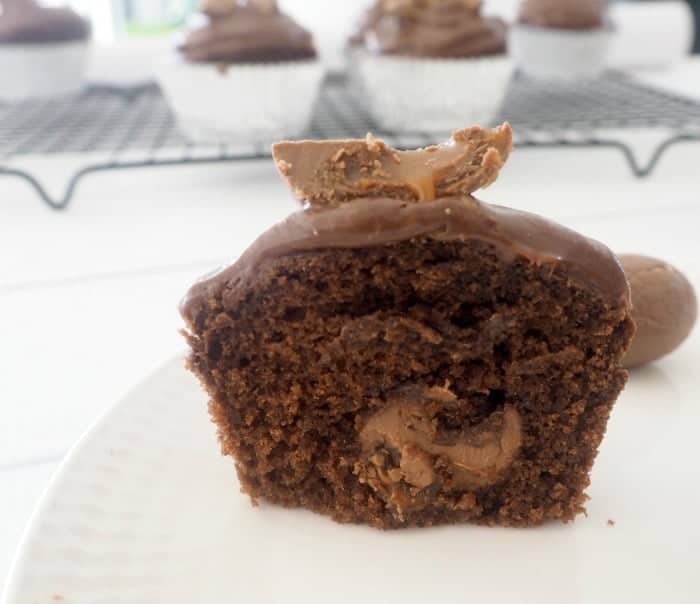 My two older boys wanted to help me make these muffins, however I had to shoo them out of the kitchen when it became pretty obvious that they were just there to eat the caramel eggs!  If your kids have more self control than mine (which wouldn't be hard!) then this is a fun recipe to make with them.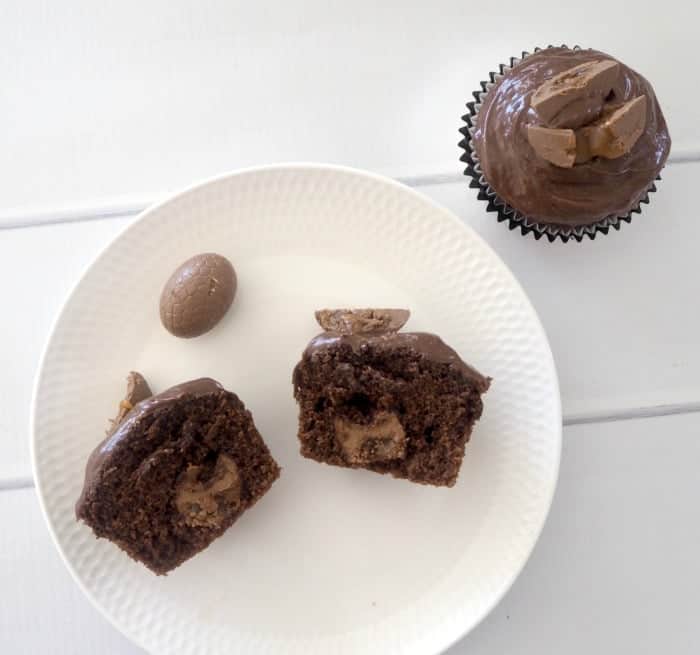 While I've used caramel filled eggs with this recipe today, you can easily substitute them for your favourite filled easter eggs, check out these cadbury creme egg and maltesers egg cupcake versions I've made in the past.
Makes 12
Caramel Egg Muffins
20 minPrep Time
18 minCook Time
38 minTotal Time
Ingredients
125g butter - softened
¾ cup caster sugar
2 eggs
1 tsp vanilla extract
1 ¼ cup self raising flour
1/3 cup cocoa
2/3 cup milk
12 caramel filled easter eggs
For the Chocolate Frosting
130g chocolate
130g unsalted butter, softened
220g icing sugar
1 tsp vanilla extract
2-3 tbs milk
6 caramel filled easter eggs which have been cut into quarters
Instructions
Preheat your oven to 170C and line a 12 hole muffin tin with paper cases.
Place the butter and sugar into the bowl of an electric mixer and beat on a high speed until light and fluffy.
Add the eggs and vanilla extract and beat on a low speed until combined.
While your mixer is running at a low speed, add half of the flour, cocoa and milk and mix for 30 seconds before adding the remaining ingredients and mix until combined.
Spoon the mixture into the paper cases, filling each one until they are approximately a 1/4 full. Place one of the caramel filled eggs in the centre and cover with cake mixture until the paper case is 2/3 full. Repeat until you have used all of your cake mixture and then bake for 15-20 minutes or until cooked when tested.
Let the Chocolate and Caramel Easter Egg Muffins cool in the tin for 10 minutes before transferring to a wire rack to cool completely.
To make the Chocolate Icing:
Break the chocolate into pieces and place it into a microwave safe bowl. Cook for 20 second spurts on high until it's just melted before stirring until the chocolate completely melts. Set aside to cool slightly.
In the meantime, use an electric mixer to beat the butter until it's smooth and then gradually add the icing sugar and continue to beat on a medium speed.
Add the melted chocolate and beat at a medium speed to combine.
Add 1 tablespoon of milk at a time to the chocolate icing while it's mixing until your icing is a spreadable consistency.
Use a small spoon to spread the chocolate icing over the top of the muffins and decorate with pieces of caramel filled easter egg.
Notes
You can also use store bought chocolate icing if you prefer.
7.7.0.1
372
https://createbakemake.com/2017/03/15/caramel-egg-muffins/
Thermomix Caramel Egg Muffins Recipe
Preheat the oven to 170 degrees and line a 12 hole muffin tin with paper cases.
Place the butter into your Thermomix bowl and cook for 2 minutes, 70 degrees, speed 2.
Add the rest of the cupcake ingredients (except for the easter eggs) and mix for 10 seconds on speed 4. Scrape down the sides of the Thermomix bowl and mix for a further 10 seconds on speed 4.
Fill each of the cupcake papers with mixture until they are 1/3 full. Place a easter egg in the centre and top with extra batter until the cupcake paper is approximately 2/3 filled.
Bake for 15-20 minutes or until cooked when tested with a skewer.
Carefully remove the tray from the oven and allow the cupcakes to cool for 10 minutes before transferring to a wire rack to cool completely.
To make the frosting and decorate:
Chop the extra easter eggs in half and set aside until needed.
Place the chocolate into a clean thermomix bowl and blitz for 3 seconds at speed 8.
Scrape down the sides of the bowl and cook for 3 minutes, 50 degrees, speed 1 or until melted.
Add the butter, icing sugar and vanilla extract and mix for 10 seconds on speed 5. Check the frosting and if it's too hard (you want it to be easily spreadable), add 1 tablespoon of milk and mix for a further 10 seconds on Speed 5 – repeat if needed.
Spread the chocolate frosting on top of the cooled cupcakes and decorate with the easter egg pieces.